This week's Shabbat Smile, written by the talented Jon Polin, will show you how Israel is expanding its life-enhancing technologies and success as a global leader in accessibility.
On the heels of impressive strides in public policy and rehabilitative care, technology is now poised to be the third rung to catapult Israel to be the world leader in accessibility. As Howard Blas covered in the June 13, 2019 Shabbat Smile, last month's Access Israel "Future of Accessibility" conference gathered leaders from major US cities and 22 countries looking to Israel for policy and planning inspiration. (If the 3000 year old Old City of Jerusalem is now accessible, what excuse do modern cities have?) And in rehabilitative care, Israeli facilities from Sheba Medical Center to Beit Issie Shapiro to ALYN and many others are pioneering new therapy techniques that regularly draw global visitors to learn the latest and greatest in the world of therapies. 
Now, the emerging Israeli assistive technology ecosystem is ready to service increasing global demand. (The World Health Organization says that globally, more than 1 billion people need one or more assistive products, as people with disabilities are the world's largest minority group.) Why will Israel soon be the world leader in assistive technology?
First, the "Startup Nation" has solidified its global reputation as second only to Silicon Valley for spawning technology businesses. In some sectors, such as cybersecurity and financial technology, Israel is the world leader. It is now applying the Startup Nation technology mentality to the world of accessibility, with over 100 companies producing assistive technology products. Just a few examples, across a range of impairment areas, include:
Second, with numerous top-tier facilities caring for people with disabilities and the elderly (see above), Israel's assistive technology companies have a smooth path to partnering with such rehabilitation facilities to prototype, test and improve their products. 
Third, with its culture of tikkun olam (literally, repairing the world) Israel is home to several maker communities spurring creativity and development of assistive technology solutions with the potential to be scaled into full businesses. Israel-based TOM – Tikkun Olam Makers – runs global makaeathons that create and disseminate affordable solutions to neglected challenges of people living with disabilities, the elderly and the poor. Carmel 6000, the vision of Yossi Tsuria, handpicks highly qualified and motivated young Israelis to spend their two years of National Service developing innovative applications and solutions that benefit disadvantaged populations.
Fourth, there is growing Israeli governmental support specifically for assistive technology. One example is the recently created "Assistive Technology for the Disabled Incentive Program", a collaboration between the Israel Innovation Authority and the National Insurance Funds to offer up to 900,000 NIS grants (~$250,000) for research and development of technologies that serve groups with physical, mental or cognitive disabilities.
Fifth, the newly formed entity INLET (the Israeli Network of Life Enhancing Technologies) is working with all the strong ingredients and entities in place in Israel and serving as a bridge to connect the Israeli assistive technology ecosystem to the growing global demand. Among other service areas, INLET is building a network of global relationships with governmental agencies, insurance companies, hospitals, rehabilitation centers and corporations to streamline the complicated distribution of assistive technology products so that Israeli entrepreneurs are able to focus more on their products than on fragmented distribution channels. Just as an inlet is a narrow body of water acting as a conduit connecting a small body of water to a large body of water, INLET acts as a conduit to bring the best life-enhancing technologies from Israel to people with disabilities and the elderly around the globe. 
So, get ready world! The Startup Nation is now proliferating, expanding its life-enhancing technologies around the globe, strengthening Israel's claim as the world leader in accessibility.  
Want to learn more about the Israeli assistive technology ecosystem? Contact Jon Polin at [email protected]
---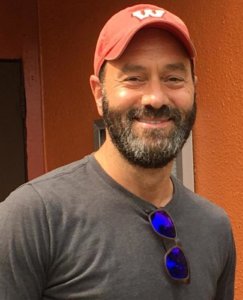 Over a 20+ year business career across Fortune 500 companies and running his own organizations, repeat entrepreneur Jon Polin has brought numerous consumable and technology products to market in both the United States and Israel. He's raised tens of millions of dollars in venture capital and private equity funding, established a range of corporate partnerships, and led and scaled product development, marketing, operations and finance teams. He is now leveraging his business experience to help spread Israeli life-enhancing technologies around the globe. Jon has a BA in History from the University of Wisconsin-Madison and a MS in Management from a joint program of Ben Gurion University/Boston University.
In our Jewish Disability Perspectives newsletter, RespectAbility welcomes a wide spectrum of voices. The views expressed in each Jewish Disability Perspectives contribution are those of the guest contributor.