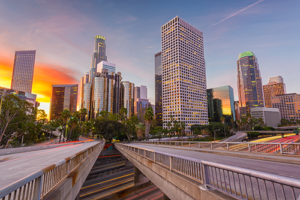 Los Angeles, CA, May 7 – RespectAbility, a nonprofit organization fighting stigmas and advancing opportunities for people with disabilities, submitted the following public comments last week to the City of Los Angeles Workforce Development Board. The Board is in the process of finalizing their new Workforce Innovation and Opportunity Act (WIOA) Year 20/2019-2020 Annual Plan. This plan will guide how the City of Los Angeles invests critical federal resources, builds new collaborations and works to empower people with barriers to employment in the year ahead.
RespectAbility's public comments, which were jointly written by the organization's D.C. and L.A. based staff, focused on several critical issues. First, the comments outline key data points about the size and scope of the disability community in Los Angeles. Second, the comments outlined in extensive detail about critical best practices and proven models of empowering job seekers with disabilities to successfully enter the workforce. Third, the comments cover a range of other issues including adopting disability best practices into existing programs to support the reentry population, expanding entrepreneurship opportunities, and supporting the local community through parent engagement as well as community resource fairs. Lastly, the public comments go into detail about how to leverage the incredible power of media and Hollywood to empower people with disabilities by fighting stigmas.
The working draft of the City of Los Angeles Workforce Development Board's 2020 plan can be found on their website here. Read RespectAbility's comments in full below.
---
To: Charles Woo, Chair, City of Los Angeles Workforce Development Board
From: Jennifer Laszlo Mizrahi, President and CEO, RespectAbility
Re: Public Comments on City of Los Angeles Workforce Development Board ANNUAL PLAN YEAR 20 / 2019–20
Date: May 3rd, 2019
RespectAbility wants to congratulate the City of Los Angeles for the clear hard work and commitment to create a more equitable economy for all Angelenos as demonstrated in the City of Los Angeles Workforce Development Board's (WDB) draft Year 20/2019-2020 Annual Plan. We were especially excited to see that the Plan specifically identified the annual number of job seekers with disabilities served by LA-area workforce programs. From the 2,728 Angelenos with disabilities served in PY17-18 to the 3,476 served this past year represents a major period of growth. As such, RespectAbility is making the following public comments with our recommendation on how to capitalize on that growth.
Our organization is a national, non-partisan, non-profit dedicated to fighting stigmas and advancing opportunities for Americans living with disabilities. While our organization is based in Washington, D.C., we have done extensive work in the greater Los Angeles metropolitan area since 2017. We have extensive connections throughout the entertainment industry as part of our work to fight the stigma against disability by promoting authentic and accurate portrayals of disability in the media. On the advancing opportunities side of our mission, we have been intimately involved with the implementation of the Workforce Innovation and Opportunity Act (WIOA), documenting best practices and advocating for policies to empower youth with disabilities. We are now the recipients of a state Workforce Accelerator Grant, allowing us to establish a permanent presence in Los Angeles and launch new partnerships. With our credentials established, we now turn to our specific recommendations:
Use The Right Data:
Given the priority placed on populations with barriers to employment under WIOA, leaders in the workforce development system need to have clear data points driving their decision making. As such, we begin our public comments by reviewing several critical pieces of data on the size, scope and challenges facing the disability community in Los Angeles. In California itself, there are 1,980,677 working-age (ages 18-64) people living with a disclosed disability. Out of that total number, 721,536 have jobs. Locally, in Los Angeles city itself, there are 185,973 working-age people with disabilities. When you take a step back and look at Los Angeles County, the total number of working-age people with disabilities is 452,879. Overall, that means there are well over half a million working-age Angelenos with disabilities. That is a significant pool of potential employees. However, according to the latest data from the American Community Survey (ACS) collected by the U.S. Census Bureau, only 22.8 percent of Angelenos with disabilities have jobs. Meanwhile, Angelenos without disabilities have a labor force participation rate of 63.1 percent. Comparing those two numbers shows that there is a 40.3 percentage point gap in outcomes. Reducing that gap should be a critical goal for your workforce development efforts moving forward. Finding a good job, especially for youth with barriers to employment, is critically linked to educational attainment. As such, looking at local data on high school graduation rates is important. As noted in the draft plan "Educational attainment remains a significant barrier to accessing middle-skill employment for many Angelenos" and that "nearly 24 percent of working age adults lack a basic High School education, nearly double the national average." Overall, looking at data from the Los Angeles Unified School District, we see that overall, LAUSD students have an 81.3 percent high school graduation rate. However, when you look closer at outcomes for students with disabilities, you see that serious gaps exist. Los Angeles students with disabilities have a high school graduation rate of 63.7 percent. Further, there are 65,886 students with disabilities enrolled in Los Angeles public schools. That also means that L.A. schools serve fully one quarter of all students with disabilities in California. That is a pipeline of talented youth who may need supports and services to successfully transition into the workforce. The Year Twenty Plan as written does much to align priorities, services and programs around supporting educational attainment among Angelenos with some of the biggest barriers to success. Addressing those barriers provides the clearest path for changing the "pervasive income inequality contributes to the high concentration of poverty among communities of color." As noted in the Plan, in Los Angeles: "24.5 percent of African Americans and 23.7 percent of Latinos living in poverty." Similarly, 21 percent of Angelenos with disabilities live in poverty. Guided by these and many other data points, we know that the City of Los Angeles Workforce Development Board's efforts will have a major impact.
Visit Proven Models:
An important step that leaders in a workforce development system can take to make disability employment a high priority is to visit programs successfully getting people with disabilities into the workforce. As such, we highly recommend that members of the City of Los Angeles Workforce Development Board take the opportunity to visit local school-to-work transition programs that are transforming the lives of youth with disabilities. The models worth your attention are Project SEARCH and Bridges from School to Work. Project SEARCH is a proven business-led program where students with disabilities get hands on real-world job skills in their final year of high school. Bridges prepares youth with disabilities to be employment ready, provides businesses with qualified job candidates and strengthens communities through inclusive workforce development strategies. Since 2015, SEARCH has served over 3,000 young adults with disabilities and 78 percent of them found jobs. Likewise, through Bridges, over 15,000 youth with disabilities have been placed with over 4,500 employers. Both models offer proven strategies for businesses to incorporate the talents of the students with disabilities into the workforce. Locally, there are SEARCH sites worth visiting at the Kaiser Permanente LA Medical Center, Kaiser Permanente West LA Medical Center, and the Ronald Reagan UCLA Medical Center. Currently, the Los Angeles office of Bridges coordinates with LAUSD, the Compton Unified School District and L.A. County Office of Education – LA South Bay District.
No Need To Reinvent The Wheel:
It is easy to talk about WIOA being a paradigm shift in how the nation's entire workforce system does business. The law introduced many requirements on workforce system programs and established new reporting requirements all without the additional investments sometimes necessary to make systematic change. One of our critical recommendations when it comes to ensuring the workforce system has the capacity and readiness to serve job seekers with disabilities is to ensure that workforce professionals make good use of resources such as the Job Accommodation Network and Employer Assistance and Resource Network on Disability Inclusion. From time management to the other productivity tools, simple assistive technology, matched to a person's needs can drive workplace inclusion and success.
Criminal Justice Issues:
The Bureau of Justice Statistics shows that 40 percent of the prison population has a disability. Further, 95 percent of incarcerated people will be released and returned home. To prevent recidivism and ensure success, re-entry services, and training programs need to be prepared to assess returning citizens for disability and then address disability issues as they arise. These programs need to understand reasonable accommodations and have access to assistive technology including mental health support or other phone-based applications. As such, we want to commend the Board for making the reentry population the focus of both strategic initiatives and new investments. Congratulations for the multi-million-dollar investment you and your colleagues have secured through the Prison to Employment (P2E) grant. We would challenge the Board and your regional partners to consider the disability elements of this critical work. Do your programs serving the reentry population have the capacity to track if a returning citizen has a disclosed disability? Can arrangements be made to coordinate with the Department of Corrections and the Department of Rehabilitation to provide disability assets before citizens leave the correctional system? If someone does disclose a disability issues, how do program professionals react? Have they received training on disability employment best practices? If not, can connections be made to disability organization or can self-advocates be recruited to provide trainings? As a starting point, we would recommend that you consider RespectAbility's 2016 report Disability and Criminal Justice Reform: Keys to Success. The report contains a series of recommendations to reduce the school-to-prison pipeline for people with disabilities, to enable incarcerated individuals with disabilities to receive the skills they need to succeed, and best practices on how to help returning citizens integrate back home.
Showcase Success:
As we discuss in our annual Best and Worst States report, disability employment outcomes vary widely between different states. People with disabilities in North Dakota are twice as likely to have jobs as West Virginians with disabilities. It is worth noting that the employment rates for people with disabilities in Los Angeles is even lower than West Virginia, the bottom state in the United States.
One factor that makes a tremendous difference expanding opportunities for people with disabilities is have a sustained public awareness campaign focused on promoting the business benefits of hiring employees with disabilities. The model we would encourage the City and the Board to follow is the Ability For Hire Campaign from South Dakota. Sponsored by the state's Department of Human Services, Ability for Hire provides information to businesses, job seekers with disabilities and professionals in the workforce system about how to recruit, hire and retain job seekers with disabilities. The integration of public awareness activities and practical resources for businesses can make a major difference in outcomes for populations with serious barriers to employment. Further, the City of Los Angeles is uniquely positioned to integrate the power and leverage of the entertainment industry towards this goal. Showcasing the success of people with disabilities and other barriers to employment in television and film will not only havea a local impact but also a global impact.
Self-Employment and Start Ups:
In reviewing the Census Bureau data for Los Angeles, it is worth noting the number of Angelenos with disabilities who either entrepreneurs or self-employed. Among Angelenos with disabilities who are employed, 15 percent of workers with disabilities are self-employed and 5.6 percent of workers with disabilities are self-employed in their own incorporated business. Encouraging entrepreneurship or self-employment offers a tremendous opportunity for the City to empower more and more people with disabilities to enter the workforce. Setting specific goals to expand entrepreneurship/self-employment funding, training, and programs could be a tremendous chance to address inequality directly. We would encourage the Board to explore ways in which workforce development/disability agencies (such as vocational rehabilitation, SNAP, TANF, developmental disability and mental health) could incorporate entrepreneurship and self-employment training as an option for job seekers with disabilities. Another strategy to support business entrepreneurs with disabilities would be to identify Disability-Owned Business Enterprises, or DOBEs, in city procurement contracts. Likewise, ensuring that disability is included under existing Minority Enterprise categories could be another strategy.
Federal Contractors:
RespectAbility also recommends that the City's Workforce Development Board include federal contractors as an important category of business in your future planning. We mention this both because of how widely spread federal contractors are but also because of the unique goals set by the Section 503 regulations under the Rehabilitation Act of 1973. Section 503, for those who are unfamiliar, explicitly prohibits federal contractors and subcontractors from discriminating against qualified individuals with disabilities. Further, the regulations implementing Section 503 specifically direct such employers to take positive steps towards recruiting, hiring and retaining employees with disabilities. Among the critical elements of these regulations are a utilization goal for contractors to have 7 percent of their workforce, in all job categories, be qualified individuals with disabilities. As the Board is looking for employer partners eager for talented individuals with barriers to employment, we encourage you to consider some of the businesses with the largest federal contracts in the city of Los Angeles.
Collected from the website FedSpending.org, the follow companies held the largest federal contracts as of Fiscal Year 2015:
Top 10 Federal Contractors in the city of Los Angeles – FY 2015

Source: FedSpending.org

YOUNG WOMEN'S CHRISTIAN ASSOC. OF GREATER L.A.
$31,912,987
METROPOLITAN INTERPRETERS & TRANSLATORS, INC.
$28,432,256
SECURITAS AB
$28,408,129
INTER-CON SECURITY SYSTEMS, INC.
$17,382,544
SAFEGUARD SERVICES LLC
$13,690,233
CLARK ENTERPRISES, INC.
$10,931,327
VANCE CORPORATION
$7,293,327
G4S PLC
$7,162,092
TYCO INTEGRATED SECURITY LLC
$6,267,919
AECOM
$4,948,739
L.A. Talent Challenge and Summer Jobs:
Summer employment opportunities are a critical chance for all youth to develop their skills, increase their knowledge and gain valuable work experience. Such experiences can be the crucial difference between success or failure for youth with serious barriers to employment such as justice involvement or disability issues. This year, our partners at the Los Angeles Area Chamber of Commerce have set the ambitious goal of having 500 or more employers sponsor or hire an intern this summer. The L.A. Talent Challenge represents a systematic effort to build a future workforce and expose business across L.A. to the incredible talents of young Angelenos. There are documented practices and recommendations to ensure that summer experience translate into valuable learning experiences, especially for youth with disabilities. From reviewing the Revised Policies draft section of the Year Twenty Annual Plan, we know that policies are in place to support job seekers with disabilities around non-discrimination, universal access and other key elements. However, we wonder how far policies are translating into practical action. It is encouraging that the policies require "Each WorkSource and YouthSource Center" to "designate a Disability Coordinator", but how often do such Coordinators meet or collaborate? Is there a mechanism for lessons learned in terms of serving youth with disabilities being shared with system partners such as the Los Angeles Department of Public Social Services responsible for Summer Youth Employment? We raise these questions to ensure the ultimate success of summer jobs programs.
Resource Fairs and Community Resource Guides:
Because Los Angeles is one of the largest metropolitan areas in the entire world, it can be challenging for job seekers, family members and others to know where to go or where to find resources that can help them with their needs. As RespectAbility has found time and again, people don't know what they don't know and don't know what they need to know. Back in 2017, RespectAbility was the recipient of a small community grant for collaborative work in Long Beach, California. Gathering together local partners, agencies and self-advocates, we found a critical need for a free community resource guide that touched on everything from employment services to education supports and a host of other topics. Our Guide was well received by local leaders who spoke about the challenges of trying to find a single source to guide towards available resources. Having this type of comprehensive guide could be a valuable service provided by the City's Workforce Development Board to the job seekers, systems partners and employers that you serve.
Parent Engagement:
An underexplored challenge related to youth employment and ensuring the success of people with barriers to work is the issue of family engagement. Getting families involved with the development, learning, health and wellness of their children has long been a part of localized health strategies and federal policy. As documented by the federal Dept. of Health and Humans Services: "Studies indicate that warm, responsive and sensitive parenting promotes socialemotional competence and academic success." However, engaging the whole family should be thought of as part of supporting youth employment. In practical terms that will mean training for workforce leaders, teachers, paraprofessionals, and others on best practices in parental and family engagement. As well as hosting events at physically accessible locations, preparing accessible marketing materials and connecting parents to parent resource centers or other sources of information. The best practice is to combine parent resource training seminars with community fairs that showcase organizations and resources that parents can utilize. These types of events should be hosted in in accessible schools where both translation services and child care can be provided. One of the best examples in the country for this is Montgomery County, Maryland. In that county the employment outcomes for people with disabilities is twice that of Los Angeles' disability employment rate.  Montgomery County public schools offer resource portals that are multilingual and integrated across the community: https://www.montgomeryschoolsmd.org/departments/special-education/parent-resources/. This is an example of one of their vital programs that is coordinated with the schools, parents and vocational services: https://www.montgomeryschoolsmd.org/departments/special-education/events/.
Hollywood as a Sector Strategy:
When people think about Southern California, it is only natural that they about Hollywood and the multi-billion industry that feeds Americans continuing demand for content. Entertainment professionals across all platforms are working to become more inclusive of minorities. While people with disabilities are the largest minority in America (roughly 20 percent of the population), the disability community often is forgotten in conversations about inclusion and diversity. According to GLAAD, fewer than two percent of scripted television characters (16) had disabilities in 2017. The amount of regular primetime broadcast characters counted who have a disability has slightly increased to 1.8 percent, but that number still vastly underrepresents the actual number of Americans with disabilities. Furthermore, actors without disabilities play more than 95 percent of all characters with disabilities on television. According to a recent report by The Media, Diversity, & Social Change (MDSC) Initiative at USC's Annenberg School for Communication and Journalism, only 2.7 percent of all speaking or named characters in film were shown to have a disability in 2016 (up from 2.4 percent in 2015). None of the leading characters were from an underrepresented racial/ethnic group or the LGBTQ community.
The representation that does exist is misleading. Almost all portrayals of people with disabilities in media are white, but disability impacts all. Anyone can join the disability community at any point and people with disabilities come from all communities – including African American, Asian, Hispanic, Native American, LGBTQ and other communities. It is our view that everyone who works on any aspect of diversity in Hollywood will be able to help ALL – as a rising tide lifts all ships. Television programming and films that represent the talents, innovation and inclusion of ALL of us simply are better. Opening the inclusion umbrella is the right thing and is economically smart given that the overall disability market is valued at more than $1 trillion. According to Nielsen Research, consumers with disabilities represent a $1 billion market segment. When you include their families, friends and associates, that total expands to more than $1 trillion. Americans with disabilities represent the third largest market behind Baby Boomers and the mature market.
As such, we would challenge the City's Workforce Development Board to serious consider the ways in which it interfaces with the entertainment industry and where it might leverage those connections to advance inclusion for people with disabilities. RespectAbility is working to help Hollywood ensure accurate and positive media portrayals of people with disabilities.. We partner with leaders in the entertainment industry for the full inclusion of people with disabilities – both in front of and behind the camera. Now, we are inviting new partners to help move the needle on three core issues: 1) diversity, equity and equality inclusion and diversity in Hollywood; 2) more positive and accurate portrayals of people with disabilities; and 3) the employment of people with disabilities.
Given the omission of the entertainment industry from the sector strategies identified in the Year Twenty Annual Plan, we invite the City's Board to think about the interconnections between their work and the industry itself. RespectAbility is well positioned to assist with that effort and we would be delighted to work with you on it.
The Nonprofit Sector as a Strategy:
This past year more than 30 percent of all new jobs for people with disabilities were in the nonprofit sector. RespectAbility recently completed a major study that showed that more than 80 percent of nonprofits are not accessible to at least some sectors of the disability community. As the Board coordinates and collaborates with various non-profit sector partners, we encourage you to make use of the resources and ideas collected into our Disability in Philanthropy & Nonprofits study. While many non-profits are physically or programmatically inaccessible to people with disabilities, we can report that California philanthropic leaders are stepping up to become industry leaders on disability issues. RespectAbility is actively collaborating with Southern California Grantmakers, California Endowment, California Wellness and the Weingart Foundation to make improvements across the sector and Los Angeles metropolitan area. We are ready to help all groups on this front. Indeed, it is vital for nonprofits that work on disability issues to have people with disabilities work inside them and on their boards as they know best the solutions that really work for our population. Not only does our study document where the non-profit sector stands, it also includes very specific suggests on how to make dramatic improvements quickly and without much money.
In Conclusion:
Our organization is motivated by the fundamental fact that if we find the right jobs for the right people with disabilities, it can and will benefit the bottom line of companies. In closing, we want to reiterate several critical facts that underpin our work:
As this work moves forward, it is important that we leverage our mutual resources in the City of Los Angeles. As such, we look forward to working with you.