Washington, D.C., May 22 – "For every dollar spent, 10 cents should be put towards employing people with disabilities," National Council on Disability Chairman Neil Romano advised RespectAbility's National Leadership Fellows about disability inclusion.
This advice came from Romano's many years as an advocate for people with disabilities, ranging from starting his own public relations firm, Romano & Associates (1988), being a member of the President's Committee for People with Intellectual Disabilities (2006-2008), and serving as Assistant Secretary of Labor of the Office of Disability Employment Policy (ODEP, 2008-2009). Romano's passion stems from being an individual with a disability himself. Romano is dyslexic and most recently has been diagnosed with cancer.
Battling Disability Stigma
Being dyslexic created problems with finding a job for Romano because his resume had too many spelling errors even with a degree from NYU and post graduate work at Brown University. Romano understood how stigma affects disability and knew it could stop him from being hired, so he would not disclose his disability.
People with invisible disabilities often do not disclose having a disability according to Romano because they do not want to be marginalized. Romano acknowledged that he looks like a nondisabled white man with power and knew that might influence employers to hire him. But Romano is worried about the people with disabilities who cannot hide their disability and/or are not white males such as some of RespectAbility's Fellows.
Visible disabilities are a major factor in the lack of employment for people with disabilities, but RespectAbility aims to fight this stigma and advance employment opportunities for people with disabilities.
Romano added, "This group is the future, we need minds like yours because you know how to include disability into the narrative unlike many others."
People with Disabilities Have Economic Power
Money plays a huge factor in negotiating integration for people with disabilities into competitive employment. Representing about 20 percent of the United States, with one in five individuals being disabled, people with disabilities have economic power and can make or break a company.
Romano thinks in "units of green," and believes that for every $1 spent, 10 cents should be for integrating people with disabilities into employment (including battling stigma). Gaining employment can lead to gaining economic independence and the pursuit of higher education; it's like a ripple effect for people with disabilities, and it is a critical piece to success.
Disability is a Civil Rights Issue
Integrating people with disabilities into employment is framed into the "day-old bagel model" as Romano puts it. He explains this model as making people with disabilities the left-over choice instead of being the first choice. People may not reject a bagel that is a day old, but they would prefer a fresh bagel. Romano wants to get rid of the "day-old bagel model" because people with disabilities should be considered equal and have civil rights.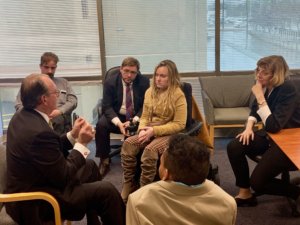 Section 504 of the Rehabilitation Act prohibits discrimination against people with disabilities in any program or activity that receives federal funding, and the American with Disabilities Act prohibits discrimination based on disability in areas of public/private life. Romano thinks RespectAbility and its National Leadership Fellowship program could be a catalyst to change the minds of modern-day employers. The National Leadership program aims to recruit students with disabilities who want to become advocates in the disability community.
Through Romano's talk, RespectAbility's Fellows found out that the fight for rights for people with disabilities is not over. Advocacy is a never-ending job as it takes those who are willing to endlessly educate to get the job done.
JOIN OUR TEAM!
RespectAbility is a nonprofit organization fighting stigmas and advancing opportunities for and with people with disabilities. This spring, 15 Fellows had the opportunity to learn from a variety of guest speakers. Learn more about the National Leadership Program and apply for the next cohort! Contact BenS@RespectAbility.org for more information.
ALL FELLOWSHIP OPPORTUNITIES
LEARN MORE