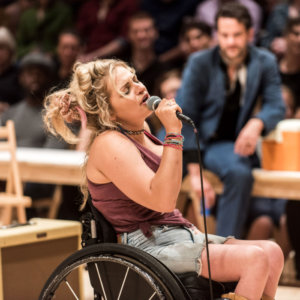 New York City, May 3, 2019 – This year's nominations for the Tony Awards – a major award ceremony honoring Broadway shows and performers – broke new ground for the disability community when Ali Stroker became the first performer with a wheelchair to be nominated for a Tony Award. She is nominated for Best Featured Actress in a musical for her sexy take on Ado Annie in the groundbreaking revival of Rodgers & Hammerstein's Oklahoma! 
Stroker also has been nominated for the same category in the Drama Desk and Outer Circle Critic awards. She shares the nomination for Drama League's highly competitive Distinguished Performance Award with Gregg Mozgala – from the Off Broadway hit Teenage Dick – who is the first performer with cerebral palsy to be nominated.
Stroker told the New York Times minutes after her Tony nomination, "This show exists for people to see things different. And to be able to do this role — and to be an actress in a wheelchair — it feels like I have arrived."
Making Broadway History
Stroker is the third performer with a disability to be nominated for a Tony. If she wins the Tony, she will be the second performer with a physical disability to gain the award.
Last year, Lauren Ridloff, who is deaf, was nominated in 2018 for Best Leading Actress in a Play for Children of a Lesser God. "I feel so proud to have this platform to talk about things that are happening right now in deaf people's lives," Ridloff told CBS News. Phyllis Frelich, who originated the role in 1980, won the Tony that year, making her the first performer with a disability to win a Tony.
Stroker made her Broadway debut in Deaf West's production of Spring Awakening in 2015, becoming the first performer with a wheelchair on Broadway. She joined a cast that was made up of deaf and hearing performers, which included deaf talent Fargo's Russell Harvard – who currently is on Broadway in King Lear – and Academy Award winner Marlee Matilin.
"I have lived my entire life needing to be creative to solve problems for my wheelchair. I bring that into the production as well," Stroker told Parade in 2016. "Also, because of my unique experience living in a chair, I give something different to a character, a unique perspective."
Finding Her Character
After many Broadway revivals of Rodgers & Hammerstein's Oklahoma!, this production takes modern twists and turns from this classic. The stripped-down direction from Daniel Fish (who has been nominated for Best Direction in a Musical) required Stroker and her colleagues to dig deep down into their characters.
"When I first got to working on this production, it was so different from anything I had worked on before," recalled Stroker. "When we first started rehearsing, we were just sitting, reading the script and hearing the words. I obviously grew up knowing 'Oklahoma!' and doing it in college. But getting to look at Ado Annie in this new light, in a more modern take of a show — she's so often judged, and I've worked hard not to judge her. Just listen to her anthem: She's so hungry for life."
Stroker performed her solo "I Cain't Say No" on the Tonight Show Starring Jimmy Fallon in early April. While "I Cain't Say No" traditionally is performed bashfully and innocently, her take is sexy and unapologetic with a country twang style.
"It's so fun to play somebody who doesn't apologize for who they are," added Stroker. "It's helped me to use my own voice."
Making the Role Accessible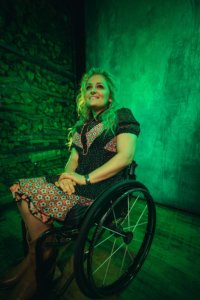 "It's such a physical role, and my physical world is so specific to me," Stroker said to the New York Times. "It's so cool to share that with an audience every night. Being onstage, you're given permission for people to really look at you and see how you move, how you express yourself. In so many ways, it's empowering. It makes me feel really powerful to choose to put myself out there, to be the storyteller."
As a traditional musical, Oklahoma! has a good amount of dance numbers. Stroker used it as an advantage to showcase her wheelchair. She teamed up with choreographer John Heginbotham, and made motions with other parts of her body to match with her co-stars. She breaks down the process in an interview with Vulture:
"Usually, the first day of rehearsal, whether we're working on choreography or not, I always introduce myself to the choreographer. It's important, if you move differently, to have a good relationship. The next part is about translation — I use that term a lot when I talk about dance. It basically means that I take what everyone else is doing and then I translate it for my body. So if they're doing something with their feet, I might translate it and do it with my shoulders or my hands, capturing the essence and the spirit of each move. Because — is it satisfying to see everyone doing the same exact movement? Yes. But it's more satisfying to see somebody move and express themselves."
Oklahoma! plays at the Circle In the Square. While there is an elevator leading down to the theater, the building is not traditionally accessible. Stroker teamed up with the building management and a disability consultant to make the theater as accessible as possible for her.
"The reality is that I know what I need, but I don't always know what is possible in a building," she said in an interview with Vulture. "So that was really helpful, that they brought in somebody who could see: 'This is what we can put here.' All of those accommodations are great, but the reality is that I need help from people every day. And a huge part of my success is being someone who asks for help."
A Long Way to Go for Actors with Disabilities
Despite Stroker's amazing accomplishment, Broadway still has a long way to go with inclusion. The 2015 Best Play A Curious Incident of the Dog in the Nighttime had one of the first main characters on the autism spectrum on Broadway. However, they cast an actor without autism or any other disability for the role of Christopher. Additionally, Broadway's recent productions of The Cripple of Inishmaan, Richard III, The Miracle Worker and The Elephant Man, whose main characters have physical disabilities, had all of these lead roles played by actors without physical disabilities – with most of them being celebrities.
In its 15-year run, Wicked has not yet cast an actress with physical disabilities to play Nessarose, the Wicked Witch of the East, who gets around by wheelchair. Similarly the musical Newsies– based on the 1992 Disney film that ran from 2012 to 2014 – never cast an actor with a physical disability as Crutchie, a "Newsie" who walks with a limp and uses a crutch to get around.
Despite the setbacks actors with disabilities have, the campaign of casting people with disabilities still marches on. "One-fifth of American society has a disability," said Howard Sherman, who was the Senior Strategy Consultant for the Alliance for Inclusion in the Arts, "so what we must focus on is representing that in the stories that are told and making sure people with disabilities have the equal opportunity to be part of telling those stories."
However, Stroker has high hopes for the future as Broadway is slowly opening up to actors with disabilities.
"I really believe our industry is changing," reflected Stroker. "There's so much curiosity around disability. I feel it every day of my life. There is something untouched here that I think audiences want to know about. There are so many fun stories to tell, with and without my chair. People are ready."
The Tony Awards will air on June 9th on CBS.