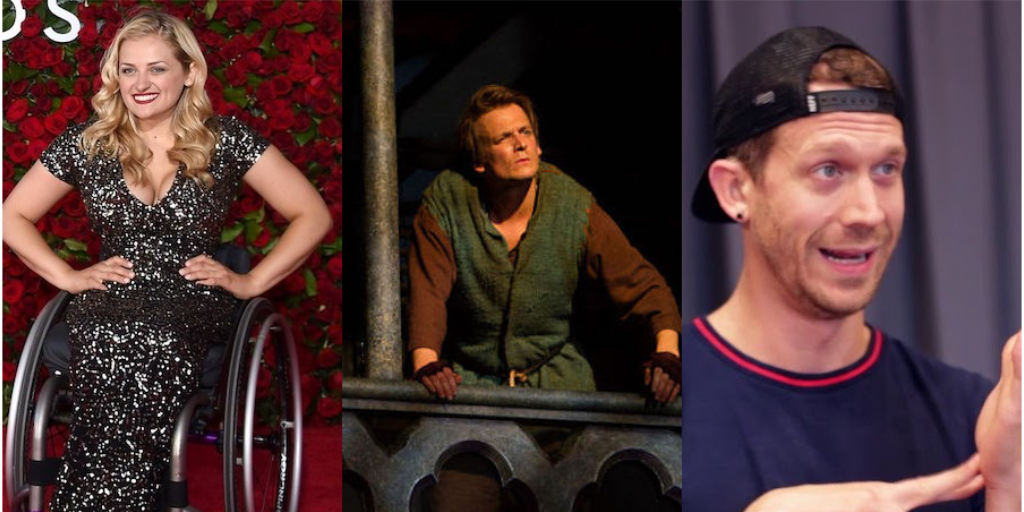 New York City, April 19 – To quote the Broadway phenomenon Hamilton: "History is happening in New York!" This season, Broadway has expanded its diversity to not just race or sexual orientation, but also disability.
After making their Broadway debuts in the 2015 revival of Spring Awakening (alongside Academy Award winner Marlee Matilin – who is deaf), Ali Stroker (Glee) and Russell Harvard (Fargo, Switched at Birth) return to Broadway this spring in Oklahoma and King Lear. Joining Harvard is John McGinty (The First Purge, Wonderstruck), who made his Broadway debut in 2017 in Children of a Lesser God.
Proving the Impossible is Possible: Ensuring Accessibility for All
As the three actors show the audience that actors with disabilities can do as much as the traditional actors without disabilities, they are not doing it alone. The creative teams work with the actors to ensure success.
Stroker is the first leading actor in a wheelchair in a Broadway musical. She plays Ado Annie in the modern revival of Rodger & Hammerstein's Oklahoma! and she received critical acclaim for her performance.
Choreography is a giant part of every musical and Oklahoma is no expectation. Since Stroker cannot dance traditionally with her co-stars, she and the show's choreographer John Heginbotham make motions with other parts of her body to match with her co-stars. She breaks down the process in an interview with Vulture.
"Usually, the first day of rehearsal, whether we're working on choreography or not, I always introduce myself to the choreographer. It's important, if you move differently, to have a good relationship. The next part is about translation — I use that term a lot when I talk about dance. It basically means that I take what everyone else is doing and then I translate it for my body. So if they're doing something with their feet, I might translate it and do it with my shoulders or my hands, capturing the essence and the spirit of each move. Because — is it satisfying to see everyone doing the same exact movement? Yes. But it's more satisfying to see somebody move and express themselves."
Oklahoma! plays at the Circle In the Square. While there is an elevator leading down to the theater, the building is not traditionally accessible. Stroker teamed up with the building management and a disability consultant to make the theater as accessible as possible for her.
"The reality is that I know what I need, but I don't always know what is possible in a building," she said in an interview with Vulture. So that was really helpful, that they brought in somebody who could see: 'This is what we can put here.' All of those accommodations are great, but the reality is that I need help from people every day. And a huge part of my success is being someone who asks for help."
Ensuring Accessibility for Deaf and Hearing Audiences Together
Harvard, who is deaf, stars alongside the legendary Glenda Jackson in Shakespeare's King Lear as the Duke of Cornwall. Harvard's understudy, who also is in the ensemble, is fellow deaf actor John McGinty.
Harvard can talk but loves to use sign language as well. "It's such a compelling and visual means of communication, but it's also a language that most people don't speak, he said in a 2014 interview with NPR. "So, it creates an amazing amount of privacy, for deaf people to be surrounded by hearing people and be able to communicate in a way that no one can really understand."
Harvard and McGinty sign their words to their fellow actors. So, the hearing audience can understand what they are saying, their lines are translated by the speaking actors. These actors are known in the theater as "shadows." Specifically speaking Harvard's lines is the Aide of Cornwall (Michael Arden), a role that is exclusively written for this production.
A Long Way to Go for Actors with Disabilities
Disability is slowly coming to the Broadway mainstream. The 2017 production of The Glass Menagerie, starring Sally Fields, had the first actress with disabilities to play Laura—newcomer Madison Ferris, who has muscular dystrophy. Now, Stroker, Harvard and McGinty can prove that actors with physical disabilities – including those who use wheelchairs and those who are deaf – can bring in big audiences.
However, Broadway still has a long way to go for full inclusion of actors with disabilities. The 2015 Best Play A Curious Incident of the Dog in the Nighttime had one of the first main characters on the autism spectrum on Broadway. However, they cast an actor without autism or any other disabilities for the role of Christopher. Additionally, Broadway's recent productions of The Cripple of Inishmaan, Richard III, The Miracle Worker and The Elephant Man, whose main characters have physical disabilities, had all of these lead roles played by actors without physical disabilities – with most of them being celebrities.
In its 15-year run, Wicked has not yet cast an actress with physical disabilities to play Nessarose, the Wicked Witch of the East, who gets around by wheelchair. Similarly the musical Newsies – based on the 1992 Disney film that ran from 2012 to 2014 – never cast an actor with a physical disability as Crutchie, a "Newsie" who walks with a limp and uses a crutch to get around.
Despite the setbacks actors with disabilities have, the campaign of casting people with disabilities still marches on. "One-fifth of American society has a disability," said Howard Sherman, who was the Senior Strategy Consultant for the Alliance for Inclusion in the Arts, "so what we must focus on is representing that in the stories that are told and making sure people with disabilities have the equal opportunity to be part of telling those stories."
Stroker – paralyzed from the chest down after a car accident when she was two – was the first actor with a wheelchair on Broadway.
"I remember being younger and just looking everywhere for someone who looked like me, and it didn't exist," she said in a 2015 interview with Teen Vogue. "When you see somebody else who looks like you, who is in your similar position, you somehow are given confidence that you're going to make it. That's why representation is so important. The stories that we see portrayed, they're from our own."
Off-Broadway Leads the Way in Disability Inclusion
Fortunately, New York City has a productive theater industry. Many Off-Broadway and Off-Off Broadway theater groups focus on actors with disabilities. For example, Theater Breaking Through Barriers is an Off-Broadway theater company that casts actors with disabilities yearlong. They produce both short play festivals and a revival of a modern play yearly.
Spring and Summer 2018 also were diverse Off-Broadway seasons with stories about disabilities that starred actors with disabilities.
The play Amy and the Orphans – produced by Roundabout Theater Company – centered on a young woman named Amy – with Down syndrome – who joins her siblings on a road trip to her father's funeral. Amy was played by Jamie Brewer (American Horror Story), who also has Down syndrome. Her performance led to winning a Drama Desk for Best Leading Actress in a Play.
At the same time, the New York Theater Workshop helmed a revival of Light Shining In Buckinghamshire, which featured actors with disabilities. "This is a play about collective liberation, and features a slew of characters who are fighting for acknowledgment, equality, and liberty," said director Rachel Chavkin. "So the humans in the cast should reflect and embody that as powerfully as possible."
During the summer, the Off-Broadway company Public Theater, which is famously the birthplace of Hamilton, premiered Teenage Dick, a disabled version of Shakespeare's King Richard III.  Its lead performer was Gregg Mozgala – who has cerebral palsy – and also starred Shannon DeVido (Difficult People), who has muscular dystrophy.
As Off-Broadway leads the way for disability and theater, it is clear that Broadway is slowly starting to follow its example.
"I really believe our industry is changing," reflects Stroker. "There's so much curiosity around disability. I feel it every day of my life. There is something untouched here that I think audiences want to know about. There are so many fun stories to tell, with and without my chair. People are ready."