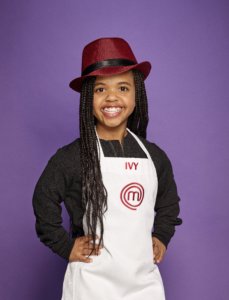 Los Angeles, California, April 18 – Halfway through the seventh season of MasterChef Junior, some of the contestants are proving they are worthy contenders. One such young chef is 11-year-old Ivy, a Little Person who has achondroplasia, which causes an average sized torso with short limbs due to the lack of cartilage formation.
The season began with 24 children between the ages of eight and 13 who are competing for the title of Masterchef Junior and $100,000 in prize money. With just 12 contestants remaining, "Little Chef Ivy" continues to show the judges her exceptional cooking skills. Armed with her signature style – long braids topped with a fedora hat – Ivy is treated just like the other contestants, as she should be.
"You can do it!" Ivy has said. "If you put your mind to it, anything can happen, but also know your limits and that's ok."
Like a few of her competitors, Ivy is from Atlanta, Georgia. In the opening episode, Ivy's mystery box challenge breakfast earned her a spot in the top three, giving her immunity in the elimination challenge. She has since gone on to prove she is a team player, performing well in several team challenges, as well as in individual competitions.
Reality television often is noted for breaking down various barriers, and when it comes to addressing disability, there is no exception here. Ivy is not the only reality cast member on television with achondroplasia today, as reality TV star and producer Terra Jolė of Little Women: Los Angeles also has this condition. In terms of her future, Ivy wants to be a food critic and travel the world.
Discounted Blind Chef Christine Hà Wins Master Chef in 2012
Christine Hà, a woman who is blind, won season three of FOX's Master Chef. Although she had never attended culinary school, she ran The Blind Cook, a popular food blog.
"I think there are a lot of people who completely discounted me," Hà stated in an interview. "They think I'm there as a TV gimmick for ratings. People will say, 'What is she doing? Is she going to cut her finger off?' But I cook at home for years without vision, so if I can do it at home I don't see why I can't prove to everyone else I can do it on national TV."
Hà did more than prove herself – she won that season's competition.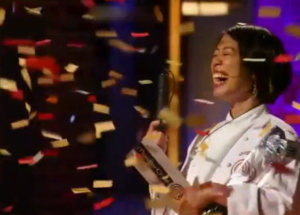 "The lady has an extraordinary palate, a palate of incredible finesse," said Chef Gordon Ramsay, one of the judges on MasterChef and MasterChef Junior. "She picks up hot ingredients, touches them, and she thinks about this image on the plate. She has the most disciplined execution on a plate that we've ever seen. But the palate is where it's just extraordinary. And honestly, I know chefs with Michelin stars that don't have palates like hers."
After the competition, Hà continued writing on her blog and published a cookbook, Recipes from My Home Kitchen. She also received the Hellen Keller Personal Achievement Award from the America Foundation of the Blind. The award is given to people and organizations that have "demonstrated outstanding achievement in improving quality of life for people with vision loss."
She has continued to advocate for those who are visually impaired, in particular through affected by neromyelitis optica, on her blog the NMO Diaries:
"I just want people to realize that they have it in themselves if they really want to. If they have that passion, that fire, that drive, that desire… you can overcome any obstacle and any challenges to really achieve what you want and prove yourself to the world. Everyone is very capable. Much more capable than they think they are."
The portrayal of people with disabilities in reality shows is in direct dichotomy with scripted television, where just 2.1 percent of all characters on primetime television have a disability. Furthermore, actors without disabilities play more than 95 percent of all characters with disabilities on television.
MasterChef Junior airs Tuesdays at 8:00 p.m. ET on FOX. While it is unknown how far Ivy will go this season, she currently is in the top 12, having shown her skills in at least seven episodes this season so far.