Cori Ashkenazy was only two-and-a-half-years-old when he and his family made Aliyah, making Israel their new home. But it was only after their arrival to Israel that his parents became aware that their son was "different" than other kids his age: after a battery of tests and evaluations, Cori was diagnosed with autism.
Undiscouraged, Cori's family invested boundless energy and means to facilitate and support his development and personal advancement. He met regularly with a speech therapist and physiotherapist, who assigned him daily drills and activities to strengthen his hypotonic muscles. To aid in his physical development, any time a new form of therapy was "discovered" or announced, Cori was immediately there to try it, including horseback riding therapy. Overtime, with dedication and patience, Cori overcame his hypotonia.
The joy of conquering and overcoming hypotonia was one thing, but it was the Israel Defense Forces (IDF) draft letter—the same every 17 or 18-year-old Israeli teenager receives—that really sparked Cori's excitement. On the morning of his induction and draft into the IDF, Cori's joy turned into disappointment: the recruiting officer monotonously told him and his parents that Cori was exempt from military service due to his autism.
Undeterred and determined to serve his country, Cori refused to back down. He wrote letters to any and every person of influence, including the IDF's Chief of Staff. Just as it seemed that all options had been exhausted, Cori received a call from his high school principal, informing him that he had been approved for recruitment into the IDF through Special in Uniform. Special in Uniform is a Jewish National Fund-USA supported partner program working to integrate Israeli youth with disabilities—mental and physical—into the IDF, and to ensure that the army is a place for everyone. In addition, throughout their service, Special in Uniform soldiers receive life-skill lessons and are provided with career assistance and placement to ensure a smoother transition into civilian life. Cori, and his parents, were ecstatic and leapt at the offer.
"You wouldn't believe what I did there in the army!" Cori says, following four years of service in the IDF, two of them as a noncommissioned officer and two as a volunteer. "I was practically Chief of Staff on base. I kept everyone on their toes and sometimes people really did wonder if I was the Chief of Staff, because at the time, Chief of Staff Gabi Ashkenazy and I shared the same last name!"
"Jewish National Fund believes that we have an obligation to ensure that each and every Israeli enjoys a life of dignity, belonging, and purpose," said Gary J. Kushner of Bethesda, Maryland, chair of JNF's Task Force on Disabilities. "This includes equality in all sectors of society, even the military."
During his service through Special in Uniform, Cori gained valuable life skills to elevate his self-esteem and preparation for civilian life, including career placement.
After his discharge, Cori set out on a post-army trip abroad, like all Israelis, and traveled to Thailand with his family. With assistance from Special in Uniform, Cori hit the job market and soon landed a job working in Ben Gurion Airport. Two years later, Cori is now employed by Tamam, the company responsible for supplying kosher airplane meals for ELAL and other airlines. "To me," said Cori "the army was 'school for life,' and it compelled me to confront a wide variety of circumstances and situations, some pleasant and some less so. Special in Uniform made it possible for me to be able to serve my nation and be where I am today."
---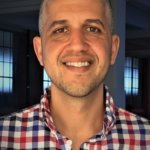 Daniel Peri is Editor-in-Chief of Jewish National Fund-USA's "B'Yachad" magazine and Senior Communications Manager for JNF's Mid-Atlantic region.
In our weekly Shabbat Smiles, RespectAbility welcomes a wide spectrum of voices. The views expressed in each Shabbat Smile are those of the guest contributor.
The Shabbat Smile is curated and edited by Debbie Fink, RespectAbility's Director of Community Outreach and Impact and Vivian Bass, RespectAbility Executive Committee Board Member.