For this week's Shabbat Smile, we are honored to share the poignant and personal story of disability advocate Guila Franklin Siegel, Associate Director of the Jewish Community Relations Council of Greater Washington (JCRC).
The ER geriatrician was matter-of-fact. "Your father has probably had mini-strokes. Usually we do a CT Scan to confirm the diagnosis but given your father's cerebral palsy, we can't immobilize his head to do the test. We likely have the right diagnosis, so we'll discharge him with a prescription for blood thinners."
Probably? Likely?
In one moment, my father's dual identities as a nursing home resident and a person living with cerebral palsy crashed head-on. Even at age 82 my father was still vulnerable to receiving inadequate care because of his disability.
My father's cerebral palsy rendered his hands virtually unusable and resulted in head and neck spasms and an unsteady gait.  Nevertheless, he graduated college and graduate school, spoke five languages, and had a long career as an urban planner.  He used a typewriter, and then a computer, with his toes.  He married my mother, also cerebral palsied, and had a daughter. He was intelligent, determined and had a wicked sense of humor.
After a life lived beyond what anyone had imagined for him, my brilliant father was now in decline. He had been experiencing alarming episodes of confusion, inability to speak, and muscle weakness. All signs led to stroke, but the unverified conclusions gave me pause.  I returned to my father and whispered, "Pop, how can we do an MRI?", with little hope that he would be able to respond. But he turned to me, and after much struggle uttered three words "Valium 10 milligrams."
I ran to the nurses' station, colliding with the ER internist. "You can do an MRI if you give him Valium," I blurted. The doctor calmly responded, "I know. Ignore the geriatrician, I'm admitting your dad. We'll sedate him and do an MRI in the morning."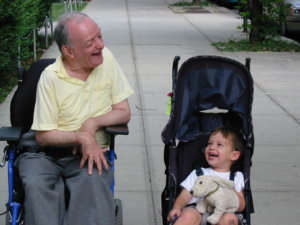 Sanity – and an informed, sophisticated approach to treating patients with disabilities – prevailed.  As it turned out my father had NOT had a stroke, but instead was manifesting the onset of dementia. Not a happy outcome, but armed with the correct diagnosis he was not given the wrong, potentially harmful, medication, and he could receive appropriate interventions for his condition.
Older adults with disabilities face unique challenges in accessing quality care that accounts for both their congenital conditions and their advancing age.  In the first half of the 20th Century many babies born with cerebral palsy did not survive past the first year of life, and of those that did, many had shortened life spans due to breathing, eating and other complications caused by CP, which can now be managed through advancements in modern medicine. My mother lived to be 82, and my father will soon be 86.
Is our medical and social services infrastructure prepared to accommodate the changing needs of disabled people as they age? As an Arc position paper noted, "Unfortunately, the discrimination that older people often experience in accessing community activities, housing, services, and supports and in enjoying all aspects of community life as they age, is experienced to a much greater degree by people with intellectual and/or developmental disabilities as they age."
Recent years have witnessed growing awareness of this challenge, and new strategies are being introduced to provide appropriate housing, medical and other services for senior citizens with life-long intellectual, physical and developmental disabilities.
It is in this public policy arena that my professional and personal lives come into harmony.  As the Associate Director of the Jewish Community Relations Council of Greater Washington (JCRC), the chief government and community relations arm for Jewish institutions in the Washington DC region, I am inspired by my life's journey to promote a more just and compassionate world for all people.
One of JCRC's most important responsibilities is to represent our community's outstanding social service agencies at all levels of government, securing millions of dollars annually to support their critical missions.  We are privileged to work with the Jewish Foundation for Group Homes (JFGH), which provides independent living for individuals with developmental disabilities at more than 75 sites throughout our region.
JFGH is leading the way in addressing the multi-dimensional challenges of enabling seniors with lifelong disabilities to continue to live independently as they age. To that end, the agency is exploring innovative residential models that meet clients' evolving needs stemming both from their disabilities and from the vagaries of the aging process itself.  As life expectancies for the disabled continue to rise, the JCRC believes that local and state governments will need to develop new funding streams to meet this growing demographic challenge.
I am proud that JCRC is championing these efforts, which affirm the dignity and complexity of disabled people's lives as they move through their twilight years.  And I am blessed to have the opportunity to channel all that I have experienced as my parents' daughter into elevating the lives of other disabled individuals, and indeed of all people in our diverse community.
---
Guila Franklin Siegel is the Associate Director of the Jewish Community Relations Council of Greater Washington (JCRC), the central government affairs and community relations agency of the Jewish community in the nation's capital.  Prior to joining JCRC, Ms. Franklin Siegel was the Founding Director of the Tikkun Olam Women's Foundation of Greater Washington, a Jewish grantmaking organization focused on empowering women philanthropists and supporting social change for women and girls.
An attorney by training, Ms. Franklin Siegel has served many organizations in a volunteer capacity, including the Charles E. Smith Jewish Day School, Adat Shalom Reconstructionist Congregation and the Hebrew Home of Greater Washington, where she currently serves on the Advisory Board of the ElderSafe program.  As the only child of two extraordinary cerebral palsied parents, Ms. Franklin Siegel has had a lifelong interest in disability rights and advocacy.   She has blogged for MATAN and speaks publicly on matters related to her life story, including disability inclusion and the impact of caregiving on women and their families.
Ms. Franklin Siegel resides in Potomac, Maryland with her husband Nathan and their three sons.
In our weekly Shabbat Smiles, RespectAbility welcomes a wide spectrum of voices. The views expressed in each Shabbat Smile are those of the guest contributor.
The Shabbat Smile is curated and edited by Debbie Fink, RespectAbility's Director of Community Outreach and Impact and Vivian Bass, RespectAbility Executive Committee Board Member.