[UPDATE March 30, 2019] – Hearts of Glass will be showing at the ReelAbilities Film Festival: New York on Wednesday, April 3, Saturday, April 6 and Monday, April 8, 2019. All of the screenings include open captioning and most include audio description. RespectAbility's Vice President, Communications, Lauren Appelbaum, will be moderating a panel discussion with the filmmaker and others following the April 6 showing in Manhattan.
Rockville, Maryland, Jan. 16 – In the United States, there are more than 20-million working-age people with disabilities. However, only a third of them have opportunities for employment. Around the country, there are state-wide employment programs for people with disabilities. But, it takes a special company to create its own employment program. Vertical Harvest, one of the world's only multi-story hydroponic greenhouses, provides year-round produce in a rural mountain town and meaningful employment to community members with disabilities. The staff members and its inclusive atmosphere are highlighted in Hearts of Glass, a documentary that is premiering this month at the Wild & Scenic Festival.
Hearts of Glass documents the early beginnings of Vertical Harvest and its employees with disabilities. Some of the featured workers include Kyle Burson who loves to use his brain, Zac Knudsen who rides horses, Ty Warner who loves to go to the carnival, Johnny Fifles who is a self-made My Little Pony fanatic or "brony" and Mycah Miller, a hometown artist. The cameras roll at their first days of work, training, promotions and even during their daily lives.
Director Jennifer Tennican was looking forward to making stories about Jackson, Wyoming since moving there in 2002. She had one goal in mind for her stories: Community – and the story of Vertical Harvest captured her interest.
"I was drawn to documenting a once-in-a-lifetime story about innovation and possibility unfolding in my backyard," said Tennican. "That story includes community members with disabilities."
Representation of Disability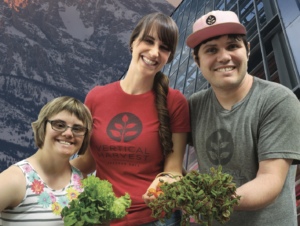 Each of the employees is diverse with their disabilities. Ty and Johnny both have different types of autism. Meanwhile, Kyle has cerebral palsy, Mycah has Down syndrome and Zac has an unspecified neurological degenerative disorder.  It was important for Tennican to have compelling representations of the varied employee.
"I wanted to provide well-rounded portraits through a combination of observational moments," said Tennican. "I had some amazing advisors from the University Centers for Excellence in Developmental Disabilities network and disability advocacy groups, who helped provide perspective on the lack of nuanced portrayals of individuals with disabilities in the media. RespectAbility is doing good advocacy work in this realm."
Moreover, descriptions of disabilities, with the exception of interviews from parents, are not reinforced in the movie. "For me, working on this film has reinforced the fact that a diagnosis is not a person's whole story," states Tennican.
Employees with Disabilities
Some job duties the workers conduct include driving around town to hand deliver products, picking the vegetables, setting up boxes and answering phone calls.  They have job supporters, who train them to be independent problem solvers and watch them master their work. For example, Mycah is nervous about answering phone calls and her supporters calm her with mock phone calls. Johnny's partners demonstrate putting together a box while encouraging him to use positive words while interacting with others.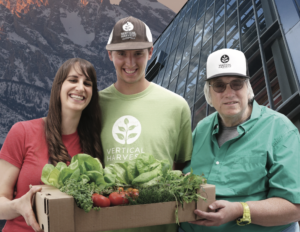 Tennican knows the power of film when it comes to portraying people and sending messages.  "Over the course of the film, in an organic way, I hope viewers get to know several of the greenhouse employees with disabilities. Viewers can experience firsthand the impact of employment and inclusion."
She adds, "I want people to recognize that everyone has abilities and that meaningful employment is critical to financial, emotional and social wellbeing. I hope the film will expose a wide audience to characters with diverse abilities, interests, home lives and communication styles."
Additionally, Tennican, inspired by documentaries The Best Kept Secret and Including Samuel, offers looks to the personal lives of the workers. Mycah is making art for her business while Ty and his roommate Collin learn essential independent-living skills such as cooking and grocery shopping. This debunks the stigma that people with disabilities cannot live on their own.