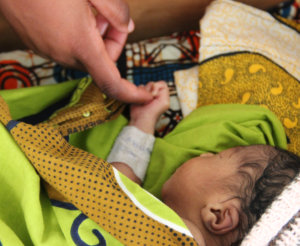 Washington, D.C., March 19, 2018 – The John D. and Catherine T. MacArthur Foundation joined a small cadre of exceptional champions for inclusion and equality by awarding $145 million in grants to groundbreaking projects that will include people with disabilities equally in their work. MacArthur's initiative, 100&Change, asked grant applicants – no matter their sector or project goals – to review a series of questions and a check list to ensure the inclusion of people with disabilities in multiple aspects of the grant recipients' proposed projects. Never before has a grant program anywhere near this size asked grantees to address how they plan to ensure access to benefits for persons with disabilities.
The Rice 360° Institute for Global Health (Rice University) received $15 million to prevent newborn babies in Africa from dying. Indeed, every year, 1.1 million newborns die in Africa alone, mostly from preventable causes — pre-term birth, complications of labor and delivery, and infections. The grant from MacArthur will enable Rice and their partners to providing quality, comprehensive hospital care during birth, labor, and the first weeks of life with a goal of reducing newborn deaths in certain areas by 75 percent.
RespectAbility had the opportunity to ask the winners of the grants about how they ensured their project will include people with disabilities as equals. Professor Maria Oden, a Professor in the Practice of Engineering in the Department of Bioengineering at Rice's George R. Brown School of Engineering and Director of the Oshman Engineering Design Kitchen at Rice University and co-director of Rice 360°: Institute for Global Health, gave us her insights:
We were pleased to have an opportunity to consider the list of questions about disability inclusion in our application. As you know, we addressed these questions when we submitted our Capacity Assessment Report (the detailed description of our 100&Change plan). Considering these questions as we prepared our detailed plan helped us ensure that activities that supported accessibility and inclusion were woven throughout our entire plan. Moreover, the detailed checklist helped us highlight the importance of each of these critical components in our overall plan to eliminate preventable newborn death in sub-Saharan Africa. 
The long-term goal of our 100&Change project is to end preventable newborn death in sub-Saharan Africa. We will achieve this goal by scaling NEST, a sustainable set of Newborn Essential Solutions and Technologies that support quality, comprehensive newborn care. Evidence shows that providing comprehensive hospital care during labor, birth, and the first week of life can reduce newborn deaths by 75%. This same care is also essential to reduce disabilities in newborns. Today, the majority of newborn deaths in sub-Saharan Africa occur in babies born just a few weeks early; the majority of these newborns would easily survive without significant disability in a high-resource setting. First and foremost, NEST will provide comprehensive care for at-risk newborns, including babies with disabilities.  
The checklist helped us expand and strengthen the plans for three of our top priorities for disability inclusion, and to ensure that we built adequate staff and budgetary support for these activities. First, NEST will improve care for patients with disabilities. NEST training will include treating every baby as effectively as possible with an improved standard of care, including newborns with disabilities. When a child with a disability goes home, families will be counseled on the value the child can bring and available follow-up care; materials will be developed in consultation with the Africa Disability Alliance. 
Second, the checklist helped us amplify our efforts to address accessibility and inclusion in the capacity building component of our 100&Change plan. As an institution of higher education in the United States, the lead institution for the NEST360° proposal, Rice University has processes and procedures in place to ensure equal access and opportunity to the educational environment for all students and equal access to employment for our staff.  We seek toachieve the standards of excellence from the Association on Higher Education and Disability (AHEAD). As part of 100&Change, our team proposed to expand engineering education at six African universities.  These efforts include opportunities for our students, both in the United States and in Africa, to engage with individuals with disabilities in creating or co-creating assistive technologies. Specifically, we proposed toexpand our track record of engaging a diverse group of students to develop technologies to address health needs of persons with disabilities. One example of this work is the partnership between The University of Malawi Polytechnic and the Orthopaedics lab at Queen Elizabeth Central Hospital to improve wheelchairs for children with cerebral palsy.  A second example is Rice University's annual design-a-thon to develop assistive devices; we plan to implement this event at all our 100&Change partner institutions. The checklist helped us ensure that we considered inclusion in our educational programming as well as physical facilities to support this work. We confirmed that the engineering design space and curriculum at Rice and partner universities are accessible to students with disabilities. We are particularly excited about this aspect of our plan, because it will help us build a cadre of future skilled practitioners who have a strong commitment to disability inclusion throughout their careers.
Finally, the checklist helped us identify ways to engage persons with disabilities in producing NEST technologies. Pumani CPAP is built by PRIDE Industries (https://www.prideindustries.com), one of the largest nonprofit employers of people with disabilities in the US.
We recommend that other leaders and groups who want to be mindful of equitable inclusion of people with disabilities in their teams, work and impact consult the checklist at an early stage in the planning process.  In addition, we recommend that they identify local disability rights groups or other partners who can provide necessary expertise throughout the planning process.   
Every year 1.1 million newborns die in Africa, mostly from preventable causes. At current rates of progress, it will be more than 110 years before a baby born in Africa has the same chance of survival as one born in North America.  We are eager to implement our 100&Change plan, which will not only reduce mortality but will also reduce the burden of disability associated with lack of access to high quality newborn care in Africa.  We would welcome additional support from people and organizations who advocate for people with disabilities; they can learn more about our project at http://www.rice360.rice.edu/nest-overview. As educators, we have seen the value of teaching universal design principals and building inclusive teams to develop new technologies and solutions that prevent and address the healthcare needs of persons with disabilities. We will continue our commitment to ensuring access and opportunity for all. 
"Historically, major philanthropists have not asked potential grantees to see and treat people with disabilities equally," said Jennifer Laszlo Mizrahi, president of RespectAbility, a nonprofit that fights stigma and advances opportunities for people with disabilities. She is also the co-founder/director of the Mizrahi Family Charitable Fund. "Funders who would never imagine funding groups that discriminate due to race or gender sadly exclude people with differing abilities. Often, it's not a question of will, but of skill, as even the best-intended philanthropists often do not know how to include people with disabilities. However, MacArthur has now raised the bar on equality by including the one-in-five people on earth who have a disability."
Fully $100 million is being invested in a major program to help refugees. To see how they are meeting the needs on inclusion go HERE. Catholic Relief Services got $15 million to change how society cares for children in orphanages. To learn about their inclusion success, go HERE. Information on the final winner, HarvestPlus: Eliminating hidden hunger in Africa by fortifying staple crops, will hopefully be out soon. Stay tuned!
RespectAbility, a nonprofit organization fighting stigmas and advancing opportunities for people with disabilities, offers free disability inclusion advice and expertise to philanthropists and nonprofits that want to ensure that their good work can benefit people with disabilities, just like anyone else.
##