This is the first poll to cover a number of new issues from a disability perspective, including the views of the disability community on the NRA, pro-life groups, President Trump, healthcare, values and other issues.
(View all poll data, PDF and Accessible PPT)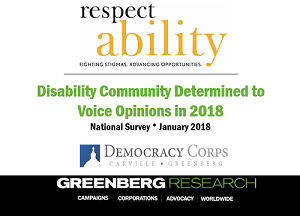 Washington, D.C., Feb. 13, 2018 – A new national phone poll of registered voters shows the size, scope, and varied nature of the disability community in the United States. Fully 63 percent of American voters are in the extended disability community — people with disabilities, a family member with a disability, a close friend with a disability, work on behalf of people with disabilities, or volunteer for disability causes.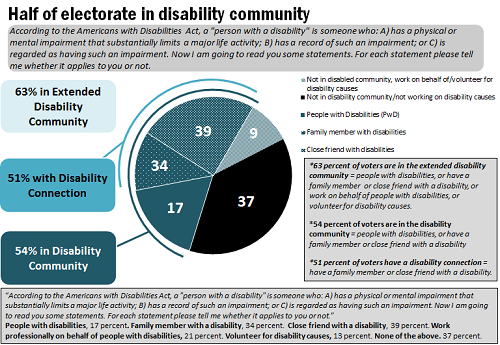 Half of electorate in disability community: 63% in extended disability community; 51% with disability connection; 54% in disability community
People with disabilities, 17 percent of voters, are 9 percent more likely to be extremely interested in voting in 2018 than those outside the extended disability community. While there are key issues on which the majority aligns with Democrats, such as support for the ACA and opposition to the new tax cuts, they are varied and dynamic in their political affiliation. Majorities in the extended disability community and outside of it agree that the country is on the "wrong track" (55 and 56 percent wrong track, respectively).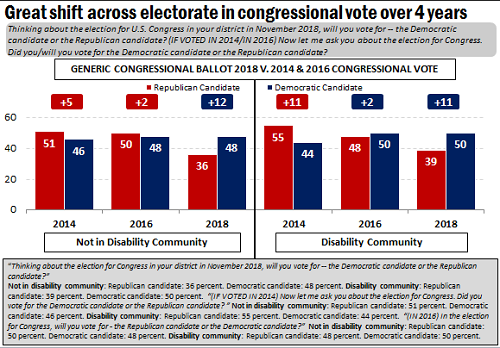 There has been a significant shift in voting patterns of this swing demographic over the past four years. In 2014, a 55 percent majority of voters with disabilities or a disability connection voted for Republican candidates for congress while in 2018, only 39 percent plan to vote for the Republican candidate. This shift is even greater than 17-point shift towards Democrats among voters that are not in the disability community.
Importantly, these voters with disabilities are more likely to be unemployed and looking for work. Fully 54 percent of voters without disabilities are employed full time compared to only 22 percent of their counterparts with disabilities. Only 4 percent of voters with disabilities who are unemployed are not in the market for work.
Only one-in-three working-age Americans with a disability has a job, despite the fact that studies show that 70 percent of the 21-million working-age people with disabilities are striving for work. More than 78 percent of non-disabled Americans are employed.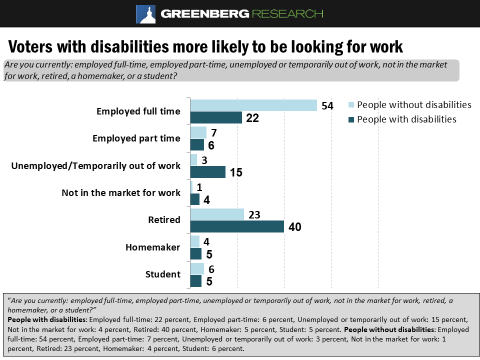 Both voters with and without disabilities place importance on the value of "treating everyone equally." People with disabilities, however, are more likely than those without disabilities to prioritize "loving, supporting & defending [their] country", "being loyal to family members", and "keeping [ones] promises & fulfilling [ones] duties."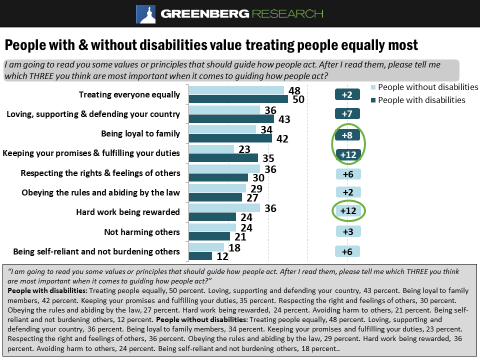 Another bi-partisan poll from October 2016 of 900 likely 2016 voters found overwhelming support for a series of policies to advance opportunities for people with disabilities. More than 8 out of 10 voters are more likely to support a candidate who prioritizes "ensuring that children with disabilities get the education and training they need to succeed;" 61 percent are much more likely to support the candidate.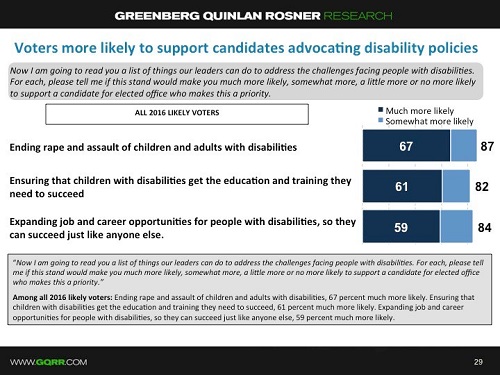 *****
This national phone survey took place from January 6-11, 2018 among 1,000 registered voters from a voter file sample. Data shown in this deck is among all registered voters unless otherwise noted. Margin of error for the full sample is +/-3.1 percentage points at the 95 percent confidence level. Of the 1,000 respondents, 66 percent were interviewed via cell phone in order to accurately sample the American electorate.
*2014 congressional vote data from national "election night" survey conducted by Democracy Corps and Greenberg Quinlan Rosner Research from November 3-5, 2015 among 588 voters in 2014.
**2016 presidential vote data from national "election night" survey conducted by Lake Research Partners and The Tarrance Group from November 6-8, 2016 among 2,400 voters and likely 2016 voters.
***The October 2016 survey was conducted by Democratic polling firm Greenberg Quinlan Rosner and Republican polling firm North Star Opinion Research by phone of 900 likely 2016 voters from October 21 through October 24, 2016. Likely voters were determined based on stated intention of voting in 2016, and vote history in 2012 and 2014. Margin of error for the full sample is +/-3.27 percentage points at the 95 percent confidence level. Of the 900 respondents, 65 percent were interviewed via cell phone in order to accurately sample the American electorate.
There will be a full briefing via teleconference/web
Tuesday, Feb. 20th, 3:30 PM ET
Sign up HERE to attend
Live captioning will be provided
Moderator: Lauren Appelbaum, communications director, RespectAbility
Pollster: Stanley Greenberg PhD:
Stanley Greenberg is a New York Times best-selling author and polling adviser to presidents, prime ministers and CEOs globally and right now is conducting deep research in more than a dozen countries. He was the senior pollster for President Bill Clinton and Vice President Al Gore, British Prime Minister Tony Blair, and President Nelson Mandela. Greenberg's corporate clients include Boeing, BP, Microsoft, and other global companies. Greenberg was inducted into the American Association of Political Consultants' "Hall of Fame." He has been described as "the father of modern polling techniques," "the De Niro of all political consultants," and "an unrivaled international 'guru.'" Esquire Magazine named him one of the most important people of the 21st century. Republican pollster Frank Luntz says, "Stan Greenberg scares the hell out of me. He doesn't just have a finger on the people's pulse; he's got an IV injected into it. He's the best." He is always on call because his research is relevant, innovative and deep, whether it is exploring the new economy, climate change, new gender roles, political reform, or the hegemonic role of millennials.