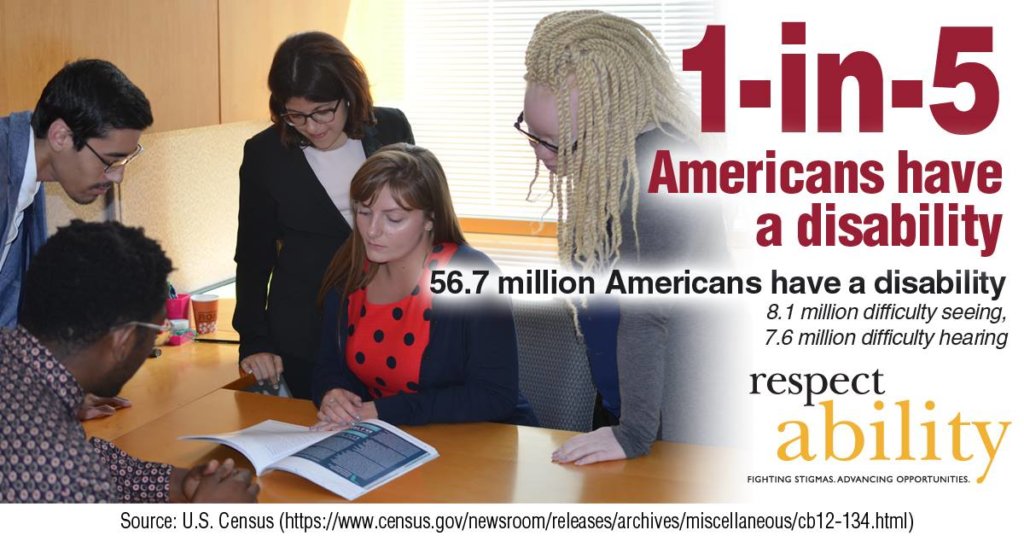 Rockville, Md., Oct. 2 – RespectAbility, a nonprofit fighting stigmas and advancing opportunities for people with disabilities, is celebrating National Disability Employment Awareness Month (NDEAM). RespectAbility is marking this annual celebration focused on the incredible talents of the one-in-five Americans who have disabilities with solution center full of free resources, webinars and more.
SOLUTIONS CENTER: Explore our expanded tools and free resources at our new Solutions Center.
WEBINARS: We have extensive free webinars showcasing some of the most innovative thought leaders working today on disability employment issues. Do you want to learn to better serve job seekers with disabilities? Do you want to implement innovative strategies for supporting youth with disabilities? Then, visit our website.
JOB SEEKERS: RespectAbility knows that people with disabilities can be excellent employees, but the job search can be a challenge. Thus, we present a selection of information, resources and websites that can help you and your loved ones with a disability search for a job on our Job Seekers with a Disability Resource Page.
#RespectTheAbility Campaign
Twenty-two million working-age Americans with disabilities are striving to work. Today only one-in-three has a job, despite the fact that most want to work.
Therefore, RespectAbility's #RespectTheAbility campaign, which began in 2014, highlights the benefits companies reap when they hire talented people with disabilities. Using the hashtag #RespectTheAbility, the campaign hopes to ultimately erase negative and untrue stigmas associated with hiring people with disabilities.
"Many companies hire the best talent out there, no matter what package that talent comes in," said Jennifer Laszlo Mizrahi, president of RespectAbility. "Employers' focus should be on the abilities an individual brings to the table to better the organization, not any disabilities the individual may have. It is time for all employers to look beyond the disability, and understand the true value of these employees."
Employees with Disabilities "lead to better solutions"
In a statement to kick off NDEAM this year, U.S. Secretary of Labor Alexander Acosta said: "Smart employers know that including different perspectives in problem-solving situations leads to better solutions. Hiring employees with diverse abilities strengthens their business, increases competition and drives innovation."
Over the weekend, the White House issued a proclamation celebrating the "many contributions of American workers with disabilities" and "the wealth of skills they have to offer" our nation's workforce.
Our nation's economy is strongest when it is inclusive of the value that diverse talent brings to the workplace. Companies like Amazon, Starbucks, Pepsi, Walmart and others exemplify these values. What these businesses have found is that employees with disabilities are loyal, successful and help them make more money.
South Dakota has one of the highest employment rates for people with disabilities in the country. Their AbilityForHire efforts clearly put the focus on changing ideas and seeing ability. Likewise, Tennessee Works is spearheading an innovative effort called the Hire My Strengths social media campaign. This campaign affirms that anyone and everyone (with a disability or not) has strengths and should have high expectations for success.
If we find the right jobs for the right people, it can and does increase the bottom line of companies. NDEAM is an opportunity to celebrate that fact.