Join our eighth Twitter chat on September 20 at 9/8c!
Hosted by Lauren Appelbaum and Cara Liebowitz of RespectAbility, this Twitter chat will take a look at ideas explored in Born This Way by the young adults with Down syndrome and their parents. Following this chat, join us in live tweeting each episode of the second season, airing on A&E at 10/9c.
During tonight's #BTWchat, we take a look at achieving dreams! The first part focuses on Cristina's dance competition & John's new rap star successes. The second part focuses on Megan's love life triangle with Brendan and Steven.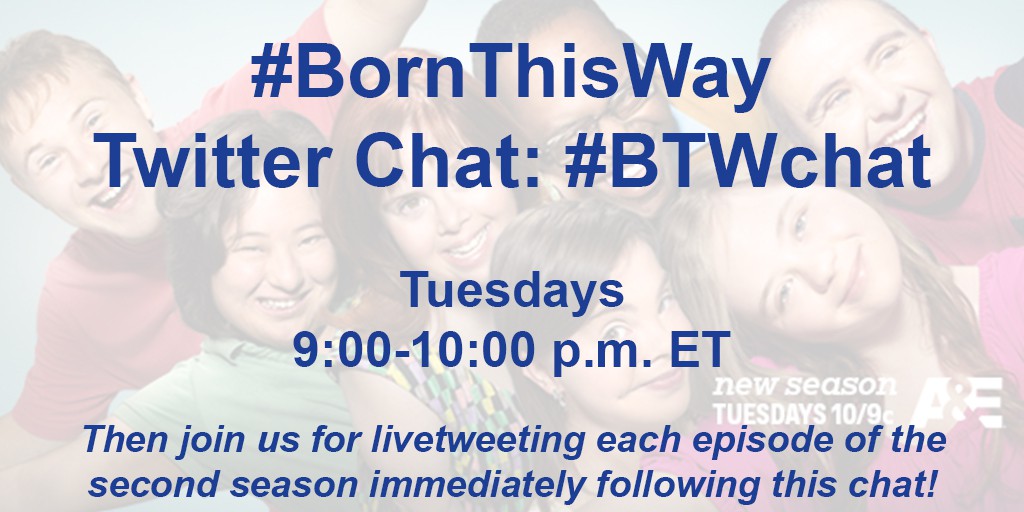 Tuesday, September 20, 2016, 9:00-10:00 pm ET
Don't have cable? You can livestream the show on A&E's app. You can find the questions for this chat in this post.
How to Participate
Introductory Tweets for September 20 #BTWchat
#BornThisWay airs tonight on @AETV. Don't miss these incredible stories at 10/9c. https://youtu.be/W1QRQCd_BAU
Welcome to our Twitter chat. Please remember to use the #BTWchat and #BornThisWay hashtags when you tweet.
If you respond to a question such as Q1, your tweet should follow this format: "A1 [your message] #BTWchat"
When we say PwDs or disability, we're talking about all types of disability. Feel free to speak about specific communities #BTWchat
For each domain, we'll ask for your views, stories, potential solutions, recommendations #BTWchat
During tonight's #BTWchat, we take a look at achieving dreams!
Questions for 9/20/16 #BTWchat
The first part of tonight's #BTWchat focuses on Cristina's dance competition & John's new rap star successes. #BornThisWay
Q1 Why is it important for people with disabilities to compete against non disabled people? #BTWchat #BornThisWay
Q2 Is there ever a time when competition against other people w/ disabilities (instead of non-disabled) is beneficial? #BTWchat #BornThisWay
Q3 How should non-disabled people view people w disabilities succeeding in competitions? How to avoid inspiration porn? #BTWchat #BornThisWay
Q4 John's dream is to be a rapper & he gets closer this week. How important is it to have role models in the arts w disabilities? #BTWchat
Q5 What advice do you have for Cristina as she heads into her competition & John as he heads to the recording studio? #BTWchat #BornThisWay
Q6 And what advice for you have for parents of children with disabilities who are afraid of their children failing? #BTWchat #BornThisWay
Q7 Will John succeed as a rapper? Will Cristina make it onto @DancingABC? @NyleDiMarco did! http://bit.ly/2cYhWbe #BTWchat #BornThisWay
The next part focuses on Megan's love life triangle with Brendan and Steven! #BornThisWay #BTWchat
Q8 Long-distance relationships are tough for all people. Do people with disabilities have additional challenges? #BTWchat #BornThisWay
Q9 Previously Steven only dated "typical girls." How is this a big deal for Steven to now crush on Megan? #BTWchat #BornThisWay
Q10 Who do you think Megan ends up with? Brendan or Steven? Why? #BTWchat #BornThisWay
Closing Tweets for September 20 #BTWchat
This ends our #BTWchat chat. Many thanks to everyone who participated. Now let's watch #BornThisWay!
Please feel free to continue the convo and answer more #BTWchat questions as the next episode of #BornThisWay begins.
Liked #BTWchat? Don't forget to livetweet the episode using #BornThisWay – starting now!
Let us know what you think is most surprising moment of the episode! What was the most powerful moment? #BTWchat