Our first Twitter chat was held on July 26, the season's premiere. Join us again on August 9 and every week at 9/8c leading up each episode!
Featuring Megan Bomgaars, Born This Way cast member and owner of @Megologcom!
Hosted by Lauren Appelbaum and Cara Liebowitz of RespectAbility, this Twitter chat will take a look at ideas explored in Born This Way by the young adults with Down syndrome and their parents. Following this chat, join us in live tweeting each episode of the second season, airing on A&E at 10/9c.
The first half of our #BTWchat focuses on @Megologycom's first international speaking gig in Trinidad. The second half of our #BTWchat focuses on Sean's blind date while traveling to Las Vegas with his friends.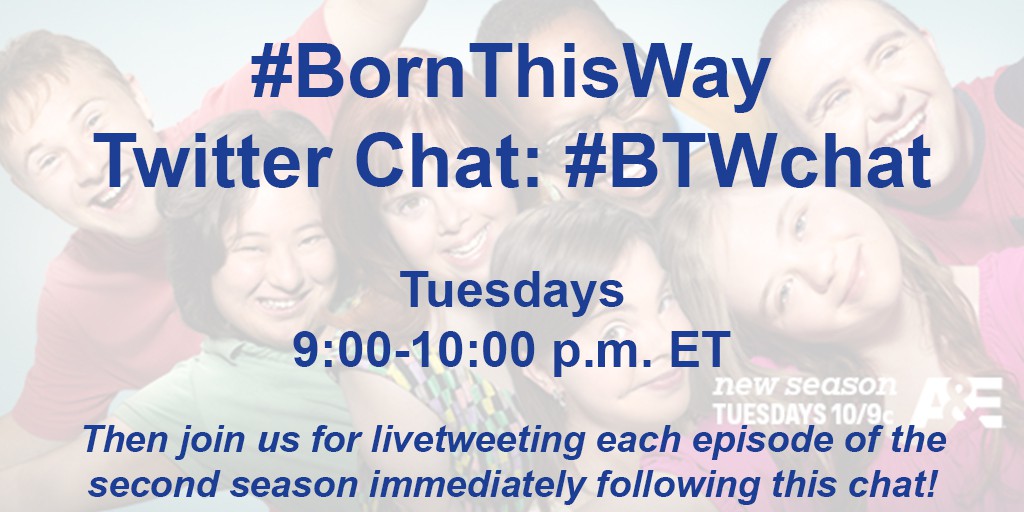 Tuesday, August 9, 2016, 9:00-10:00 pm ET
Don't have cable? You can livestream the show on A&E's app.
You can find the questions for this chat in this post.
How to Participate
When the chat begins, search #BTWchat on Twitter for a series of live tweets: https://twitter.com/hashtag/btwchat?f=tweets&vertical=default
Follow @Respect_Ability, @Megologycom, @LaurenAppelbaum & @spazgirl11 on Twitter.
Use the hashtag #BTWchat when you tweet.
Check out this explanation of how to participate in a chat by Ruti Regan: https://storify.com/RutiRegan/examplechat
Introductory Tweets for August 9 #BTWchat
#BornThisWay airs tonight on @AETV. Don't miss these incredible stories tonight at 10/9c. https://youtu.be/W1QRQCd_BAU
Welcome to our Twitter chat. Please remember to use the #BTWchat and #BornThisWay hashtags when you tweet.
If you respond to a question such as Q1, your tweet should follow this format: "A1 [your message] #BTWchat"
When we say PwDs or disability, we're talking about all types of disability. Feel free to speak about specific communities #BTWchat
For each domain, we'll ask for your views, stories, potential solutions, recommendations #BTWchat
The themes for tonight's #BTWchat include international traveling and dating! Get excited #BornThisWay
Questions for 8/9/16 #BornThisWay Chat
The first half of our #BTWchat focuses on @Megologycom's first international speaking gig in Trinidad. #BornThisWay
Q1 Girls of #BornThisWay travel to Trinidad with @Megologycom. How is traveling internationally different for ppl w disabilities? #BTWchat
Q2 What challenges exist for people with physical & other disabilities when traveling via airplane? #BornThisWay #BTWchat
Q3 How do you handle learning new customs, traditions and laws of different countries when adapting is not easy? #BornThisWay #BTWchat
Q4 Disability is viewed differently around the world. How does that impact where you feel comfortable traveling? #BornThisWay #BTWchat
Q5 What advice do you have for caregivers traveling with family member or a friend with a disability? #BornThisWay #BTWchat
The second half of our #BTWchat focuses on Sean's blind date while traveling to Las Vegas with his friends. #BornThisWay
Q6 Sean spent the first season looking for love. This week he goes on a blind date. What advice do you have for him? #BornThisWay #BTWchat
Q7 How does real life dating compare to what you see on #BornThisWay and in the movies and on TV? #BTWchat
Q8 Many #BornThisWay cast members want to get married. What relationship challenges exist for people w/ intellectual disabilities? #BTWchat
Closing Tweets for August 9 #BTWchat
This ends our #BTWchat chat. Many thanks to everyone who participated. Now let's watch #BornThisWay!
Please feel free to continue the convo & livetweet the episode using #BornThisWay!
Let us know what you think is most surprising moment of the episode! What was the most powerful moment? #BTWchat