Join our fourth Twitter chat on August 23 on independent living and employment at 9/8c!
Featuring Megan Bomgaars, Born This Way cast member and owner of @Megologcom!
Hosted by Lauren Appelbaum and Cara Liebowitz of RespectAbility, this Twitter chat will take a look at ideas explored in Born This Way by the young adults with Down syndrome and their parents. Following this chat, join us in live tweeting each episode of the second season, airing on A&E at 10/9c.
The first half of our #BTWchat focuses on Sean & Steven moving out and living independent of their parents. The second half of our #BTWchat focuses on Megan's job interview and employment for people with disabilities.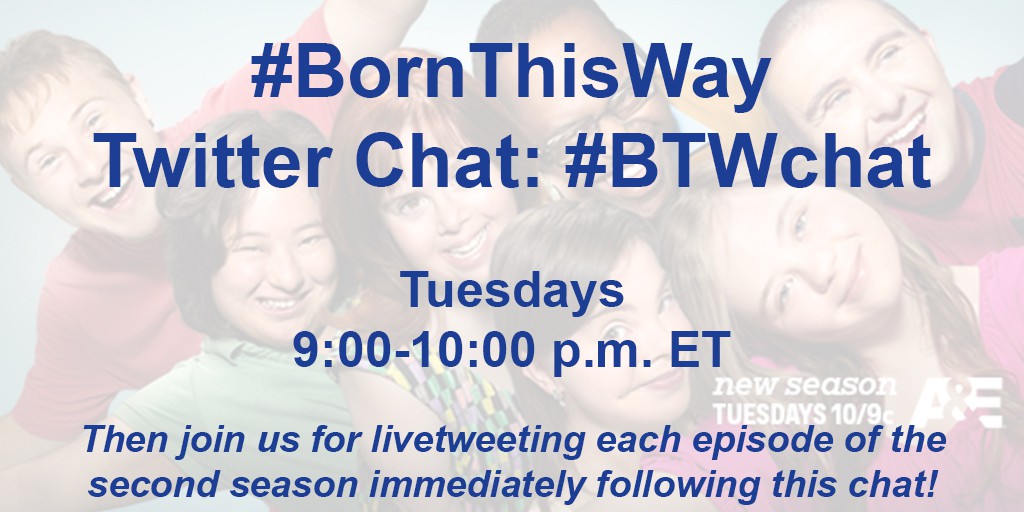 Tuesday, August 23, 2016, 9:00-10:00 pm ET
Don't have cable? You can livestream the show on A&E's app. You can find the questions for this chat in this post.
How to Participate
When the chat begins, search #BTWchat on Twitter for a series of live tweets: https://twitter.com/hashtag/btwchat?f=tweets&vertical=default
Follow @Respect_Ability, @Megologycom, @LaurenAppelbaum & @spazgirl11 on Twitter.
Use the hashtag #BTWchat when you tweet.
Check out this explanation of how to participate in a chat by Ruti Regan: https://storify.com/RutiRegan/examplechat
Introductory Tweets for August 23 #BTWchat
#BornThisWay airs tonight on @AETV. Don't miss these incredible stories at 10/9c. https://youtu.be/W1QRQCd_BAU
Welcome to our Twitter chat. Please remember to use the #BTWchat and #BornThisWay hashtags when you tweet.
If you respond to a question such as Q1, your tweet should follow this format: "A1 [your message] #BTWchat"
When we say PwDs or disability, we're talking about all types of disability. Feel free to speak about specific communities #BTWchat
For each domain, we'll ask for your views, stories, potential solutions, recommendations #BTWchat
The themes for tonight's #BTWchat includeliving independently and employment! Get excited #BornThisWay
Questions for 8/23/16 #BTWchat
The first half of our #BTWchat focuses on Sean & Steven moving out and living independent of their parents. #BornThisWay
Q1 In this episode of #BornThisWay, several cast members start living independently. What advice do you have for them? #BTWchat
Q2 Steven & Sean become roommates. What are the pros & cons of having a roommate vs living alone? #BTWchat #BornThisWay
Q3 Sean's able to live independently with help from a HUD voucher. What other resources are available? #BTWchat #BornThisWay
Q4 How can a supported living services staff member facilitate independent living for adults with disabilities? #BTWchat #BornThisWay
Q5 Elena prefers to live in a group over living alone. How can a group home be beneficial for those who want one? #BTWchat #BornThisWay
Q6 What advice do you have for parents whose adult children with disabilities are living independently for first time? #BTWchat #BornThisWay
The second half of our #BTWchat focuses on Megan's job interview and employment for people with disabilities. #BornThisWay
Q7 Megan has a job interview in this #BornThisWay episode. What advice do you have for her? #BTWchat
Q8 How does a lead employment consultant help people with disabilities learn how to conduct an interview? #BTWchat #BornThisWay
Q9 In the last episode, Sean's job coach helped him at @HomeDepot. What role can a job coach help with employment? #BTWchat #BornThisWay
Q10 A central theme of #BornThisWay is employment for people with disabilities. What can be changed to make it easier to find jobs? #BTWchat
Closing Tweets for August 23 #BTWchat
This ends our #BTWchat chat. Many thanks to everyone who participated. Now let's watch #BornThisWay!
Please feel free to continue the convo and answer more #BTWchat questions as the next episode of #BornThisWay begins.
Liked #BTWchat? Don't forget to livetweet the episode using #BornThisWay – starting now!
Let us know what you think is most surprising moment of the episode! What was the most powerful moment? #BTWchat