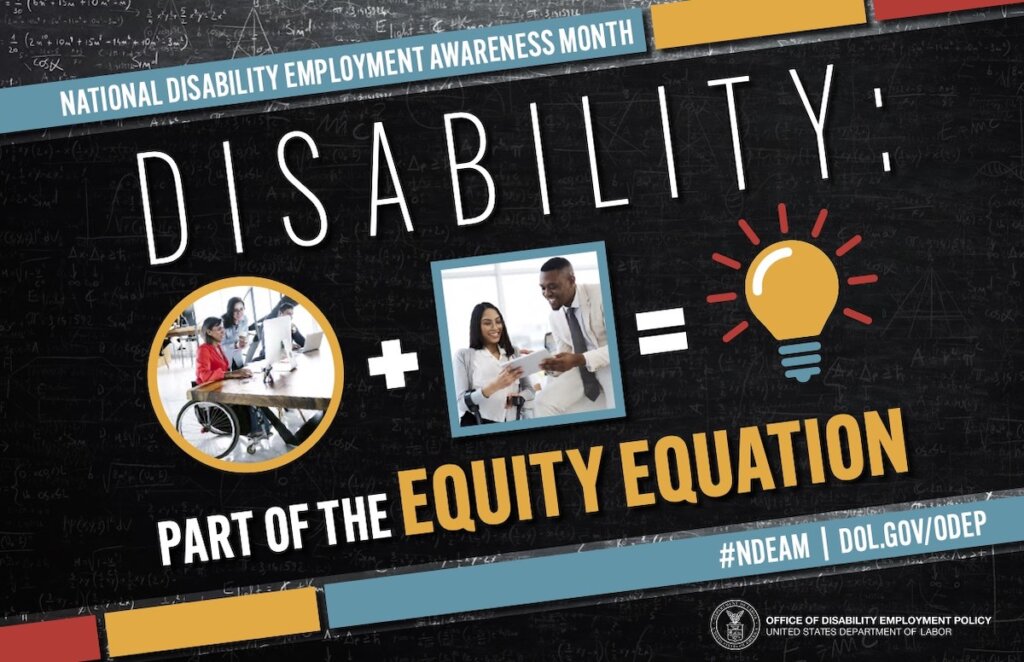 As the nation experiences an unprecedented demand for talent, new technology and access are connecting employers with talented people with disabilities at never before seen rates. We celebrate this in October with National Disability Employment Awareness Month (NDEAM)
According to the latest statistics, the labor force participation rate for working-aged people with disabilities is now three percentage points higher than it was before COVID-19. People with disabilities now have a 37.3 percent labor force participation rate, up from 34 percent, and compared to 77.8 percent for those without disabilities. In sum, almost 10 percent more people with disabilities are engaging with the labor force than before the pandemic, beginning to forge a path toward economic independence.
This success is because the pandemic changed the face of work, creating more remote work options which expanded employment opportunities across the country. Workers with disabilities are benefiting from new accessible technology and employers are seeing the bottom line benefits. It's a simple equation of removing the barriers to talent contribution to maximize opportunity.
NDEAM is an annual celebration of the incredible contributions of workers with disabilities. This year's theme is "Disability: Part of the Equity Equation." It recognizes that disability is a critical part of our long-overdue national reckoning with equity. You can learn more about the federal government's celebration at the Department of Labor's website.
"I am a proud member of the AAPI, Filipino-American, blindness, and broader disability communities. Each of these represents but one facet of many that comprise the totality of my being. Each is also an integral part of what allows me the significant range of gifts, talents, abilities, and skills that contribute to the person I have been, am now, and will later grow to become," said Olegario "Ollie" Cantos VII, RespectAbility's Chairman. "The value proposition, called the 'Equity Equation,' recognizes that, when each of us as individual workers brings to the table the sum total of who and what we authentically are, every aspect of societal life indelibly benefits from our innumerable attributes that factor into precisely why we would be assets to those who see fit rightfully to hire us. Our disabilities, as much as our other traits, lend themselves well to the strengths we inherently possess. Therefore, when employers choose proactively to jettison the old and outdated charity model that is grounded in pity and paternalism, their individual and collective decision to capitalize on the pool of talents and skills that we inherently offer will naturally and organically add real value to the workplace as they know it. Best of all, in affirmatively facilitating this magnificent transformation, the world writ large will be forever changed."
As we celebrate this message, RespectAbility is excited to share our Employer Spotlight Series, to take a closer look at how various employers are prioritizing disability inclusion. Every week, we will showcase an employer who may be a longtime champion, as well as others who are at the beginning of their journey towards disability employment. We will be updating the list further down this page as additional employers confirm.
In addition to these spotlights, RespectAbility will be providing you actionable information that you need to operationalize this equation – whether you are an employer, a worker, or a policymaker. Each week we will be sharing key legislation and policies focused on disability employment from various states to keep you informed and engaged on the current landscape and movement around disability employment and workforce development.
If you would like to receive new content and events directly in your inbox, please sign up for RespectAbility's policy newsletter. You can always find the latest events online at our website as well.
Employer Spotlight Series
Alaska Airlines – Recording coming soon
JPMorgan Chase – Recording coming soon
NDEAM and the Entertainment Industry
In addition to its work with governors and policy, RespectAbility hosted a series of virtual conversations and networking opportunities celebrating National Disability Employment Awareness Month to advance disability representation in the entertainment industry. Our goal is to create equitable and accessible opportunities to increase the number of people with lived disability experience throughout the overall story-telling process. These initiatives increase diverse and authentic representation of disabled people on screen, leading to systemic change in how society views and values people with disabilities. Learn more about the 2022 NDEAM Entertainment Summit.