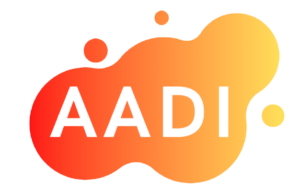 In this month's partner spotlight, we look at the fantastic work the Asian Americans with Disabilities Initiative (AADI) is doing. AADI seeks to bring a haven for Asian Americans with disabilities online and in person.
AADI came about when Founder and Executive Director, Jennifer Lee, began recognizing and understanding her disability while grappling with the anti-Asian hate that rose during the COVID pandemic.
Young Asian Americans with disabilities drive AADI, including former RespectAbility Entertainment and News Media Fellow Dennis Tran, who is on Jennifer's team as a Directory Manager on their External Relations Committee.
AADI seeks to leverage the power of young people, to create accessible materials that anyone with a disability can access, and to accept and engage with people with all types of disabilities and identities who are represented by and an ally to their cause.
AADI created a resource guide to combat ableism among the Asian American disabled community. This resource guide can be found at their website.
In a future issue of our Policy newsletter, we look forward to presenting an in-depth conversation with our Senior Director of Policy and Workforce Development, Wally Tablit, and the Founder and Executive Director of AADI, Jennifer Lee.