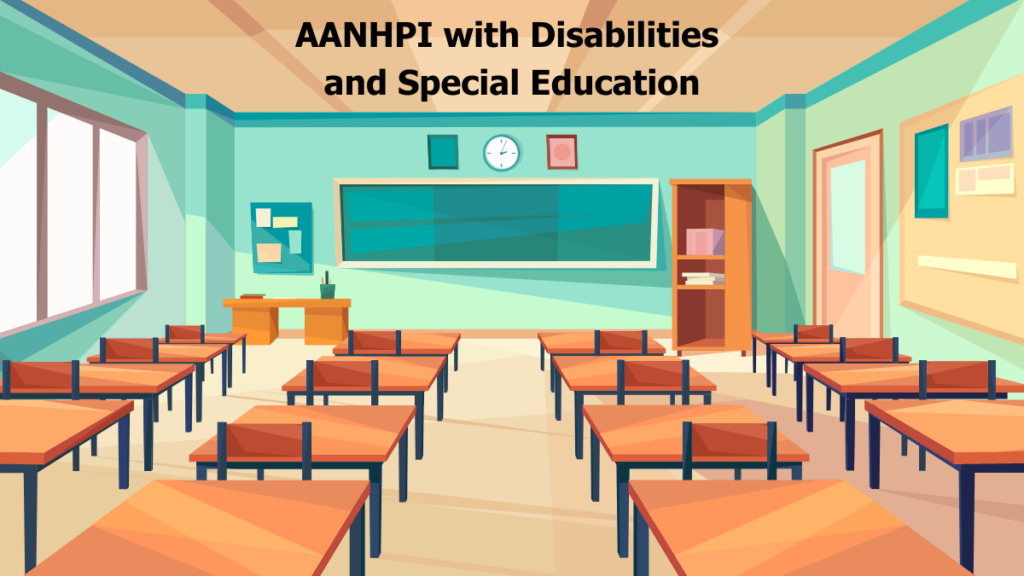 Asian American and Native Hawaiian/Pacific Islander (AANHPI) students are the least likely of all races to receive special education services. According to the National Center for Education Statistics, about 15% of all public school students are in special education, compared to only 8% of Asian American students. The gap is less drastic for Native Hawaiian/Pacific Islander students at 12%, but it is still significant. This gap means it is very likely that AANHPI students who would benefit from special education services are not receiving them.
Previous research and opinion articles have blamed this discrepancy on AANHPI families' resistance to special education due to stigmas about disability. They argue that disability is often seen as a weakness in AANHPI culture, which may cause students or their parents to hide the disability. While this may be true in some AANHPI families, we cannot assume that this is the primary explanation. When we buy into the culture-blaming narrative, we miss critical structural factors preventing AANHPI students from accessing the education they need, including racial discrimination and language barriers.
Research shows that implicit biases may play a role in the underrepresentation of AANHPI students in special education. In a study published in Social Psychology of Education in 2021, teachers and other education professionals read profiles of hypothetical students struggling in school. Then the participants indicated whether or not they thought the student should be evaluated for a learning disability. The researchers found that participants were less likely to recommend Asian American students for evaluation than white students. This study gives us insight into the unintentional racial discrimination occurring in our schools that is likely contributing to a reduced number of AANHPI students receiving special education services.
To understand why teachers overlook AANHPI students with disabilities, we must examine the Model Minority Myth. The Asian Americans with Disabilities Initiative describes the myth as a stereotype that AANHPI people "are the 'ideal' racial and ethnic minority and that they excel in academic and professional settings." Many believe that no harm can come from this stereotype because it is a "positive" stereotype. This is not the case, as evidenced by the above study. Teachers, service providers, and policymakers are prone to ignore the needs of AANHPI people because they assume they will be successful without support. The Model Minority Myth prevents AANHPI students with disabilities from receiving diagnoses and special education services.
Language can also be a unique barrier keeping AANHPI students from special education services. To clarify, we should not assume that English proficiency is an issue for every AANHPI family; according to Pew Research Center, approximately 72% of AANHPIs are English proficient. However, language can be a challenge for those in the AANHPI community who immigrated more recently. For example, nearly two thirds of Bhutanese and Burmese Americans are non-English proficient (64% and 62%, respectively). Overall, AANHPI students represent the second-largest racial/ethnic group among English Language Learners (ELLs) after Hispanic students, according to the National Center for Education Statistics.
Identifying and serving students at the intersection of disability and English learning is complicated. Dr. Solange Lopes-Murphy highlighted this in her 2020 article, "Contention Between English as a Second Language and Special Education Services for Emergent Bilinguals with Disabilities." It can be difficult for teachers to discern whether a student's academic difficulty is caused by limited English-language capability, a learning disability, or both. This could cause teachers to mis-identify a neurotypical ELL student as having a disability. Conversely, teachers could overlook an ELL student's disability, causing the student to miss out on special education services. In this way, language barriers likely contribute to the underrepresentation of AANHPI students in special education.
What can educators and policymakers do to improve disabled AANHPI students' access to special education services? Firstly, we must eliminate racial discrimination in our schools. As long as educators unintentionally buy into the Model Minority Myth, AANHPI students will continue to be underdiagnosed. School administrators and policymakers must recognize the danger of implicit bias and prioritize cultural competence.
Additionally, we must examine how our Special Education processes may better accommodate students (and parents) who are not yet fluent in English. For example, school administrators can explore possibilities for students to take diagnostic assessments in their native language. Furthermore, English Language Learning and Special Education programs should identify opportunities for collaboration and integration. By learning from each other, educators may be able to more accurately identify and effectively serve ELL students with disabilities. Overall, we must learn to recognize and respond to the unique needs of AANHPI students and families in the special education space.