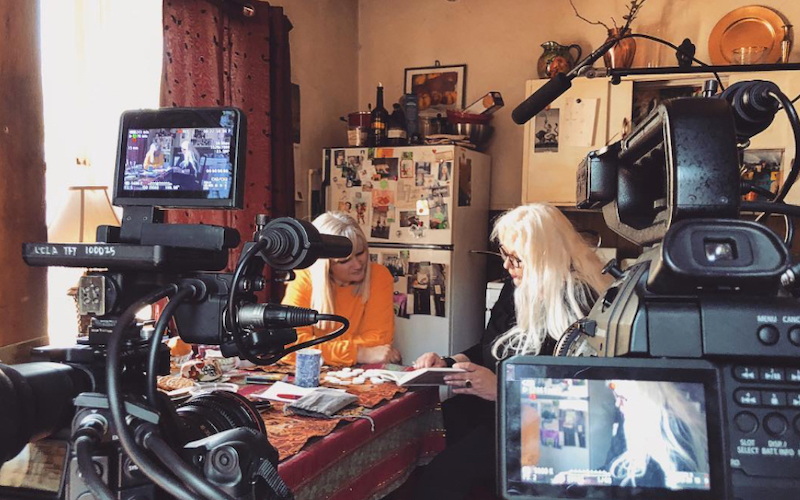 Salt Lake City, March 23 – Faith Strongheart—writer, filmmaker, and 2020 RespectAbility Lab alumna—won the most recent NYWIFT Loreen Arbus Disability Awareness Grant for her deeply personal documentary Faith Brings the Wild. This grant supports a film that amplifies the voices of people with physical or developmental disabilities in the post-production phase. While Strongheart is still actively editing this film with her team, she shared the most recent cut of the film and talked with me about her experience creating it.
Strongheart focuses the camera on herself and her family to create a documentary that examines the dichotomy of growing up as a child during the hippie movement. A time often described as full of love, freedom, and drugs, but for the children, including Strongheart and her siblings, it was also a time full of parental neglect. Strongheart grew up on a farm without running water surrounded by many siblings, her mom, stepfather, and extended family. Through a series of intimate interviews with her family, it becomes clear that while the adults intended to create a magical space for their children to grow up in, they were not adept at parenting.
Strongheart's own disabling event is used to depict their neglect and anchor the film. At seven months old, Strongheart was sleeping outside under the stars with her sister and mom by a fire. In the morning, her Mom went inside to clean up, and Strongheart fell into the hot ashes, which burned over a third of her body and led to the amputation of her toes. No one saw her roll into the fire, and the film follows Strongheart as she gathers different people's narratives about the accident in hopes of creating a narrative for herself.
Strongheart has explored aspects of her upbringing in many of her other films and even fictionalized the near fatal burn incident in her short film, Linda, as in Beautiful. However, it wasn't until she became a mother and her son turned about seven months old that she started to reflect on her own upbringing.
When discussing why she specifically wanted to make a documentary, she said, "you have to reconcile your past when raising children and with all of the care and attentiveness required in motherhood, I had the sudden realization [that] I did not receive [that same] care."
That realization led her to want to find the answers. Simultaneously, she realized that she was going to need to find language to talk about her body with her children. Motherhood led her to her disabled identity. "It forced me to confront disability and have a language around disability," she said. That journey of self-acceptance and confronting disability continued in the making of the film.
When she started making the film, Strongheart said she "didn't envision myself as a participant. This isn't about me. This is about a family."
However, that changed after filming the interview with her longtime ROLF therapist. She told her crew not to record the session, just close-ups of her body. Her team didn't listen and recorded the whole session. Begrudgingly, she put parts of that session in her film.
"It was terrifying to expose my body and I was amazed with the response," Strongheart said. "People did not judge me. It is vulnerable but important."
It changed her perspective on the film. It was her story and part of that story required her to confront her traumatic upbringing and specifically the burn incident. She is owning her own story and not having extensive shame around it anymore.
Confronting her own trauma also allowed healing to take place. While beautifully humanizing members of her family, specifically her mother, Strongheart discusses generational trauma and her mother's own abusive upbringing. Over the course of the film, the audience also gets to watch generational healing. Strongheart discussed how for many years she rejected her stepfather, but while making the film it was "profoundly healing watching him interact with my kids." What he wasn't able to do as a father figure, he could now partially do as a grandfather figure.
Strongheart also can't avoid showing herself as a mother trying to not pass on her trauma and continuing those cycles. As an independent filmmaker, she brings her kids with her to film, and you watch them travel together and hear them playing around or even crying during the interviews. As she says at the end of her bio, "she is doing her best to raise two small humans in this crazy world" and that is evident in the film.
Strongheart reflected on audience takeaways as she hopes to finish the film by the end of the summer. She is no longer worried about exposing parts of her past and says that her family is "extremely supportive" of the film and whatever she wants to do. She hopes audiences can relate to some aspect of the film, whether it is body shame, abuse, or complicated family dynamics. It is a story of "forgiveness and finding love in intense trauma" for the whole family.
While Strongheart will continue to make work around complicated mother-daughter dynamics, motherhood, abuse, and disability, after this documentary, she is ready to move on from this specific story. Given where the film is now, by the time Strongheart finishes it, the documentary will be a great final telling of this story.