As we roll out this new newsletter format, we are excited to have the opportunity to share recent and upcoming trainings. Where possible, we will include a link to registration or to a previous training. Even when it is not possible for you to register or watch a recording, we encourage our readers to carefully note subjects of interest. You may well be able to book a version of the same training through RespectAbility's Disability Training and Speakers Bureau. Use these links to Meet The Speakers and learn about some of our existing Speaker Topics. If you find something of interest, you can Request Speakers Here.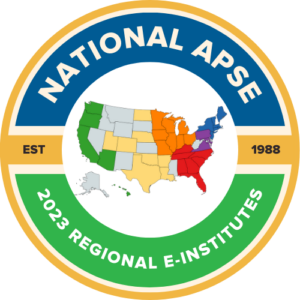 On January 31, our Senior Director of Policy and Workforce Development, Wally Tablit, presented at the APSE Pacific Northwest Regional Event to more than 70 attendees from various states in the Pacific Northwest Region. This includes California, Hawaii, Washington, Oregon, Arizona, and Wyoming. There also were participants from Maryland, Oklahoma, and Philadelphia in attendance. Wally spoke to the critical need to infuse the concepts and movements of Diversity, Equity, Inclusion, and Accessibility into the work of employment and workforce development for people with disabilities. Attendees learned of the importance and power of creating diverse teams, creating the necessary space to do the work of DEIA, and why it is an essential piece of your strategic plan and process to increasing employment outcomes for people with disabilities.
We also are excited to announce that we will be resuming our regular webinar schedule in early March with a presentation for Employee Resource Group members and other internal advocates on "Presenting the Business Case For Disability Inclusion Within Your Organization." Learn more about that webinar and register to attend at our website.