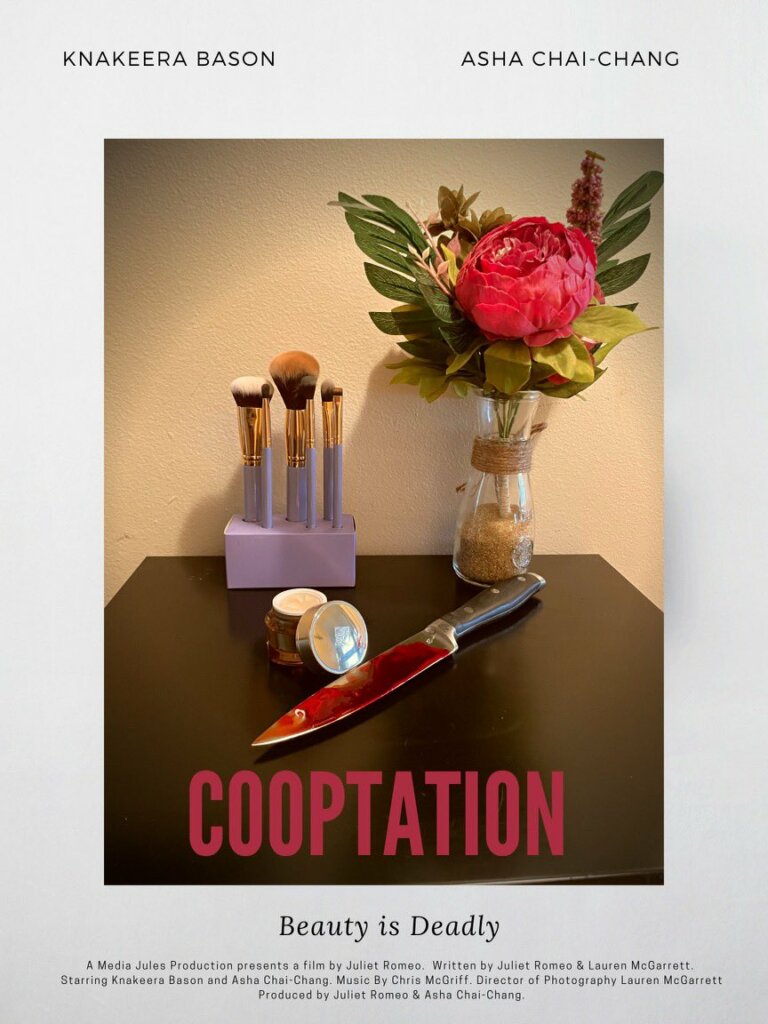 RespectAbility 2021 Lab Alumna and Unstoppable Film Festival Founder Juliet Romeo's short film Cooptation follows a young African American woman determined to fit into society's beauty standards by using a new beauty product with deadly consequences. 
Cooptation's opening credits are filled with melancholic shots of night life as we hear the hauntingly beautiful song "I'll Understand" by Roza.
The music then changes to a more upbeat coffee shop tune as we see an African American beauty brand ambassador named Dove putting red lipstick on in front of a mirror. She is in the middle of a FaceTime call with her best friend Opal, when she talks about a new skin serum called "Snow White" that she's been trying out. "Snow White" is branded as a solution to fading away all your dark spots.
Opal voices her reservation towards Dove using the product, saying that it doesn't "sound Black-owned or operated," but her concerns are quickly brushed off. Opal champions Dove's appearance, saying that her natural beauty and intelligence is radiant enough, and doesn't need any beauty product to blemish it.
The tone of the short then radically shifts as a mysterious figure in clown makeup hacks their call. After Opal hangs up, we hear an ad for the "Snow White" product, and there's something clearly off. A motion detector from the door shows Dove in an unrecognizable sinister state, the side effects of the product having consumed her.
Dove invades Opal's home with a bloodied knife and murky intentions. She corners Opal into her bathroom, where Opal is left with no choice but to kill her best friend Dove to preserve her own life.
Later, as Opal buries Dove's body, we hear over the radio that the "Snow White" beauty product has been directly linked with a surge of violence, and that all residents have been advised to stay indoors. On cue, a mysterious figure, who presumably has also become a victim to "Snow White," jumps onto Opal as the film cuts to black.
From a technical standpoint, the short effectively uses color and lighting to convey the many shifts in tone, from melancholic drama to lighthearted comedy to sinister horror. The two actors, Knakeera Bason and Asha Chai-Chang, have great chemistry during their call with each other, which makes their subsequent deadly confrontation all the more heartbreaking.
Cooptation uses horror as a genre to explore the dangers of adhering to society's beauty standards and pushes it to its extreme. It comments on society's preference for lighter skin tones, formally known as colorism. As Opal tells Dove before she uses the deadly product, "you're black and you need to fix your crown." It's once we pretend to be someone that we're not, instead of who we authentically are, that we become unrecognizable to a fault.