Have you ever been at a staff meeting to plan an event, class, service, or project, and one voice spoke clearly at just the right moment: "Have we thought about how this will affect [insert name of particular individual or group you are thinking about]?" Perhaps you have been that voice. In seeking to include students with varied abilities in Christian schools, All Belong has pioneered inclusive education for forty years, and inclusive worship in congregations for ten years. There are many great ideas from the world of educational inclusion that can be used to welcome, include, and support full participation of people of all abilities in the body of Christ.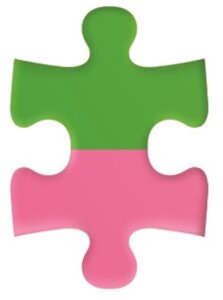 The body of Christ is not complete without each piece. At All Belong, we use our infamous green-and-pink puzzle pieces, quoting 1 Corinthians 12, verse 18 ("God has arranged each one of the parts in the body just as he wanted them to be.") and verse 27 ("You are the body of Christ, and each one of you is a part of it.") We even use a call-to-worship from Romans 15:7 ("Accept one another, then, just as Christ accepted you, in order to bring praise to God,") urging each one to "make Heaven a noisier place" by bringing praise to God through the acceptance of His children. All of His children, of all abilities. That means thinking about how worship and teaching practices will impact persons with varied abilities. It means thinking for neurodiverse people, people with learning disabilities, physical disabilities, mental health disabilities, and sensory disabilities.
Every leader wants to know how to do this. All Belong provides resources and training in best practices for building belonging. We look at the head and the heart, how God has uniquely created each one, creating areas of gifting and areas of challenge. We strive to know students most excellently. All Belong utilizes and trains in Restorative Practices, and partners with schools across the United States to support flourishing communities.
There are Christian educators who say learning and faith are intertwined. Educators who partner with All Belong join in the belief that, directed by the Gospel of Jesus Christ and relying on the Holy Spirit, diversity of ability is necessary for complete community; we experience God's love through belonging in community; and we bring glory to God when we live, learn, serve, and worship together in interdependent community.
Barbara Newman, All Belong Teacher Consultant and Director of Church Services and author, until her death in 2020, was a beloved speaker and educator. Please watch this short video in which she teaches about inclusion and belonging: https://allbelong.org/about-us/a-puzzle-piece-perspective/
Victoria White is the Director of Church Services at the All Belong Center for Inclusive Education.