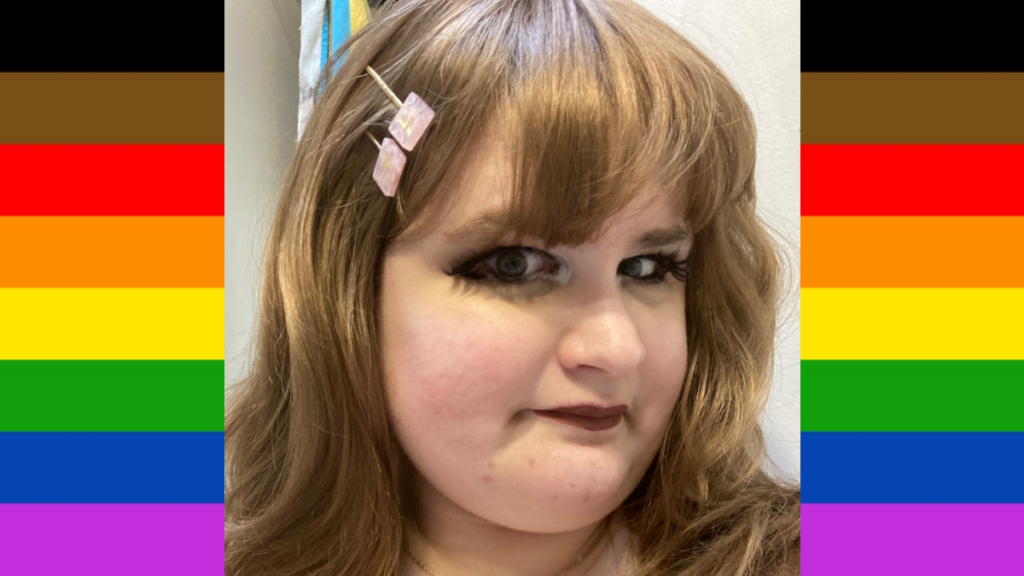 A few days before Pride Month begins this year, the third time without my step-dad, I find myself reaching for the bag of his old shirts without thinking twice, slipping one over my head and inhaling the remnants of his scent, of that pine-scented deodorant he always wore, letting the faded cotton wrap me up like one of his bear hugs.
My step-dad was my dad's longest partner, from when I was six years old until my early twenties, and he remained in my life until the end of his. He died from the complications of lung cancer in January 2019. Denn, as I called him, short for another one of his nicknames (Denny), was an OG 80s queer punk, with multiple piercings he had done himself, tattoos of his own artwork—he was an indie comic book artist and illustrator. He also was the complete opposite of my bio dad. Together, the two of them, coupled with my god-father, a gay Tejano man, taught me everything I needed to know about accepting and coming to terms with my own queer identity as a lesbian years later.
I often joke that I grew up in the gay Brady Bunch, with my dad, my god-father (whom I called Uncle Steve and who was my dad's ex-boyfriend) and Denn, not to mention my hard-working British mother, all trying to balance raising two spirited daughters in the 90s, when being gay was still not fully acceptable. To this day I only hear bits and pieces of family trauma around the coming out process for my Dads, around all three of them surviving the AIDS crisis of the 80s.
My Dad was the homemaker of the pair. To this day he loves to decorate, and if you ever stop by his home in New York State, you'll be sent home with Tupperware full of homemade baked goods. Old Hollywood movies and musical theatre are some of his favorite things, and he's often been known to break out in random snippets of song, sweeping everyone else up in his infectious enthusiasm while his three rescue dogs look on, wagging their tails. He left his corporate entertainment industry job to make independent LGBTQA films, telling me that he wants to see complex stories, stories about queer folks that aren't just about our trauma, or a coming out story, or a shoehorned attempt at representation.
Denn felt more like a best friend than a father figure. Maybe it's because he was an adoptive father of sorts (never legally, due to some complex circumstances), but he loved all things spooky and goth and weird. He always embraced and accepted me for who I was, encouraging my creativity with my writing or cosplays or love for alternative Japanese fashions. His art studio was my refuge, where I used to sit on the floor and watch him work when I got home from school. I remember telling him the ups and downs of my adolescent life, all of the problems that seemed so pressing at the time. Later, when he was sick, and I had to break the news to him that I was being sent back for treatment for my anorexia, I told him I was sorry; that I felt like such a disappointment. I was shocked by the conviction with which he said to me, "you have never been a disappointment."
Thanks to the two of them, our home in suburban New Jersey – not the most accepting of places in the early 2000s – became the refuge for the queer kids and outcasts among my high school friends. Both of my Dads made it clear that all of them had a safe space if they ever needed it, and a couch if they had been kicked out for who they were. Though we didn't have much acceptance outside of those four walls, within our home, it was always understood that we were accepted no matter our sexual or gender identity.
As a result, even though my own journey coming out as a lesbian was one riddled with internal turmoil, as any process of self-acceptance is, I knew I never had to worry about coming out to my family. This is a luxury I know few in our community have, a luxury that not even some members of my own family had, all those years ago. It's something that as a queer disabled person, I never take for granted. There is a desperate need in our communities, especially in the intersecting identities of queerness and disability, for a refuge like the kind I grew up with, especially given the high rates of poverty and homelessness for both disabled and LGBTQA youth.
And now, three years after Denn's passing, as I plan my wedding to my trans femme fiancée that's going to be all flavors of queer and weird and wonderful, I know that he would be proud of how I've grown. If there's anything I can do to honor his memory and his legacy, it's to take ownership of who I am with some measure of joy and create the same kind of safe refuges that were given to me growing up.