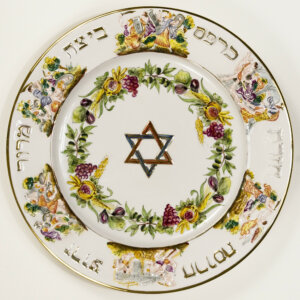 Every year, as spring comes and the boxes of matzah appear on grocery store shelves, my social media feed fills with reminders to start cleaning early. Memes about flourless treats abound, pictures of the perfect Seder plate crop up, and my stomach twists into knots.
Our cycle of holidays is a back and forth of feasts and fasts, giving rise to the old mantra, "they tried to destroy us, they failed, let's eat!" While I deeply enjoy many of these holidays, I must admit that I feel less than thrilled about Pesach, especially when compared to the others.
This stems from the fact that there is no easy way for me to walk into a Seder, be it hosted by a friend or my community, and admit my uncomfortable truths. I have struggled with anorexia and other eating disorders since elementary school and, despite five plus years of recovery, the Seder table feels less like a symbol of liberation and more a personification of my neuroses around food.
Every year, of course, there is plenty of conversation amongst Jewish eating disorder professionals and survivors on how to handle the thorny issues of holidays. Yet, this avalanche of content feels overwhelming to the point of unhelpfulness. How many times can one listen to reminders about pikuach nefesh, the Jewish obligation to care for our bodies and minds that trumps almost everything else, meaning that those of us working on recovering from eating disorders are not bound to certain mitzvot? After a time, hearing the same reminders is more tiresome than anything.
So how do I approach this time of year with a recovery-focused mindset, fully ready to participate in Pesach to the best of my ability as a Jew and a former anorexic/bulimic?
I wish I could give you one size fits all advice that would magically whisk away all the fears and anxieties, crossing the minefield of triggers and self-doubt the way our ancestors crossed the Sea of Reeds on their journey home. But alas, I can't.
Instead, what I can do is share my experience navigating recovery with a Jewish frame of mind, of trying to reclaim joy in what can feel so difficult to move past—something that I once thought impossible. It may sound a bit like a cliché, but for me the two keys for a successful holiday are self-compassion, and an unwillingness to make my experiences with food center around suffering.
Self-compassion may seem easier said than done, and frankly, it's a practice that is imperfect at its core despite my need to work on it every day. Giving myself grace if I struggle with food or have a bad body image day keeps a lapse from becoming a relapse and allows me to examine what happened with curiosity and care, rather than the cycle of shame that kept me sick and stuck for so long. With an intense holiday like Pesach, a little self-compassion around food anxiety or body image concerns can go a long way in creating a happier Seder experience.
Refusing to make my food experiences center around suffering seems like a contradiction on Pesach. After all, we are called to remember the bitter and the sweet, the salty tears of our ancestors, the joyful and the sorrowful.
As anyone with an eating disorder knows, however, when you are deep in the disease, every experience with food is suffering. There is no sweetness to balance the bitter, and as a result, I have chosen in recovery to adopt a new mindset regarding Pesach. I truly believe that honoring our ancestors and their journey out of Egypt should not involve bringing myself back into the depths of a pain from which I cannot easily extricate. My own freedom, instead, looks more like being able to embrace food that nourishes my body and my mind, without any need to compensate for it. To anyone navigating this holiday in recovery, I hope and pray that you will find a similar path through the narrow places of the Seder on to freedom.