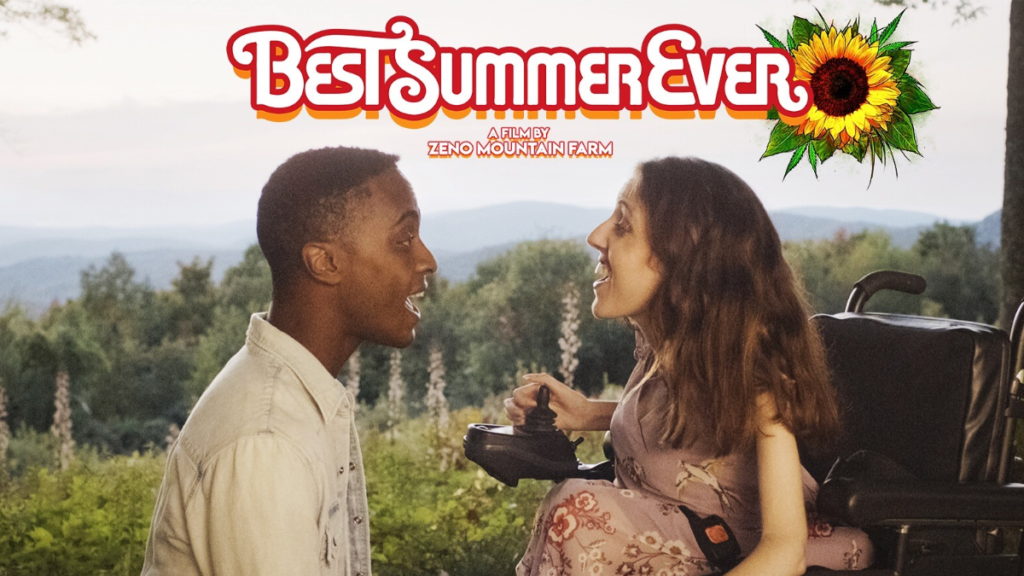 Los Angeles, Dec. 9 – Zeno Mountain Farm continues to welcome honors following the production of award-winning feature film Best Summer Ever, an inclusive musical featuring eight original songs and a fully-integrated cast and crew of people with and without disabilities. At the 2021 Media Access Awards last month, Zeno Mountain Farm won the SAG – AFTRA Disability Awareness Award, an annual award presented to an individual or organization for their work advancing the public awareness of the vast potential of disabled Americans.
The Media Access Awards honors people in the film and television industries who are advancing the accurate portrayals and employment of people with disabilities. This annual show, done in partnership with Easterseals Disability Services, honors entertainment industry professionals who have advanced authentic disability-related narratives and employment in fields of writing, producing, casting, performance, and directing.
Best Summer Ever's website has a synopsis of the movie:
Sage (Shannon DeVido) and Anthony (Rickey Wilson, Jr.) have had the "Best Summer Ever" after falling in love at a dance camp in Vermont. Not expecting to see each other again until the following summer, Sage, by a twist of fate, arrives unexpectedly at the same high school as Anthony. Now faced with the drama of high school cliques, an evil cheerleader, and the illegal secret that keeps Sage's family on the move, they are forced to reevaluate their relationship as Tony struggles to be both the high school football star and the dancer he's always wanted to be.
To celebrate this award, Ila Halby, one of the founders of Zeno Mountain Farm and casting director of Best Summer Ever, and Andrew Pilkington, one of the film's writers and producers, sat down with RespectAbility Communications Apprentice Mary McGill Lucas to share more about what the award means to Zeno Mountain Farm, and how they hope the film will change the way people think about disability.
"We're all blown away and really energized by the award and the recognition of this body of work, and of the contributions of the disabled community," said Halby. "I think it really feels like a celebratory moment and a galvanizing moment."
The film premiered at South By Southwest Film Festival and later was distributed on Hulu. Six members of the Best Summer Ever cast and crew have participated in RespectAbility's award-winning Summer Lab for Entertainment Professionals with Disabilities. In addition to Pilkington, producer Leah Romond, production assistant and boom mic operator Marissa Erickson, script supervisor Elisabeth Good, and actor Emily Kranking are all graduates of the Entertainment Lab. Lizzy Francis, a production assistant for the film, also served as an intern for the Lab.
Read the full Q&A with Halby and Pilkington:
---
Q: Would you mind telling me more about Zeno Mountain Farm and what motivated and inspired you to create the organization?
Ila Halby: Yes. I kind of like to start with a moment from the movie ("Best Summer Ever") and then span out. In the opening shot of the movie, the two leads kiss, and at the beginning and after one screening I had some people come up to me and say, "I love your movie and I love the songs but, in the beginning, when I saw those two people kiss, I actually felt a little uncomfortable. Like, I'm not used to seeing a woman with a disability kiss a man that is non-disabled. Then, as the movie went on and the songs came on and, in the joy, and in the fun, I kind of forgot about that reaction and I forgot that I felt that way."
So, I think that really sums up what Zeno Mountain Farm was trying to do through our filmmaking, and it is to not only show that this is possible, (but also) that the disabled community has an amazing amount of creative talent and talent that is valuable. This is an area in media that is an untapped resource for creativity and funding. I mean this is a huge part of the population that needs to be included in all sides of production and acting in front of the camera and behind. This is a huge amount of the population that is getting overlooked for how big of an impact they can have, in my opinion.
And so, zoom back out to what Zeno Mountain Farm is: it is a nonprofit, and we are based in Lincoln, Vermont, a tiny town in the mountains, and we have an amazing facility here with accessible tree houses, and we run retreats and programs all throughout the year for people with disabilities as well as other underrepresented populations. And this sense of belonging that we really believe is a human right.
Once you have the community, once you have that sense of belonging, then you naturally want to contribute your talents to that community. The movies are, and what our film studio is really based on, celebrating and showcasing the talents of the disabled community. We are not only showing that it can be done and that it's worthy, (but) that our projects are more dynamic because of the diversity of disability and our projects. In general, there's not enough breadth, we're not seeing enough representation to have a breadth of experience to allow for disabled people to be seen in all forms of their presentation. We want to change that.
Q: Why do you think it's important to immerse disabled & non-disabled people in the arts, and to increase disability representation?
Andrew Pilkington: Art is universal. Everyone enjoys art in some medium. Why would that be any different for people with disabilities, you know? For me, film is a very great art, and television. A lot of people express themselves in film and TV.
I've directed movies about non-disabled people. I know other people that make films about people with disabilities, and they are non-disabled. Art is universal, so we just tried to do what everyone else is doing, but our own take on it.
Ila Halby: I think we're a culture that understands and reflects on our humanity through movies and through media. We're a culture that loves movies, and we love to use film to understand our stories and stories of other people. And so, it has this incredible potential to tell those stories authentically and to break through some of these myths of people with disabilities you're seeing repeated in media. You know, the "Inspiration Porn," where someone with a disability is "inspiring" to someone that's not disabled. Or "The Villain," "Hero," etc. We're not going to be able to bust through those myths unless we have disabled people in the arts. That is the answer. That is the foundation of a new reality.
Andrew Pilkington: On the screen is important, and behind the screen is equally as important. I'm a producer and I know a lot of people who want to create stories and they don't get the opportunity, regardless of whether the story has disability elements in it. I'd love to see someone with a disability direct a Marvel movie, you know?
What does this award mean to Zeno Mountain Farm?
Ila Halby: This award means so much to Zeno Mountain Farm. It really means the world to us, to have recognition in the industry for the work that we've been doing. I mean, we're all blown away and really energized by the award and the recognition of this body of work, and of the contributions of the disabled community. I think it really feels like a celebratory moment and a galvanizing moment.
What was your experience of making your own movie and then having one of your films be shown at SXSW (South By Southwest Film Festival) and distributed on Hulu?
Ila Halby: Our goal was always to get people in their living room to have their eyes on this film and (for) disabled people and non-disabled people to experience a shift in paradigm. It's truly incredible and it's given us a chance to be in conversations like these, where we can also talk about that mission and the broader vision for what media and representation can do. We really need to be able to speak about it and be honest and have more experiences with more authentic lived experience. Having a disability is not your whole identity, but it is integral to your lived experience, who you are, and what you do in the world.
Andrew Pilkington: Every filmmaker's dream is to get into a top-tier festival like SXSW. It's definitely very fulfilling to get that (acceptance) email. Unfortunately, it didn't really happen the way we were dreaming about it (because of Covid cancellations). But we got the movie shown. We got a lot of great recognition. We won the Final Draft Screenwriting Award. We got a lot of amazing press and then we ended up getting a deal! Personally, I feel great pride in what we accomplished.
---
Zeno Mountain Farm, formed by Ila and Peter Halby, and Vanessa and Will Halby, is a non-profit organization, which operates using a very intentional model of community. The first element is social equity: no one pays to attend or gets paid to attend Zeno. There are no "campers" and "counselors," and everyone brings their unique strengths and talents to contribute to the experience.
The second element is shared history: everyone is invited back to Zeno year after year.  According to Ila Halby, "Too many people in the communities we support suffer from isolation. The goal at Zeno is to create a community that people can look forward to and reflect back on. We are a community of friends rather than a one-time experience. Maintaining a shared history with others is critical in cultivating a rich, meaningful life. "
The third element is focused investment. During each of the year's multiple free camps and retreats, everyone is asked to contribute to a shared project. This comes to fruition as making films, creating art, writing and performing musicals, and participating in adaptive sports, among other things.  As Halby explains, "We decide to fully invest ourselves in everything we do. There is an under-appreciated world full of innovation, creativity, compassion, humor, and love. At Zeno everyone has opportunities to develop talents in themselves and share with others."
Best Summer Ever is available on Hulu and can be rented and purchased wherever movies are sold. Learn more at www.bestsummerevermovie.com.