Grant will be leveraged to achieve goals of new strategic plan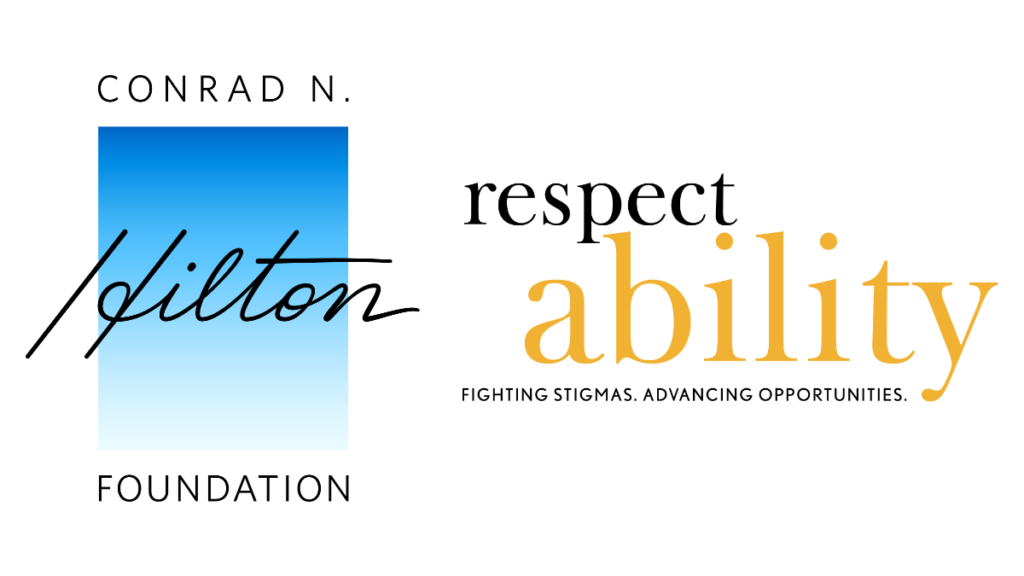 Los Angeles, December 2 – RespectAbility, a diverse disability-led nonprofit organization that fights stigmas and advances opportunities so all people with disabilities can fully participate in every aspect of community, is thrilled to announce a $1 million dollar donation from the Conrad N. Hilton Foundation. The funds will be leveraged through an existing 1-1 matching campaign to enable RespectAbility to achieve the paradigm-shifting goals of its new strategic plan. The plan is a bold, forward-looking, and visionary five-year roadmap to shatter old paradigms by engaging in a multifaceted approach to remove physical, programmatic, and attitudinal barriers to full societal participation by people with all types of disabilities.
"As we look to the future to envision the full scope of what is truly possible for people with disabilities, we are deeply grateful to the Conrad N. Hilton Foundation for its $1 million dollar investment, which will enable us to meet the challenges of today and tomorrow," said Ollie Cantos, the recently-elected Chairman of RespectAbility's Board of Directors. Cantos, who is blind himself, is a civil rights attorney who shared recognition as ABC News Persons of the Week with his adopted triplets who also are blind when they broke barriers by becoming Eagle Scouts. "When philanthropy, individuals, organizations, private sector companies, and government agencies at all levels come together to achieve concrete and measurable outcomes that truly matter, everyone benefits."
RespectAbility's strategic plan is driven by three foundational elements that are the heart of the transformation. Synergy results from combining these elements with three core tenets, which operationally drive the growth and development of four key programmatic areas of focus.
"In 2020, the Hilton Foundation established the Equity Fund to combat bias and injustice across multiple dimensions, including for people with disabilities," said Peter Laugharn, president, and CEO of the Conrad N. Hilton Foundation. "We recognize that solutions for addressing the root causes of inequities often come from those with lived experience. The Foundation is proud to support RespectAbility, a disability-led organization doing transformative, comprehensive work to fight stigmas for people living with disabilities."
"With the generosity of the Hilton Foundation and other donors, RespectAbility is well positioned to play a leading role in pioneering cutting-edge innovation to foster real and lasting impact on behalf of people with all types of disabilities," Cantos added.
Already the Milbank Foundation has generously added $100,000 to the fund as have two anonymous donors of $50,000 each and two of $20,000 each.
The Foundational Elements Driving the Transformation
RespectAbility's "Theory of Change" has three core elements:
DEVELOPING LEADERS: Empowering diverse people with disabilities to gain the training, skills, contacts, and opportunities they need to have seats at decision-making tables.
CHANGING ATTITUDES: Increasing diverse and authentic representation of disabled people on screen, leading to systemic change in how society views and values this sizable segment of the overall population.
ADVANCING OPPORTUNITIES: Seeking and promoting best practices in education, employment, entrepreneurship, and civic engagement so people with disabilities can succeed, just like anyone else.
Strength Through Unparalleled Synergy, Driven by Three Core Tenets
RespectAbility has developed three core tenets that infuse its Theory of Change and underly each of its programs. Those tenets are:
DIVERSITY, EQUITY, INCLUSION, AND ACCESSIBILITY: RespectAbility understands the importance of lived experience in informing good policies and practices. This is particularly reflected in the makeup of RespectAbility's team of dedicated trailblazers, driving the organization's success. By design, the majority of RespectAbility's Board of Directors, Board of Advisors, and staff has a disability. The majority of RespectAbility's 30-person board and more than one-third of its staff at all levels also are members of Black, Indigenous, and People of Color (BIPOC) communities. The diverse lived experience of our team, combined with an organizational culture that empowers each person to learn from others while teaching others, results in out-of-the-box thinking and true progress for people with disabilities.
COLLABORATION: Far too frequently, individuals, organizations, companies, and agencies under-estimate the sheer power of meaningful partnership in which all those involved are seen as having something invaluable to contribute. RespectAbility recognizes and celebrates the fact that each stakeholder in the disability space may lead on some issues, follow on others, and not weigh in on others, depending on priorities. Though no specific stakeholder may be all things to all people, RespectAbility places at a premium the value of partnership and therefore continually seeks to identify areas of commonality in order to minimize duplication of effort, coordinate utilization of available resources, and rally others to unite to advance shared priorities.
COMMITMENT TO PERFORMANCE METRICS: Though RespectAbility is a nonprofit organization, by intention, it applies sound and proven business principles to stretch the value of every dollar, every moment of volunteer time, and every endeavor to which it devotes itself. Each team member is dedicated to measuring performance, modifying approaches as part of the never-ending process of improvement, and paving the way for short-term and long-term sustainability and growth. In many ways, effectively factoring Return on Investment (ROI) into organizational decision-making is the key.
Programmatic Focus Areas
RespectAbility's core programmatic focus areas work together in synergy to advance major progress for the 1-in-5 people who live with a physical, sensory, cognitive, mental health, chronic pain, or other disability. RespectAbility's strategic plan includes a deeper focus on its four key programmatic areas:
RespectAbility's new strategic plan incorporates several additional priorities, including working with allies at the state level and beyond to build coalitions and expand positive change, emphasizing policies that impact transition-aged youth with disabilities, and focusing on access and civic engagement. RespectAbility's non-partisan policy team will continue to develop resources for parents and students to close achievement gaps that disproportionately impact BIPOC communities and English Language Learner (ELL) students with disabilities. RespectAbility's entertainment and news media consulting work will continue to broaden as studio and network partners increase their interest in authentic and meaningful portrayals of disability on-screen. RespectAbility will also dramatically grow its speaker and training bureau on disability inclusion and issues.
RespectAbility's Founder, Jennifer Laszlo Mizrahi said, "We are deeply grateful to The Conrad N. Hilton Foundation for this significant game-changing donation. We hope that other philanthropists and activists will join with us to create a better future on behalf of all people with disabilities." Mizrahi, who herself is dyslexic and has ADHD, founded RespectAbility in 2013. She let the RespectAbility staff and board, as well as the Hilton team know earlier this year that she will rotate off as CEO in spring 2022. The CEO search is being led by David Hinsley Cheng of DHCSearch.com.
###
RespectAbility is rated at the Platinum level by GuideStar and has won numerous awards for its effectiveness. Read the full strategic plan on RespectAbility's website: https://www.respectability.org/2021strategicplan.
RespectAbility is hiring! Read more about the currently available positions, and apply online: https://www.respectability.org/about-us/careers.
For more information, please contact Franklin Anderson at FranklinA@RespectAbility.org.
About RespectAbility
RespectAbility is a diverse and disability-led nonprofit that works to create systemic change in how society views and values people with disabilities and that advances policies and practices that empower people with disabilities to have a better future. Our mission is to fight stigmas and advance opportunities so all people with disabilities can fully participate in every aspect of community.
About The Conrad N. Hilton Foundation
International hotelier Conrad N. Hilton established the grantmaking foundation that bears his name in 1944 to help people living in poverty and experiencing disadvantage worldwide. Today, the work continues, concentrating on efforts to ensure healthy early childhood development and sustainable livelihoods for youth, support young people transitioning out of foster care, improve access to housing and support services for people experiencing homelessness, identify solutions to safe water access and lift the work of Catholic sisters. Additionally, following selection by an independent, international jury, the Foundation annually awards the $2.5 million Conrad N. Hilton Humanitarian Prize to an organization doing extraordinary work to reduce human suffering. The Foundation is one of the world's largest, with $7.5 billion in assets. It has awarded grants to date totaling $2 billion, $207 million worldwide in 2020.