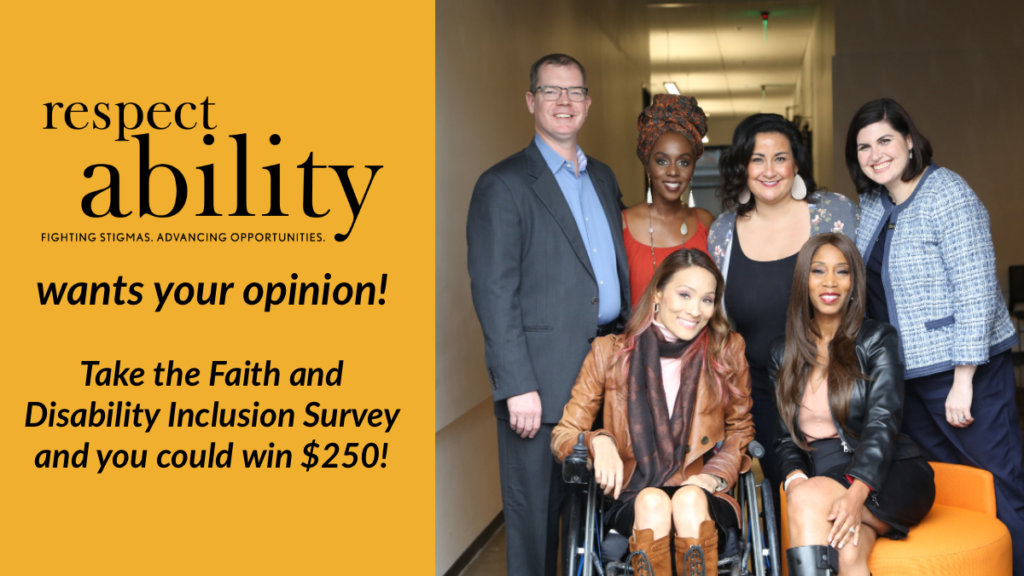 Los Angeles, CA, October 8 – RespectAbility, a nonprofit organization that fights stigmas and advances opportunities so people with disabilities can fully participate in all aspects of community, is announcing the launch of a new Faith and Disability Inclusion survey. They are hoping that anyone who has any connection to disability and any connection to a faith community will participate. The survey comes alongside the launch of RespectAbility's 2021 strategic plan, which calls for a major expansion of both the organization's Jewish Inclusion work, as well an extension of that work to support inclusion in groups affiliated with other faiths.
"In order to successfully deepen our Jewish inclusion work and work to extend its impact to other faiths, it is critical to understand the experiences of people with disabilities, as well as their loved ones and service providers, including both successes and opportunities for improvement," said Matan Koch, Vice President for Workforce, Leadership, and Faith Programs at RespectAbility. "In order to truly meet the needs of communities of faith and the people affiliated with them, we need the deepest and broadest feedback we can get, from as many people as possible."
RespectAbility conducted a previous version of this poll in 2018, and the results informed RespectAbility and other groups work on healthcare, educations, jobs, stigmas, and Jewish inclusion. Refreshing the data for 2021, especially as the world has changed so much, will help ensure a continued focus on meeting actual needs in the most effective and efficient way possible.
Said Koch, "RespectAbility sees our role as the trusted listener, and a partner in creating solutions. We do this by listening to what is happening to people, finding out what works, and bringing together partners in win-win solutions that make communities more welcoming, accessible and inclusive."
Participants can complete the survey online in about 10 minutes. All participants who complete the survey will be entered into a drawing to win $250 for themselves or the nonprofit of their choice. Said Koch, "please share your experience so that together we can create a better future."
About RespectAbility
RespectAbility is a diverse and disability-led nonprofit that works to create systemic change in how society views and values people with disabilities and that advances policies and practices that empower people with disabilities to have a better future. Our mission is to fight stigmas and advance opportunities so people with disabilities can fully participate in all aspects of community.