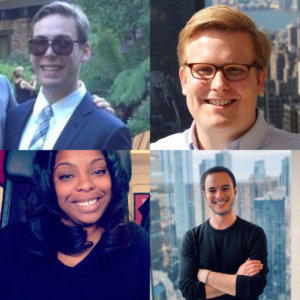 Los Angeles, Sept. 16 – Several members of the ViacomCBS family, including representatives from MTV, Paramount Pictures and Showtime, recently joined the RespectAbility Summer Lab to speak on community impact within an entertainment studio setting. Matthew Sinsheimer, Director of Corporate and Digital Communications at Showtime (a subsidiary network operating under the ViacomCBS umbrella); Adam Robinson, VP of Corporate Social Responsibility at ViacomCBS; Daylee Baker, Manager of Social Impact at MTV Entertainment Group; Erin Jordan, Director of Corporate Social Responsibility at Paramount Pictures; and Andrew Machles, VP of Public Affairs & Viewer Services at Nickelodeon took part in this important conversation.
Matthew Sinsheimer was one panelist in particular who shed light on how supporting historically excluded communities goes beyond the screen for ViacomCBS. In their commitment to support marginalized communities, Showtime partnered with the Human Rights Campaign (HRC) to bring about the Queer to Stay grant program. Along with funding LGBTQ+ businesses that struggled to stay afloat, Showtime created a community initiative to bring people together through the pandemic. From salons to bars, the funding provided by Showtime helped 10 queer businesses all over the country brave the long shutdowns that almost closed their doors.
"We have a really solid history going back over 20 years depicting LGBTQ+ characters, lifestyles, and issues," explained Sinsheimer. Showtime's relationship with the LGBTQ+ community runs deep, especially with the return of the notorious show, The L Word. Since the show's final season in 2009, Showtime has since released the first episode of the L Word Generation Q in 2019 featuring more representation than ever before. Beyond LGBTQ+ representation, Showtime also pushed for authentic disability representation with the introduction of Jillian Mercado as the character of Maribel who happens to be a wheelchair user.
"Showtime can do well by doing good," added Sinsheimer.
Baker, Manager of Social Impact at MTV, presented another notable initiative by ViacomCBS, called the Mental Health Media Guide. Developed by a coalition of mental health experts, leaders from mental health organizations, and a broad range of creative, production and business professionals from media and entertainment companies, this guide is a groundbreaking, comprehensive resource for content creators designed to help expand positive mental health portrayals. The best practices and evidence-based recommendations within this interactive tool can support storytellers at any phase in the production process, across topics and with an eye towards representing diverse communities.
In addition, the MTV Entertainment Group Culture Code, which includes RespectAbility and other partner organizations, has a goal of creating a new standard for diversity, equity and inclusion in the industry. Along with addressing mental health concerns, the MTV Entertainment Group also is committed to creating opportunities for involvement in the community and creating a baseline understanding of social issues.
Ultimately, these panelists showed how their work is making ViacomCBS an example of a corporation that is committed to creating a positive impact in the community, whether through equal opportunity on the screen, or direct involvement on the street.
RespectAbility's third annual Lab for Entertainment Professionals with Disabilities brings authentic and diverse portrayals of people with disabilities to the screen by creating a pipeline of diverse professionals with disabilities behind the camera. Participants include people with physical, cognitive, sensory, mental health, and other disabilities ranging in age from people in their 20's through their 50's. Lab alumni from 2019 and 2020 currently work for a variety of studio partners including Nickelodeon, Paramount Pictures, and The Walt Disney Company, as well as in writers' rooms for Netflix's Mech Cadet, CW's 4400, and Showtime's Dexter, among others. Others have had films featured at festivals such as SXSW and participated in additional career track programs including with Film Independent and Sundance Institute.