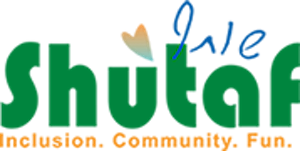 What does resilience mean to you? Depending on where you are in life as well as your responsibilities and challenges, you might define resilience in different ways.
Maybe it's about staying flexible in mind and spirit. Maybe it's about working through whatever anger or frustrations you hold within so you can find that happiness that eludes you. Maybe it's about that determination and creativity that will help you live the life you want and deserve to enjoy.
Resilience as well as flexibility, are ideas we keep close to our hearts and minds at Shutaf Inclusion Programs in Jerusalem. We're a year-round program that offers inclusive informal education programs for children, teens and young adults of all abilities, regardless of labels, financial limitations, cultural and religious differences.
At Shutaf, we often ask ourselves, "What important ideas do you need to keep close to your heart and mind when working with participants of all abilities?"
During our staff training and mentorship sessions, we talk about stability, creativity and planning in order to make sure you can find the certainty within your uncertainty. We call that notion Structured Flexibility, that is, setting your goals and building your program's structure while planning and allowing for variation as it reveals itself along with the needs of every participant.
These ideas permeate not only our teamwork, but our work with our participants as well. You can view this reflected if you take a look at some of our open source tools, part of the The Shutaf Inclusion Guide, a collection of inclusion ideas and practices, stories and resources, collected and developed during 14 years of thinking and working together.
For staff and participants alike, we focus on modeling positive thinking and positive language, elements that give everyone a stable base of respect from which to work, to learn and to find their flexibility and their resilience. We always discuss how things almost always don't go as planned – in life as well when planning activities for participants of all abilities. 
As an informal education teaching tool, Structured Flexibility is about preparing for everyone's different needs and having a "Plan B" at the ready.
Think flexibly as you plan, with clear goals and room for accommodation.
Last minute changes can be moments for creative opportunity.
Pivot your attention to the changes you need to make in the moment to achieve success.
Have alternative activities at the ready in your "back pocket."
Understand (and accept) that not everyone will participate in every activity.
Winston Churchhill wrote, "The pessimist sees difficulty in every opportunity. The optimist sees opportunity in every difficulty." Of course, that moment of facing an uncertain or changing situation is complicated and for sure challenging, for you as much as it is for your participants. Structured Flexibility is there to help, both as an inclusive teaching method as well as a personal mindset.
But of course, there are days it's hard to find opportunity at every turn. It's opportunity vs obstacle, sort of like life itself, along with working past that internal negative message of, "no I can't do this," and whatever thought process and language gets in the way of your ability to be flexible.
Don't forget to sit together as a staff and evaluate successes and challenges, including those moments that were harder to respond to and solve on the spot. Using your experiences to tweak a lesson or activity that still works within your original goals is the best way to use Structured Flexibility in the moment and afterwards as part of your planning structure.
Interested in more resources for thinking and working inclusively? Check out The Shutaf Inclusion Guide and get in touch with us.
Beth Steinberg
מנכ״לית שותפה
---
Beth Steinberg is the co-founder and director of Shutaf Inclusion Programs in Jerusalem – www.campshutaf.org – offering year-round informal-education programs for children and young people, with and without disabilities. Shutaf believes in inclusion for all people of all abilities, regardless of labels and perceived functioning differences. Beth is also the artistic director of Theater in the Rough, creating engaging, theatrical experiences in Jerusalem.