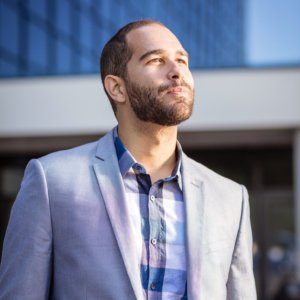 Los Angeles, CA, May 16 – DGA Award-winning director Andrew Reid was born and raised in Kingston, Jamaica. Reid lived in Jamaica until the age of 10, and then moved to the United States, where he went on to graduate from the USC School of Cinematic Arts.
At the age of 21, while on vacation in Cancun, Mexico, Reid became paralyzed from the chest down. A malformation of his blood vessels (AVM) resulted in a rupture, which compressed his spine while he was sleeping, leaving him completely paralyzed. He was told by doctors he would never walk again, although he eventually did regain movement, and currently walks with the assistance of a cane.
During his time at the hospital, Reid completed his first film project. He went around the hospital and recorded interviews with other patients and compiled the footage into a chronicle of the institution.
"I was fascinated by the stories of other patients and what they had been through. I wanted to collect their experiences along with showing my appreciation for the nurses and staff of the hospital," explained Reid.
He graduated from the University of Florida with a degree in marketing, but soon discovered his love for cinema and graduated from USC with an MFA in Film and Television Production. He has since become an advocate for the disability community and expanded his film production skills from Miami to Los Angeles.
His USC thesis film, ASIA A, won the Jury Award at the 2018 DGA Student Awards. Starring London Brown, the film was inspired by Reid's paralysis and is an intimate work at the intersections of disability and masculinity. It was a semi-finalist for the 45th Student Academy Awards and has screened at LA Shorts, HollyShorts, CAA Moebius, Paramount Pictures and more than 40 other film festivals. It is being developed into a feature and was a recipient of the 2019 Tribeca Film Institute Sloan Filmmaker Fund.
There are more than 358,000 people living with spinal cord injuries in the United States, and according to the National Spinal Cord Injury Statistical Center, there are 17,810 new cases each year. And even before the COVID-19 pandemic, only 27 percent of people with spinal cord injuries were employed 10 years after injury.
Reid's films are inspired by both his Jamaican identity and his disability. He takes aspects from his multiple identities and finds the commonality amongst all of them to help him facilitate his work ethic and vision. Whether it is Reid's laid back "island demeanor" keeping him cool during stressful shoots or meditating on the importance of his cultural upbringing, he finds a way to insert a bit of himself in every step of the production process, imbuing each work with an inextricable personal essence.
"What draws me to stories are the characters and worlds I can convey," said Reid. "The themes that resonate with me are family and sacrifice. I think those are things everyone can relate to on some level."
Recently, Reid finished a short film, Road to Zion, which is being developed into a limited series. The film centers around a Jamaican family who immigrated to Los Angeles, and the struggles they face alongside the sobering disillusionment with the American dream. The Road to Zion pilot script was a finalist for the 2020 Cinequest Screenwriting Competition and was featured at IFP Week 2019.
Reid is a director in the 2020 class of Film Independent's Project Involve and is the recipient of the Easterseals Disability Services Fellowship. He is an alumnus of the 2020 RespectAbility Lab for Entertainment Professionals with Disabilities. He currently is represented at APA.