Hottle's character Jia is the emotional heart of this movie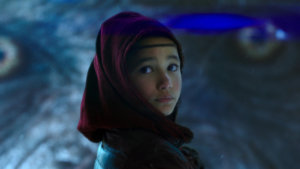 Los Angeles, April 1 – A Warner Bros. blockbuster film starring CGI monsters of mayhem and destruction is now being streamed across the world in living rooms, dorms, and select doomsday bunkers that just so happen to have Wi-Fi, as Godzilla vs. Kong goes live on their streaming service, HBO Max.
Godzilla vs. Kong is exactly what you want from a giant monster movie. It has a fast-moving story, a couple of funny moments, and most importantly, epic monster fights that show just how tiny humans are by comparison to their skyscraper-like sizes. Overall, it's a pretty by-the-books monster movie. One where you can just sit back and enjoy the destruction and be thankful you don't live in a coastal city.
There aren't a lot of surprises in this movie, which isn't necessarily a bad thing. Not every film has to have twists and turns that keep you guessing throughout the duration of the movie. Sometimes two monsters just throwing hands in order to determine who the most powerful being on Earth is, is enough. However, there is one pleasant surprise in this film, and it is the performance given by Kaylee Hottle, who was just 9 years old when she filmed Godzilla vs. Kong.
When it comes to writing about giant blockbuster films, it's rare that you get to talk about quality disability representation. But Godzilla vs. Kong is an exciting opportunity to do so. Hottle plays Jia, Kong's only real friend in the film. Jia is a young deaf girl who is the only surviving resident from Kong's Island. Being the last of their respective communities gives the two of them a special bond that is furthered by their ability to communicate with each other through American Sign Language.
Jia is the emotional heart of this movie. While King Kong and Godzilla are destroying cities and are fighting giant monsters, Jia reminds us what's constantly at stake. She is our reminder that Kong is more than a giant gorilla fighting a radioactive lizard. His emotions and fears are mirrored through her and the understanding the two of them have of each other. Every scene with her is important and helps to fill out the more subtle moments of this CGI slugfest.
Co-star Alexander Skarsgård learned ASL to communicate with Hottle while filming Godzilla vs. Kong and remarked in a recent People Magazine interview that Hottle "steals the movie", adding that there was "so much going on on her face, her expression and the subtleties of that is fascinating to watch."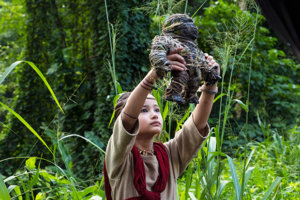 "It is worth noting that the qualities in deaf actor Kaylee Hottle that so impressed actor Alexander Skarsgard in Godzilla vs. Kong is exactly the reason that authentic casting leads to more successful performances," said deaf filmmaker and executive Delbert Whetter, who also serves as a board member for the disability advocacy nonprofit RespectAbility. "The many nuances that make a performance believable is informed by lived experience. Acting deaf or disabled does not equal performing a character who is deaf or disabled. Authentic casting helps ensure you'll have actors that understand that and position you for success."
Jia is an excellent example of how characters with disabilities can help deepen the story without the focus being on disability itself. Jia is a catalyst for empathy and understanding when it comes to Kong's own struggles. Not because she has a disability, but because the two share a form of communication and a history that connects them in a way that no one else can.
Which is all the more impressive when you consider how this movie was produced. In an interview with The Daily Moth, Hottle said about performing in front of a green screen in a movie with extensive CGI-animated special effects, "One of the hardest parts was trying to pretend there was a bond there and signing to someone when there was nothing there."
When it's all said and done, Godzilla vs. Kong is your typical summer blockbuster; it just so happens to take the time to also do inclusion right. If giant fight scenes, mass destruction and inclusion are your thing, check out Godzilla vs. Kong on HBO Max premiering in a living room and select theaters near you.