If you are a fan of thrillers, you undoubtedly have run across different takes on the "hostage" theme. Aneesh Chaganty's latest film, "Run," revisits this theme but does so with a twist that will undoubtedly draw deserved attention from the disabled community.
"Run" is the story of Chloe Sherman, a teen who uses a wheelchair, played by real-life wheelchair user Kiera Allen. The film explores the dynamic between Chloe and her helicopter mom Diane Sherman, played by Sarah Paulson.
Setting the plot aside for a moment, one unique aspect of "Run" is the casting of a disabled actress to play Chloe. With "Run," Chaganty not only sought to cast a disabled actress, but was willing to risk bringing on an unknown talent to ensure the authenticity of the character and the story. When interviewed about the role, Allen noted, "They did a lot of research. They spoke to a lot of people at universities about disability and listened to me when we were on set about my perspective, my experience."
The filmmaker's commitment to authenticity is evident in this movie. Viewers are shown an accurate depiction of what life in a wheelchair is really like. And because Allen is herself has a disability, that aspect of the character doesn't have to be acted. It just is. As a result, viewers find themselves focused on her considerable skills in delivering a character, rather than on how well she sells the disability.
Diane Sherman is the personification of Ableism (Spoilers Ahead) 
We initially see Diane as a devoted and caring mother. As the film progresses, that disguise is lifted, and viewers gradually are shown a sinister side to Diane as her perfect veil is slowly stripped away. In truth, Diane Sherman is an evil, manipulative and selfish woman, arguably not deserving of the "mother" title. Viewers learn that she is despondent and desperate to have someone to love. After delivering a stillborn child, Sherman kidnaps Chloe from the nursery.
Diane is so desperate to be loved and needed that she can't bear the idea of her baby girl one day going off to college. Viewers learn that Chloe was not born a paraplegic, nor did she have trauma that resulted in her disability. Instead, Chloe's paraplegia is the result of Diane's design. It turns out Diane has been drugging Chloe to keep her dependent and to keep Diane feeling needed and necessary.
Chloe's realization of this sets up the hostage theme for the thriller, and viewers observe the battle of wits as the daughter tries to escape her mom.
The interesting twist to this hostage thriller is the nature of the "captivity". Typically, the hostage is held by external constraints or external threat of violence. Think Kathy Bates breaking James Caan's shins in "Misery" or basement dungeon used to keep victims in "Silence of the Lambs."
In "Run," the attempt at captivity comes in the form of disability.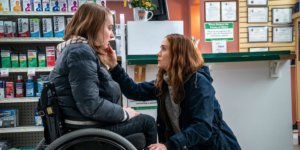 For nondisabled people, the thought of being paralyzed can be a terrifying notion. It is, in some sense, akin to being shackled. It also brings with it assumptions of dependency. The focus is on what has been lost, not on what is intact. This is the perspective Diane brings to disability. In her mind, if Chloe has a disability, she'll remain dependent and cannot leave her. Diane believe it to be a weakness that binds her to her mother for life. Whether Chaganty's use of Diane was intended to highlight some of these stereotypical assumptions or not, they come through Diane's character.
However, Chloe's character beautifully debunks these common misperceptions. Chloe is an example of how people with disabilities see themselves – our disabilities do not define us or limit us in a broader sense. We may have to do things differently, but it does not mean we cannot do them. The inability to perform a particular task does not indicate a lack of capability for other tasks.
"This movie was refreshingly relatable," said Tatiana Lee, Hollywood Inclusion Associate at RespectAbility. "As a fellow wheelchair user, I screamed as I watched her, wondering what I would do in a similar situation, which is a rare thing to see for someone with my lived experience."
Chloe is a fully-fledged character who happens to have a disability. She has interests and talents and defining features that far exceed how she gets up and down the stairs. And, when it is time to wheel up and be a badass, she does it without hesitation. These aspects of her character make the casting of Kiera Allen all the more crucial in nailing the film's narrative. Allen embodies the qualities of the character, and the character is all the more believable because of Allen's own disability. Imagine the harmful message that would have been sent to show a disabled character who is smart, resourceful and bold, as Chloe is, only to have the role played by someone without that disability.
"Run" is not only brilliant because of what it communicates to the audience about people with disabilities, but also how it speaks to its viewers with disabilities. Chloe is a character that people with disabilities see themselves in, and that is why she's so important. People with disabilities can fully immerse themselves with Chloe and the situations she is faced with and put themselves in that moment.
Chaganty and Allen got it right on "Run." It's a fun, albeit disturbing, film, and it is a positive step for artists with disabilities. Here's hoping there is more to come.