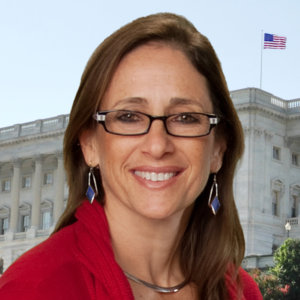 Rockville, Maryland, June 28 – Known for her multidisciplinary approach and exemplary soft and hard skills, Debbie Fink is the Director of Community Outreach and Impact for RespectAbility. Maximizing this approach and dual skillset, she efficiently and effectively crafts trainings, programs and events that elevate purpose, deepen understanding, broaden community and quantify impact.
What does that mean, and how does she do it? A keen observer of all people around her, Fink elicits personal stories, cultivates connectivity and garners buy-in. Fink then identifies common threads among individuals and groups, pinpoints gaps and weaves together programming that promotes powerful change – change that is woven with earned trust, mutual respect and common goals.
After any such event, Fink assesses impact through ongoing surveys, data collection and analysis. At RespectAbility, Fink's trainings, programs and events advance opportunities and fight stigmas for—and with—people with disabilities. Several best practices have emerged from her diligent work.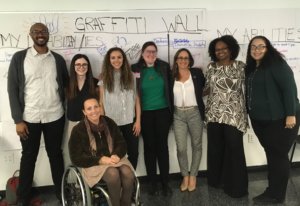 When she joined RespectAbility, she brought more than 15 years of diverse leadership experience in public health, education and arts programming.
"Debbie Fink is a creative genius and a gem," said Jennifer Laszlo Mizrahi, RespectAbility's president. "The breadth of her skillset is vast and honed. A day with Debbie? An author and communicator, she may write a profound piece or develop a powerful PowerPoint in the morning; an analytical mind, she may craft a survey in the afternoon; and a skilled facilitator, she may lead a Zoom training for diverse women with disabilities in the evening. That doesn't cover what she does in between. Her reliability and integrity, combined with her compassion and commitment to social justice, are virtues that I associate with Debbie Fink."
Fink smiles and says, "What I love about my position is its space for creativity in our advocacy for – and with – people with disabilities. Some highlights include co-developing our first-ever Women's Empowerment Training Series: NYC and its subsequent National Disability Speakers Bureau and its Women's Division; overseeing our annual Capitol Hill Summits (virtual in 2020); designing surveys and analyzing their data; devising, piloting and refining our credentialing program with our team in Disability, Diversity, Equity and Inclusion (dDEI); establishing and expanding our growing Volunteer Corps; managing a Community of Practice in Long Beach; organizing and/or moderating webinars and virtual convenings; driving our National Disability Employment Awareness Month outreach efforts; managing the nation's inaugural "Erev JDAD" (an evening event preceding Jewish Disability Advocacy Day), and curating, contributing to and editing weekly Shabbat Smiles; forging collaborations with dozens of nonprofits; supporting our SNAP success story; editing grants, articles, op-eds and more. Whatever it takes, I'm ready. I enjoy playing such a pivotal part in advancing RespectAbility's virtuous mission."
While Fink highlighted these accomplishments, she added the human connectivity as a vital motivator: "What brings me immense joy and job satisfaction is the ongoing, synergistic collaboration with our fabulous Fellows; with our committed colleagues and our incredibly dedicated team of stellar board members; and with the diverse volunteers and individuals with disabilities and allies with whom I have the great opportunity to work."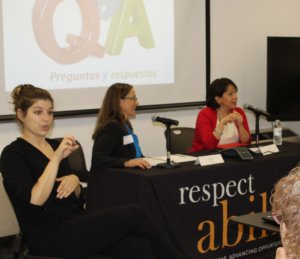 An educator, author and musician, Fink once managed a woman-owned small business, producing books, trainings and programs that educate, motivate and celebrate diverse children and adults, including those with disabilities. Fink's books and curricula have impacted more than 500,000 beneficiaries globally and she has 'edu-tained' more than 70,000 people with her multi-intelligence performances worldwide.
Fink also served as VP of Global Programs for a 100 percent volunteer-run organization that provided free services to families of wounded warriors and other service members. In fact, the USO selected Fink as a Guest Educator and performer, sending her on global tours to edu-tain our troops' families throughout South Korea, Japan/Okinawa, Italy and Germany, including performing for (and with) wounded warriors.
Of note, the Obama White House's Joining Forces staff asked Fink to write the initial draft of a script for (now former) First Lady Michelle Obama, who then recorded the heartwarming video message for military-connected children. Fink shared this priceless message during her USO events throughout South Korea, Germany and Italy.
One of Fink's favorite programs is her disability awareness program, entitled Brain Power! Celebrating Learning Differences. A multi-cultural, multi-intelligence program, Brain Power! was commissioned by a school serving students with learning disabilities. Fink performed Brain Power! for approximately 4,500 students, educators and parents in public, private and parochial schools throughout the Washington, D.C., area.
Born in Los Angeles, California, Fink holds a master's degree combining education, public administration and psychology from George Mason University and a bachelor's degree in psychology from American University. She also  is a certified gymnastics and diving coach. She and her husband have three awesome, grown children, one of whom is embarking on her career as a special education teacher.