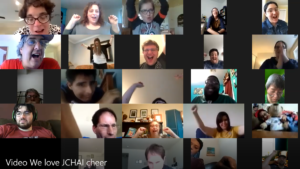 For years, JCHAI's award-winning Transitions program has provided young adults with developmental disabilities the opportunity to develop social networks while learning skills to transition to living and working in the community. Our in-person classes and outings brought people together to practice life-skills while socializing with friends. The pandemic and current stay-at-home orders have made it impossible to continue our in-person sessions, leaving many of our participants feeling isolated and bored. JCHAI wanted to offer a way for people to continue socializing while learning and practicing their independent living skills, and ZOOM into JCHAI was born!
ZOOM into JCHAI offers 15 online sessions each week bringing together participants using the Zoom video conferencing platform. Classes have included armchair tours of other countries, lessons on interpersonal communication, Friday afternoon dance parties, and much more. Our client's feedback shows the positive impact the programming is making in their lives:
"The Zoom Programs that JCHAI has provided during the week has kept me very engaged with my friends at JCHAI. I want to say thank you to all for creating this platform and keeping us all in touch with each other."  Liz Yuhas
"Let me begin by saying JCHAI is doing an amazing job with the Zoom calls. The topics are fun and engaging.  [My son] shares them with me and it gives us something to talk about other than COVID. …He is especially excited to begin learning Korean! These calls are keeping [my son] and me sane."  Stephanie Jackson Williams
Interested in joining?  ZOOM into JCHAI has classes for adults with intellectual disabilities, including autism, for a small fee. New participants must complete an intake form and a personal evaluation by phone or online; the program is not appropriate for all individuals.  For more information, contact Dr. Beth Rosenwasser at bethrosenwasser@jchai.org or (215) 498-1270.
---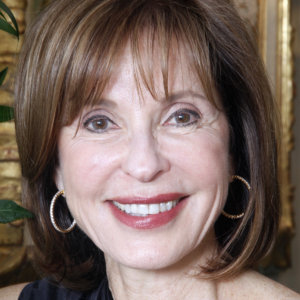 An accomplished Business and Healthcare Professional with more than 45 years of working experience, Judith Creed was a founding member of Linda Creed Breast Cancer Foundation, Operation Smile, Philadelphia; and Judith Creed Homes for Adult Independence (JCHAI). Presently, Creed sits on the board of the Schwartz Foundation and is the Board Chair of JCHAI. The Schwartz Foundation supports Jewish charities, as well as Israel, educational and disabilities organizations.
In our Jewish Disability Perspectives newsletter, RespectAbility welcomes a wide spectrum of voices. The views expressed in each Jewish Disability Perspectives contribution are those of the guest contributor.