Film will premiere as the Opening Night selection of The ReelAbilities Film Festival: New York and will be shown virtually on March 31, 2020, followed by a Q&A.
New York City, March 31 – Have you ever been online, just aimlessly scrolling through the web and found an article that makes a point you've been trying to get across for years, but have never been able to express: one of the moments where you can't help but to exclaim that "they put it into words"? When it comes to the topic of disability representation in mainstream cinema, Code of the Freaks, directed by Salome Chasnoff, does just that, except for instead of being an 800-word opinion piece, it's a brilliant, clever and expertly-crafted, hour-ish long film.
Touting a comedic disclaimer that "no people with disabilities were harmed in the making of this film," Code opens with clips from the 1392 movie Freaks – from which it draws its name – and uses these examples as a jumping-off point for the discussion to come on disability representation in mainstream cinema. It takes clips from movies that include characters with disabilities and picks apart the way those characters, their stories and the situations are portrayed – including what the directors and writers got right, if anything, and what they did terribly (in most instances) wrong. It brings with it an important message in the fact that film, in many ways, functions as an educational medium – insofar as introducing people to experiences they might be unfamiliar with – meaning that what they 'teach' goes a lot further and deeper than one might think.
"I went in there to teach them, but they ended up teaching me."
By far one of the most insidious tropes and techniques in disability representation – both in film and media in general – is the idea of the person with a disability being an "inspiration" for merely just living their life. Writer Susan Nussbaum says in Code, "That's an epiphany – when you realize suddenly that it's all the same movie. It doesn't matter what happens in the movie: it could be a movie where the disabled person ends up in an institution, it could be a movie where the disabled person is lobotomized [sic], it could be a movie where the disabled character overcomes their disability, and therefore fits into life as we know it – and it's all inspiration."
When disabled characters do appear in movies, their main purpose tends to be one as a prop – a side role used as a catalyst for the arc and development of the protagonist. Instead of being their own, fully-fleshed out people, they merely serve as a mechanism for others to learn, grow and 'become better people.' These characters have none of the narrative complexities of their nondisabled counterparts because first, their disability is seen as their only characteristic that distinguishes them and 'matters' in their story and second, they are viewed more as plot and character development devices than characters in their own right.
The perpetuation of this idea in media leads to this 'inspiration model' being adopted by nondisabled people as the right way to interact with people with disabilities.  Artistic Director of Tellin' Tales Theatre Tekki Lomnicki says, "One of my microaggressions that really gets me mad is when strangers would say, 'y'know, you're so inspirational.' Like, I'm so sick of being inspirational. I'm not inspirational – this is how I go through my life."
This sentiment frequently can be heard echoed by other disability advocates, including the late Stella Young who coined the term 'inspiration porn' in her famous and must-watch Ted Talk: "I'm not your inspiration, thank you very much." It comes from the idea that a disability is a thing to 'overcome,' rather than a part of one's identity and something that may involve making changes or modifications to navigate, but that can be something with which one lives.
Villains and monsters and 'freak shows' – oh my!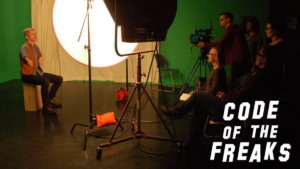 Much of the middle portion of Code focuses on some of the common tropes ascribed specifically to characters with disabilities, breaking them down into categories including villains, monsters, 'freak shows,' heroes and objects of sexualization or pity.
Think about every movie you've seen that had a character with a disability. Was that character the protagonist? If so, did they have superpowers or magical abilities as a result of their disability? If not, were they a villain or monster of some sort? And if they weren't a main character, was their entire identity wrapped up in and dependent upon their disability? Did their interactions with other characters have to do with getting help and being pitied? Were all gestures toward them painted as acts of charity?
Chances are, any character with a disability is painted as anything other than just a character: they're not the best friend or the love interest or the coworker who maybe is only in three scenes but still pops up in the background – they have to be "something" other than a character. Code dives deep into each of these characterizations and explains where they come from and why they are so dangerous.
As well, it brings up the fact that most of the time, if a film does have a character with a disability, it only has that one – no more. Given that nearly 20 percent of Americans have some sort of disability – this makes absolutely no sense whatsoever. Granted, disabilities can be invisible, like ADD/ADHD, dyslexia, depression and anxiety, etc., but if a movie has just one character who is a wheelchair-user (who, let's be real, is probably a comedic relief side-character who only makes self-deprecating jokes), then that should not count as 'being enough.'
This also further compounds many of the tropes assigned to disabled characters as it posits them as 'special' and 'rare' rather than human: as well, many studios may cry that they cannot afford to have so many characters with disabilities, but rarely are these characters actually played by actors with disabilities, and most workplace accommodations cost less than $500 – so for big budget blockbusters that would be really just a drop in the bucket. And given that these are the films that truly impact the industry and public perception, it would be beneficial to both them and society to have better representation. Including several characters with visible disabilities, or even opening the conversation to cover nonvisible disabilities, would create a normalizing effect where 'disability' is no longer a dirty word and people are simultaneously desensitized (so they don't stare) but also sensitized (to the issues that people with disabilities face).
Who doesn't love a happy ending?
Not to spoil the ending of Code of the Freaks, but in the last stretch of the film, they do discuss at length movie endings – specifically, how characters with disabilities tend to face one of a few standard fates: institutionalization, death or being cured.
Fortunately, the first one – being institutionalized – is a less common ending now; particularly as issues such as autonomy, self-determination and mistreatment in care homes have been made public. However, the two other "resolutions" are still incredibly common, and serve to feed into the ideas that, in terms of being cured – disability can be 'overcome,' and in the case of death – people with disabilities would be better off being dead.
Perhaps part of the issue is that 'endings' for people with disabilities are not always so neat, and so can't be tied up in the Hollywood picture-perfect ribbon, but the same could be said for nondisabled people and their stories: life is often messy, so why should an ending ever be all clean and wrapped-up? Just like a good college essay, the end of a movie shouldn't be some dramatic, global, bad-college-essay type life-lesson, but a resolution – a "return, changed" like in the hero's journey. It really doesn't need to be all that dramatic; it just needs to be an ending.
If Code of the Freaks sends any message with its conclusion, it's this: we need more stories about disability on screen, and for those to be told accurately and serve as good representation, they must be done with people with disabilities on both sides of the camera.
Want to know where you can watch Code of the Freaks? Watch this website for additional information!