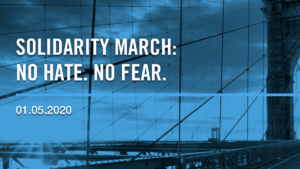 Washington, D.C., January 4 – Recently there have been a horrific number of attacks on Jews and Jewish institutions. This anti-semitism comes as there are also attacks against people who are immigrants, people of color, members of the LGBTQ+ community and other marginalized groups.
RespectAbility's position: hate has no place in our society.
We also recognize that some of the attacks have come from people with significant mental health issues, and that it is vital for mental health services to be provided where and when it is needed. Such services are a safety measure for all.
Nonetheless, there is never a reason for hate crimes. They must stop now.
The organizers of this march and rally are working to provide ASL interpreters, live captions, VIP / Priority / ADA seating, accessible toilets, and other accommodations.
We hope you will join us to stand up (or roll if you happen to use a wheelchair) against hate.  Debbie Fink, RespectAbility's Director of Community Outreach & Impact, will be on site to represent our staff.
RespectAbility is proud to endorse the Solidarity March taking place in New York this Sunday, January 5th. The March starts at Foley Square at 11:00 AM and goes across the Brooklyn Bridge for a rally in Cadman Plaza.
DIRECTIONS
Subways to Foley Square:
1, 2, 3, A, C, J, or Z trains to Chambers Street
4, 5, 6, R, or W trains to City Hall
Once downtown:
March participants should arrive at Foley Square via the North side, at the intersection of Worth Street and Lafayette Street (also known as Federal Plaza).
Marchers who arrive via subway south of Foley Square MUST walk North up Broadway or Centre Street until Worth Street, then proceed toward the intersection of Worth and Lafayette.
If your group is chartering a bus:
Drop off as close as possible to the intersection of Broadway and Worth Street. Marchers should proceed to Worth Street and then turn onto Lafayette Street (Federal Plaza). Buses should proceed to Brooklyn.
Pick up after the rally from the Cadman Plaza West, between Tillary and Middagh Streets.
ASL Interpreters: Enter Cadman Plaza via the VIP Entrance: Enter Cadman Plaza Park from either Cadman Plaza East or Cadman Plaza West at the War Memorial.
SAFETY NOTES FROM NYPD
1) Participants are reminded to dress appropriately for the weather and to bring water bottles.
2) Participants should limit the size and number of backpacks
3) Strollers are welcome.
4) There will be portable toilets at Cadman Plaza, but not at Foley Square.