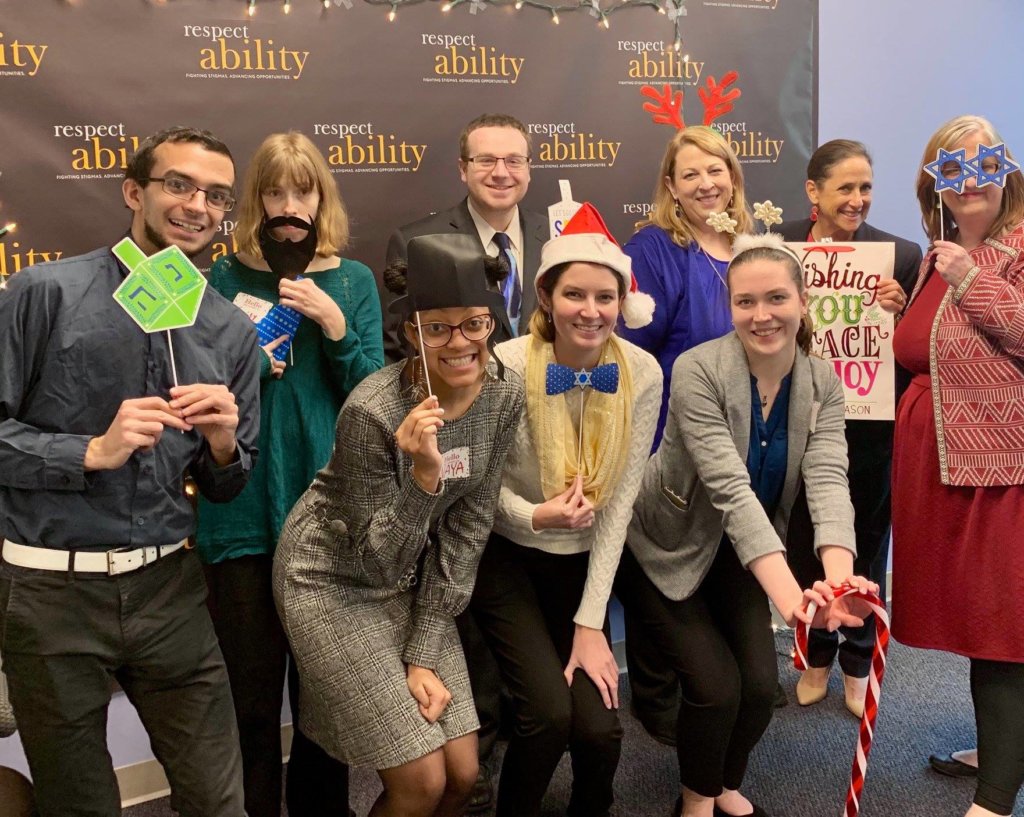 Shalom friend!
I hope you had a great Thanksgiving! With so much goodness to go around, here are several very important invitations and updates:
We would love for you to join us for our holiday party on Wednesday, December 4th, from 4:00-7:00 PM. Food will be kosher and you, your family and your friends are all invited. Please RSVP here and we look forward to celebrating with you!
We'd love for you to participate in the 10th annual Jewish Disability Advocacy Day (JDAD) on Capitol Hill on Tuesday, February 4, 2020. RespectAbility is joining with the Jewish Federations of North America, the Religious Action Center of Reform Judaism, and the Jewish Disability Network. Last year JDAD, which has space for almost 300 people, still sold out months in advance – so sign up early!
For the first time ever, there will be a first-time "Erev-JDAD" convening, bringing together Jewish inclusion leaders from the field for meaningful collaboration. This inaugural Erev-JDAD event is a partnership with JFNA, RAC, RespectAbility and the DC-JCC. To facilitate meaningful communication, we are limiting it to 70 people, so please register as soon as possible. The aim is for Erev JDAD to be a major networking and collaboration opportunity for leaders like you. It's a dinner at the newly renovated and now accessible DC Jewish Community Center. We will set up tables by key topics of interest to our community, with two rotations at the tables, allowing for two topics per person. There will be no speakers – only group discussions. We also urge you to bring your most active self-advocate(s) – a person with a disability from your staff, board or volunteer pool. Please sign up here today!
We would love to share some of your best content through our social media so that it gets more exposure. Do you have content that you want to share? Our Jewish inclusion Facebook page, and our Jewish inclusion Twitter, have a great number of influential followers. We think it's critical for as many people as possible to see the good work people are doing, so that they can learn and replicate it in their own programs. We are especially looking for holiday kits/themed pieces for Hanukah and other significant Jewish holidays, milestones, and experiences. We invite you to share substantive materials with us so you can amplify the reach of your amazing work. Please think of these social media channels as community bulletin boards for great ideas, happenings, and experiences. (One caveat: We do not share any fundraising or development solicitations.)
We'd be honored for you to publish a Shabbat Smile with us. As you know, these pieces are published on our Jewish inclusion website here. We then send them to our in-house list of more than 5,000 Jews who care about these issues. You can also share your pieces through all your own social media and communications streams. So … would you like to write an original Shabbat Smile piece? Let us know!
As you are aware by now, we've launched Project Moses in LA and are looking for Jews with disabilities who want to be fully engaged in leadership opportunities in LA. Please let us know if you know of Jews with disabilities in LA who seek greater involvement with Jewish leadership. You can find more information about the project here!
As you also may know, Matan Koch is now leading our Jewish & leadership work. Matan, a wheelchair user himself, did his undergrad at Yale, law degree and Harvard and has been living Jewish inclusion from participation in youth activities and youth leadership, to collegiate and Hillel leadership, to adult lay leadership, for over 30 years. He has spent most of the last decade advising major Jewish organizations, including the URJ, Hillel international, and local Federations, among many others. Matan is a longtime friend and mentor of mine. RespectAbility could not be more proud to have him on our team. He has relocated to LA to lead our innovative local programs while seamlessly combining RespectAbility's global portfolio. With his relocation, and the hiring of our two other amazing LA staff members Candace Cable and Tatiana Lee, RespectAbility is now a bi-coastal organization. Headquartered in Rockville, Maryland, we now have a strong programmatic hub, overflowing with activity in LA. Matan is very eager to continue or begin working with you and can be reached via email at 

[email protected]

. Our Jewish staff who are also involved with this initiative include myself, Lauren Appelbaum, Debbie Fink and Eric Ascher.
Thanks for all you do!
Respectfully,
Jennifer Laszlo Mizrahi
President, RespectAbility
---
In our Jewish Disability Perspectives newsletter, RespectAbility welcomes a wide spectrum of voices. The views expressed in each Jewish Disability Perspectives contribution are those of the guest contributor.