GW Graduate Student in Health Policy to Fight for Disability Rights
Washington, D.C., September 14, 2019 – Laka Mitiku Negassa imagined she would spend her career in research or medicine, learning how the brain works. But a serious accident that caused a traumatic brain injury set her on a different track – to campaign for the rights and care of people with disabilities.
Negassa, a graduate health policy student at George Washington University's Milken Institute School of Public Health, has begun her career in advocacy this summer as a policy Fellow with RespectAbility, a nonprofit, nonpartisan group fighting stigmas and advancing opportunities so people with disabilities can fully participate in all aspects of community.
As a panelist at RespectAbility's annual Capitol Hill summit last month, Negassa spoke about her recovery and the accident that left her in a coma for three weeks. Hit by a snow plow and dragged nearly 90 feet, Negassa had lacerations to several organs and bone fractures along with a traumatic brain injury. Her multiple-year recovery, meanwhile, exposed her to the additional hardships faced by those with disabilities.
"As a person living with an acquired disability, I had to learn everything, from what kind of language to use, to how to get all the required accommodations to live life," said Negassa. "My family and I didn't know anyone living with a visible or physical disability close to us. It was a whole new world we had to navigate through."
Negassa's recovery from the 2013 accident entailed five major surgeries, nearly three years of physical, occupational and speech therapies and time in different facilities including hospitals, rehabilitation facilities and nursing homes. The continual transfers, which often interrupted her recovery, revealed inefficiencies in the health care system and spawned her interest in reshaping the system to better serve people with disabilities.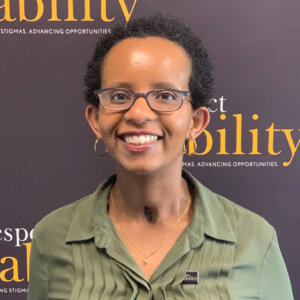 As a Fellow with RespectAbiliity's policy team, Negassa worked on disability employment and education issues, while researching "school-to-work" transition programs in different states. According to the Centers for Disease Control and Prevention, 1 in 4 adults in America have a physical, sensory, cognitive, mental health or other disability. But only a third of them who are of working age have jobs, according to the U.S Department of Labor. Lack of employment not only puts people at risk of financial insecurity, but it also is the leading social determinant of poor health.
"I have learned much more than I expected and anticipated," Negassa added. "I was able to develop and fine tune different skills such as my research and writing skills."
Negassa hopes to help reform U.S. health care so it can become efficient and cost-effective. It is also her hope and dream to work to ensure that the health care system eventually works for every American, regardless of background or ability. Ultimately, she aspires to advocate for health care equality around the world.
"Ms. Negassa is the kind of young leader the world needs.  She is smart, compassionate, driven and has lived experience that has given her wisdom and insights well beyond her years. The one-in-four adults who live with disabilities are lucky to have her as someone entering the leadership pipeline as she will always strive to do the right things. She is tremendous!" said Jennifer Laszlo Mizrahi, President of RespectAbility.
A nonprofit, nonpartisan organization led by people with disabilities and their allies, RespectAbility works with policymakers, educators, philanthropists, journalists and the entertainment industry to promote accessibility and inclusion for people with disabilities. Its free tools and resources aim to help people with disabilities achieve equal opportunities in education, training, jobs, security and good health.
Negassa is one of 169 graduates of RespectAbility's National Leadership Program. To learn more about the program or to apply, go to www.respectability.org/about-us/fellowship.
Media Contact:
Ben Spangenberg
[email protected]
(202) 517-6272 ext. 120