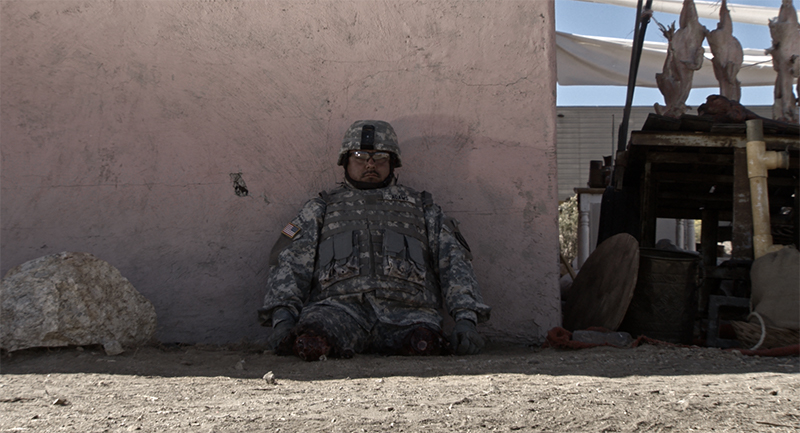 Los Angeles, Sept. 18 – In Fort Irwin, Cristian Valle, a double amputee Purple Heart recipient, attempts to confront his past trauma by acting in a hyperrealistic military simulation.
Valle lost one of his legs when a grenade exploded while he was deployed to Iraq. His other leg was eventually amputated as well because of its severe damage. Now living in Southern California with wife and daughters, he always had a desire to act.
In Fort Irwin, the viewer is treated to a glimpse of Valle's life. On his way to participates in a vivid and visceral military reenactment, Valle stops for gas where a loud backfire from a car startles him, showing viewers that Valle has PTSD from his time in Iraq. He receives a call from his therapist who says he needs to go through this and confront trauma to heal. She reminds him he is not leaving California and no matter how realistic it may feel, it is not Iraq.
The simulation, which is very realistic, serves as a visual reminder of the trauma soldiers experience. Even with civilians walking through the simulated environment, taking photos like tourists, Valle's facial expressions show the viewer that, in his mind, he is back in Iraq.
After the simulation is over, the other participants take off their prosthetics from their "fake injuries," including simulation of head being blown off, being dressed as a terrorist, carrying fake guns, etc. But Valle still lives with his amputations following the simulation. He seems still haunted by what happened to him and, as an actor, does a great job conveying that.
While the simulation was a suggestion of his therapist, it is hard to confront his trauma when the others in the reenactment get to go home as though nothing is different while Valle's home life has drastically changed.
The beauty of Fort Irwin is how it showcases the realities of living in an ableist society. Valle's fellow reenactors may never fully understand Valle's new reality. However, the film also shows how Valle has chosen to continue living his life, confronting the challenges of society head-on. Valle may have had to change how he accomplishes various tasks in life, but he is still very much living.
Fort Irwin is screening at Fantastic Fest in Austin, Texas, Sept. 20 and Sept, 23 preceding Happy Face, which shines a spotlight on the lives of many individuals with facial differences while exploring a young man's relationship with his mother.
Lauren Appelbaum provided additional research for this piece.