Washington, D.C., August 19 – "The hardest part is to just start; your impact will be immeasurable," said Steve Bartlett, a former congressman from Texas who was a primary co-author of the Americans with Disabilities Act and moderated a panel entitled, "Making a Difference." This panel was part of the summit, "From Washington to Hollywood and Beyond: The Future of Americans with Disabilities," so people with disabilities can fully participate in all aspects of society.
Bartlett, who represented Texas's 3rd Congressional District, demonstrated his knowledge and experience on the subject. Showing up and making the initial connections are the most important parts of making a positive difference, both in the world and in one's personal career, Barlett expressed. For instance, he relayed a powerful story of a chance meeting with a man who offered to volunteer for his campaign on Sunday nights. That man continued to advance in local politics and eventually ran for Barlett's previously held seat and won, thereby succeeding Bartlett.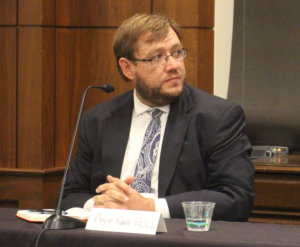 The next speaker was Philip Kahn-Pauli, RespectAbility's policy and practices director, who explained his own experiences in disability advocacy and the tremendous gains that he has seen in his time in advocacy. He emphasized the importance of putting in that work and offered ways that advocacy can be put into fruition.
"One of the ways you that is by writing an op-ed, it gets the message out there" Pauli said. Op-eds make sure that readers are aware of the issues that advocates are concerned about. This means that crucial issues can be brought to the forefront by the advocates who are committed to solving them.
The effects of advocacy can be incredibly positive and can have many beneficial ramifications to the lives of people with disabilities. Iowa is a perfect example of this, in that it is a state which, due to the work of advocates and activists, has been on the cutting edge of disability-focused policy. Pauli noted that Iowa has some of the highest employment rates for people with disabilities compared to the other 50 states. One of the factors that this may be attributable toward is the fact that "there's a disability advocate serving on every workforce board in Iowa" as Pauli stated. And this itself was in many respects a result of the positive work and activism that disability advocates have been displaying.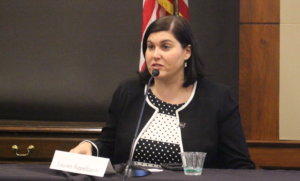 The third and final speaker was Lauren Appelbaum, RespectAbility's vice president of communications. A former political journalist with NBC News and current leader on disability inclusion in Hollywood, she spoke about addressing negative perceptions of people with disabilities through working with the media.
"Engaging with media to promote accurate portrayals of people with disabilities can challenge an audience's preconceptions about this population," she said. "This has a real impact on overcoming biases and discrimination against people with disabilities in society."
All the speakers focused on different areas of change and advocacy, and as such, they had different avenues from which they approached change. However, there was a common theme: the most important thing is to make the initial push for change. Disability advocacy is changing the world and has positive effects for many people. No matter the field, there is always a place for positive advocacy.