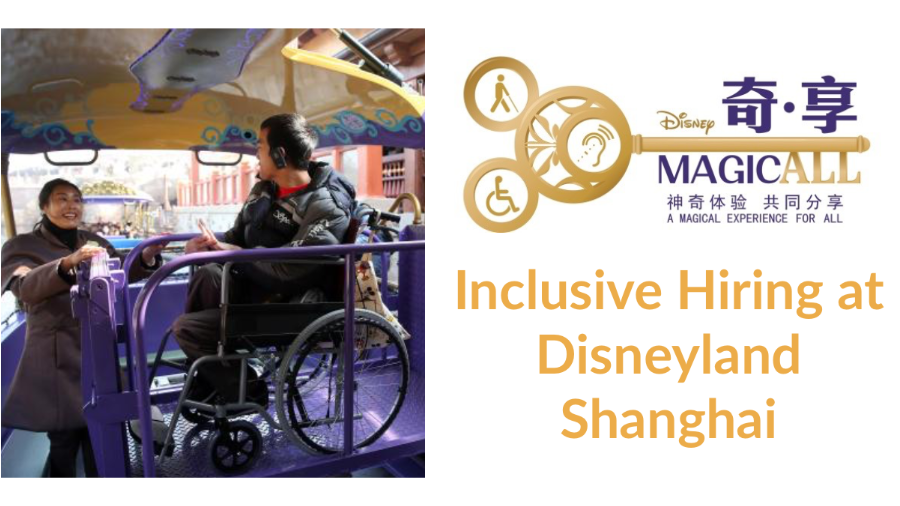 Washington, D.C., April 4 – The Walt Disney Company is one of the most celebrated companies in the world. With a legendary movie history and a booming theme park industry, Disney is a desirable company to work for. Disney already has gained a positive reputation in employing people with disabilities, scoring 100 percent on Disability Equality Index for inclusion and employment opportunities. This past year, the Walt Disney Company started a major employment program targeting people with disabilities – the MagicALL Disability Hiring Program at Shanghai Disneyland.
"The Walt Disney Company has always been about inclusion," says Murray King, the vice president of Public Affairs at Shanghai Disney Resort. "Whether that's for an employee or for guests, particularly in parks and resorts, to ensure that we build facilities and provide services that allow anybody, whether handicapped or able-bodied, to enjoy the facilities as a guest, or be employed and integrate into our employee community as one of our Cast Members."
The MagicALL Disability Hiring Program puts employees with disabilities in the spotlight as they work inside the Shanghai Disneyland Park. The employees in the program receive appropriate accommodations for work and their personal lives. Disney provides the accommodations and uses the latest technology for accessible work. Through this program and Disney's partnership with the Shanghai government, Disney is sending a global message that people with disabilities are hirable and productive.
Filling a Need in China
MagicALL is certainly needed in China. A 2016 report reveals that China has 85 million people who have disabilities and 17.55 million of them working-age. However, only 9.42 million currently are employed. As of August 2018, there are more than 3,000 employment agencies for people with disabilities, and 6,000 vocational centers annually have prepared 600,000 people with disabilities for jobs, such as custodians and retailers. By 2020, each province in China will have a company that will hire those with intellectual and physical disabilities.
In the MagicALL Disability Hiring Program, employees with disabilities are placed to work in the parks. Through their jobs, they have constant guest interaction. For employees with disabilities, this builds confidence, communication skills and a sense of importance.
"That's a genuine sense of satisfaction that they feel, that they have disabilities and they deliver the magic to people who otherwise might not have that opportunity," says King.
MagicALL Cast Advisory Council
Cast members with disabilities under the MagicALL are invited to be in the MagicALL Cast Advisory Council to help give further direction to the program and park accommodations for the guests and to share ideas, feedback and concerns. The membership in the council builds responsibility and leadership in the employees as they help shape the futures of their present and future colleagues worldwide.
Disney gives employees with disabilities the proper accommodations they need to work. For specific accommodations, Disney works with the park's design team to invent technology for them.
"The first thing we do with our MagicALL standards is incorporate them into the design and operations of our resort," states King. "We typically look at audio, visual or physical handicaps, and we also support people who might have an intellectual handicap."
For both guests and cast members with physical disabilities, Disney has designed tactile lanes, ramps and accessible toilet facilities. Shows and selected rides will have spots and vehicles to insert wheelchairs in the facilities.
Disney gives their cast members in MagicALL their own housing, and the rooms have different accommodations. Disney also offers their employees with physical disabilities ramps for its shuttles to the parks. Those who have sight disabilities have Braille that can be found throughout the park on maps and signage. MagicALL also offers sign language classes to cast members, and the enrollment rate has been high. A top reason why cast members sign up is so that they can communicate with their colleagues who are deaf.
MagicALL Disability Hiring Program: People with Disabilities are Hireable and Willing to Work
As a leading company in media, it was important for Disney to spread equal employment around the world by aggressive recruitment.
"In China, we have brought our global standard and tried to ensure that it complies with local standards," says King. "We incorporate our international standards and for us, the best global standard is the Americans with Disabilities Act standard for accessible design. And we have our own best practices that relate to our citizenship practices and our own global approach to guests and Cast with disabilities."
As they established MagicALL, Disney teamed with the government of Shanghai to make plans.
"The Shanghai municipal government welcomed the opportunity to showcase accessibility facilities and services," adds King, "particularly the Shanghai Disabled Persons Federation, which has been a great supporter throughout the design, construction and operations of the resort."
Maria, a Park Ticket Seller
A young woman named Maria is a successful employee of MagicALL. Maria, a park ticket seller, uses a wheelchair to get around. She uses ramps wherever she goes. Her workplace accommodation is an electronic counter that goes up and down to help her interact with park guests. Disney gave her a wheelchair-accessible room and her shuttle provides a ramp to board the bus. Maria is an active member of the MagicALL Cast Advisory Council, as well.
Walt Disney Company's dedication and efficiency, as well as Maria's successes, show that there are endless opportunities for people of disabilities to work. Disney is a role model in the business industry for creating a unique and effective employment program for people with disabilities. Disney thoroughly examined any obstacles for their employees and fixed them, such as Maria's electronic counter to accommodate her wheelchair. Disney proves that obstacles are not impossible, and accommodations are possible for all people with disabilities.
The MagicALL Disability Hiring Program is groundbreaking in terms of employment opportunities. A huge theme park like Shanghai Disneyland always has jobs available and for both Disney and the Shanghai government to prioritize people with disabilities is a breakthrough for job seekers with disabilities. Disney has shown the world that finding jobs for people with disabilities is possible and customizable.