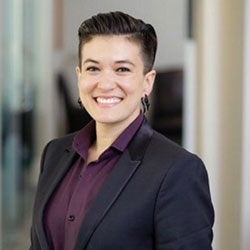 Rockville, Maryland, April 3 – Allison Sparks (introducing herself as simply "Sparks") is the Chief Executive Officer at the Masto Foundation and recently spoke to the Fellows in Respectability's National Leadership Program. She spoke about her career in philanthropy; owning one's identity; questioning the status quo; and the importance of promoting equity, inclusion and diversity in the field.
Sparks spent time with the Fellows discussing her unorthodox path to becoming the executive director of her family's organization and discussed her work aimed at promoting equity and making philanthropy more diverse. Sparks examined what led her to the Masto Organization, highlighting her diverse childhood, a brief career in the fashion world, discovering a commitment to social work, her passion for philanthropy and working with numerous philanthropic organizations. Sparks also noted the increased importance for inclusion and diversity in philanthropy because of the inherent privilege in the philanthropic world (those who give the money) and encouraged the Fellows to pursue inclusion, diversity and equity.
Owning Your Identity and Finding Core Values
"You are a dolphin swimming in a sea of sharks," Sparks remembers her parents telling her throughout her childhood, a phrase that she held with her throughout her life. Discussing not only her own personal identity as a queer, multi-racial woman with a learning disability, Sparks also highlighted the idea of owning your identity to achieve authentic leadership. 
She encouraged the Fellows to complete a diagram outlining their individual identities and life paths, in the hopes of isolating core values and provided her own diagram to illustrate her personal and professional life paths. While Sparks owns her identity as a gay, Japanese-American woman, Sparks was less inclined to own her identity as a person with a learning disability. However, she did credit her childhood experiences of needing to be "an advocate for myself" in academic settings as "the start of my leadership."
Sparks noted that she was raised in "a life with a lot of dualities" and juggled many intersecting identities. Sparks discussed her diverse upbringing that made her aware from a young age about issues of race, inequality and lack of equity across groups. This knowledge, paired with mentorship and being a part of the LGBTQ community, led to Sparks' commitment to a career in social work, particularly for children within the LGBTQ community. However, it was during graduate school that Sparks discovered her family's unique history with philanthropy. That family history sparked her passion to combine social work with philanthropy with a focus on LGBTQ issues. From understanding her own identity, she decided the main goal in life is to give back, find purpose to follow her own path and be a leader. She encouraged the Fellows to use their identities to find purpose to create positive change.
Questioning the Status Quo
Sparks reiterated to the Fellows to constantly question the status quo, particularly in philanthropy. Before becoming the CEO of her family's foundation, Sparks worked in philanthropy for a dozen years as a program officer. During this time, Sparks began to think critically about the field. She shared with the Fellows her belief that members in the philanthropic field need to question the traditional approach to giving. 
She spoke of what she believes to be the inherent ineffectiveness of philanthropy, stating that "the people who are able to give are the farthest away form the people who need it" and encouraged the Fellows, if they choose to continue in this field, to be constantly critical of tradition. She emphasized that while innovation and technology are important to improving philanthropy, questioning basic assumptions of the traditional philanthropic model is what is needed to be most effective.
Inclusivity and Diversity
Sparks gave the Fellows an introduction to the importance of inclusivity and diversity in a field that has historically had little. In philanthropy, Sparks noted the increased importance for inclusion and diversity due to the inherent privilege of the philanthropic world. Sparks built on the rhetoric she used when discussing questioning the status quo of philanthropy, specifically highlighting the disparities between minority communities and the field of philanthropy. Sparks reiterated that "you'll see the boards of these philanthropies looking nothing like the people they are meant to be serving" creating a problematic distance. 
Sparks explained how this distance can prevent money from being moved intelligently, because Trustees do not fully understand the needs of communities, and give how they see fit. This leads to money being utilized inefficiently. Sparks emphasized the importance of ensuring the voices of numerous identities can participate in the conversation in an equitable way in order to balance an inequitable system.  
She expanded, detailing her work of facilitating collaborative and non-threatening conversations with boards of numerous philanthropies. Sparks' conversations are focused on encouraging members to recognize their privilege and actively work to create a more progressive next generation of philanthropists. She encouraged the Fellows to pick up the baton to continue this work. 
After speaking, Sparks offered the Fellows her contact information as well as her expertise in the philanthropic field to aid RespectAbility. Sparks left with a departing message of empathy and helping people look closely at their lives, reiterating the fact that Fellows are the future of philanthropic work.
JOIN OUR TEAM!
RespectAbility is a nonprofit organization fighting stigmas and advancing opportunities for and with people with disabilities. This spring, 15 Fellows had the opportunity to learn from a variety of guest speakers. Learn more about the National Leadership Program and apply for the next cohort! Contact BenS@RespectAbility.org for more information.
ALL FELLOWSHIP OPPORTUNITIES
LEARN MORE