Rockville, Maryland, March 21 – I did not realize that March was the month for me. I mean, March already has a personal connection to me. My father passed away on the 19th two years ago of cancer. March was supposed to be my birth month until doctors decided to kick me and my three roommates (I am one of four quadruplets) out of my mom at 31 ½ weeks (You don't know what being claustrophobic mean unless you are squished by the siblings to the point where you can't grow normally 😊). No, it turns out that March is both National Women's Month and National Cerebral Palsy Month. So, because I have cerebral palsy, I have my personal National Minority Month. As I celebrate my gender and my disability, what does it to mean to be disabled and female?
What Are Girls Made Of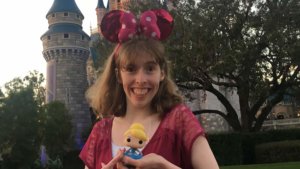 Let's kick this off with the girly side. I am honestly an example of that old-fashioned concept: the fair/gentle sex. I am attracted to cute things like puppies and babies and love to coo over them. I HAVE to say hello to them! I always need to give people hugs. When people are sad, I want to do anything to cheer them up and grab their hands or rub their shoulders.  I just turned 25 years old, and I still enjoy wearing pink clothes with flowers on them. Chocolate and ice cream are my life sources. And don't get me started on my Disney Princess obsession. I have all of their Funkos AND the full doll collection from Ralph Breaks the Internet (God doesn't judge.)
My own disability adds to the girl factor. I have cerebral palsy, which affects my body. Cerebral palsy gives me dysarthria, so my weak mouth muscles make me sound like a little girl. I wear foot braces, so I need to have stylish ones with pink and hearts of course. Combine those with my baby face, and you have the oldest "girl" alive. And boy, do older people coo over me at times! I don't mind most of the time because it feels good to brighten up people's days. I don't even mind being called cute most of the time. I love it when people think I'm adorable. But sometimes, it can be offensive.
#CutePorn
I went to the Grand Canyon last summer and after I got off the plane, an older woman recognized my unique features and came over to me. As if she was talking to a four-year old girl, she spoke to me slowly, "Did you have fun on the plane? Did you see the clouds?" I may be a woman with a disability that gives me "cute" features. But, I am most certainly not a "girl."
Some women with disabilities have a "cuteness" problem, don't they? Our "cuteness" gives us sympathies, thoughts and prayers, and backhanded compliments from people who are healthy.  As one journalist with disabilities warns, "You, my dear crippled girl, will never be pretty. You'll be cute. You'll be cute to adults who like to patronize you and squeeze your cheeks and treat you like a child for the rest of your life."
But it doesn't mean that we can't claim cuteness for ourselves. In 2017, a Twitter trend called #DisabledandCute went viral. Writer Keah Brown, who also has cerebral palsy, remarks, "My hope is that this hashtag helps mainstream media and other able-bodied people see how much disabled people have to offer and understand that we are more than inspiration porn and people to pity. In fact, we have so much talent we just need the opportunity to showcase what we can do." I took part of the trend on Twitter, and I remember getting a pretty good amount of reblogs and likes.
My Meaning in My Cerebral Palsy
Now what about the cerebral palsy aspect of it? What does it mean to be a woman with cerebral palsy? Well, to me, being a woman with cerebral palsy means living the best life your body can give you. Going to school, getting a job, getting chores done, hanging with family, going to physical therapy—all of life. Maybe you have quadriplegic cerebral palsy (affecting the whole body) and need 24/7 assistance or monoplegic cerebral palsy (affects one limb) and you're an independent woman. Both are okay. You do the best you can with what you were given and don't cry that you deserve a better life. Even if you do.
What does it mean to me to be a woman with cerebral palsy? To me, I have a responsibility to be an example in the world. In my whole life, I have been interested in the film and television world.  Now that I'm older and I want to be an actress & writer, I know that I can use any power that I have to advocate for actors with disabilities or even better: to write stories about disabilities.  If there aren't any opportunities for actors with disabilities, I ought to create them. I believe in the mantra: "Be the Change You Want to See in the World."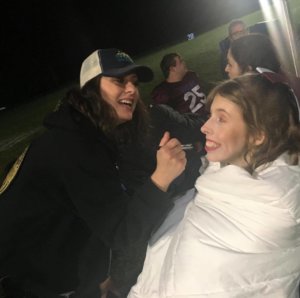 I am grateful that I am living in a time period where a revolution is happening for actors with disabilities. After two years, I'm wrapping work on my first feature film The Homecoming, which happens to be the first movie musical starring people with disabilities. I have never seen any disabled actors or characters in a musical on Broadway or in film, so to ride this little wave in Hollywood is surreal! To see myself in a movie musical where I act, sing in a duet with my dysarthria and dance gets me emotional, thinking how this will influence little boys and girls like me.
High School Musical premiered on Disney Channel when I was 12.  My classmates, my twin sister and I were a part of the rabid fandom, looking up to Vanessa Hudgens & Zac Efron and singing and dancing to the iconic numbers. Like how African American children have The Wizand Dreamgirls, little disabled children will have their High School Musical, Greatest Showman, Frozen etc. with The Homecoming.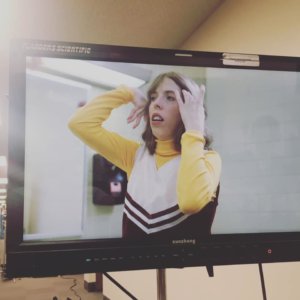 But, it's not just my beautiful cast and crew who are shaking things up. Micah Fowler and RJ Mitte, two actors with cerebral palsy, are successful on their shows Speechless (which I recently had the chance to be on as an extra, but had to turn it down due to financial reasons) and Now Apocalypse. Maysoon Zayid is going to break two birds with one stone in ABC's upcoming pilot Can-Can as an actress with both cerebral palsy and a diverse background (Middle Eastern/Muslim). As a girl who strives to be on Broadway, Ali Stroker is leading the way by being the first wheelchaired performer on Broadway. After making her debut in Deaf West's Spring Awakening with my friend Russell Harvard, she's returning in Rodger & Hammerstein's Oklahoma as Ado Annie, who is written as abled.
According to GLAAD, the percentage of regular primetime broadcast characters who have disabilities has slightly increased to 2.1 percent. But this vastly underrepresents the more than 20 percent of Americans with disabilities. Additionally, actors without disabilities play more than 95 percent of characters with disabilities on television, meaning that we still search for work.
To get ready for my life mission that I seriously believe God may be calling me to do, I am right now building a network of connections and about to take writing classes. I also am looking at graduate schools for dramatic writing, children's media or theater to build my writing skills and familiarize myself with the industry I choose to enter. I am even looking at a Master's or certificate in Disability Studies to learn about disability culture and history.
To My Sisters with Cerebral Palsy
To everyone with cerebral palsy, this is just me. Your cerebral palsy can mean whatever you want it to be.  Whatever you want to do is up to you. But I ask you to do one thing: love yourselves. We all have our own stories, missions, hopes and dreams. Your disappointment and sadness about your cerebral palsy are valid. Don't let anyone take that away from you or belittle those feelings. To my sisters with cerebral palsy, here is a casual reminder that you are beautiful.  And even cute. If you have unique physical features like braces, wheelchair, or a big, crooked smile, own it! Those looks are special. No one else has that. Being cute isn't bad, but don't let anyone make you feel small or immature because of it. You know your maturity and your worth!  You got this.