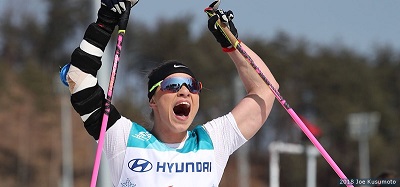 Oksana Masters reacts to winning the women's sitting cross-country 1.1-kilometer sprint at the Paralympic Winter Games PyeongChang 2018 on March 14, 2018 in PyeongChang, South Korea.
Washington, D.C., March 15 –
Oksana Masters
won a long-awaited Paralympic gold medal yesterday in a thrilling day of action that saw Team USA win three medals in the cross-country sprint. Masters, who already owned five Paralympic medals (two silver and three bronze) in rowing and Nordic skiing, grabbed the title of Paralympic champion for the first time in her career.
But Masters' life did not start out easily. Like more than 3 million other children with disabilities around the world, she had been abandoned to an orphanage. Indeed, more than 80 percent of the more than 8 million children living in orphanages around the world have a living parent who would prefer to care for their child if they had the resources to do so. Children with disabilities are often placed in orphanages because of stigmas, poverty and their families' inability to access basic services such as education or specialized assistance for children with disabilities. Research demonstrates that residential care has a negative impact on children's cognitive, physical, emotional, and intellectual development. In addition, well-meaning people donate millions of dollars to orphanages, while funds spent on orphanages could support integration of ten times as many children into families and achieve better results.
Thankfully for Masters, she found a "forever family" in the United States who adopted and believed in her. Now, thanks to a major investment by the MacArthur Foundation, many other children with disabilities and others at orphanages around the world will also have a chance to have a permanent family and home. That is because the MacArthur Foundation joining a wave of enlightened philanthropists by asking finalists for its major 100-million-dollar challenge to include people with disabilities in their work. Their initiative, "100&Change," is a competition for a $100 million grant to fund a single proposal that promises real and measurable progress in solving a critical problem of our time. Never before has a grant anywhere near this size asked grantees to address how they plan to assure access to benefits for persons with disabilities.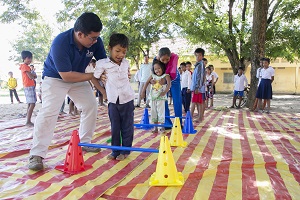 Millions of children with disabilities are in orphanages
There were four finalists for what turned out to be an incredible $145 million-dollars in investment, and each is exciting. Fully $15 million of the investment will go to Catholic Relief Services so that they, in conjunction with two other nonprofits, Lumos and Maestral International, and local partners. Together they will enable youth being raised in orphanages to leave for  a "forever family," whether it is one related to them biologically or otherwise. This means not only helping the child and family, but also building up systems for inclusive learning and communities around the world.
This project, called "Changing the Way We Care" will use evidence from seven demonstration countries to influence other countries, regional political bodies and funders to build global momentum and to redirect donations and resources to serve vulnerable children in a way that supports family-based care. This in turn could enable many more children with and without disabilities who are currently living in orphanages to dream big dreams – like Oksana Masters.
A key part of the MacArthur project was to ask potential grantees how they were going to include people with disabilities as equal in every aspect of their projects. I was able to ask the winners of the project about that process.
Question – RespectAbility: MacArthur sent you a list of questions about disability as a part of your application process. Their list had a wide range of questions around disability. Many leaders and organizations "don't know what they don't know" about disabilities and inclusion. What from that list was already familiar to you and your team, and was already a part of your plan and work?
Answer – Catholic Relief Services: Marginalized and vulnerable children, including those with disabilities, are at a higher risk for entering orphanages. The percentage of children with disabilities in institutions varies from country to country. However, disability is very often a key driver of institutionalization. Children with disabilities have a higher likelihood of being institutionalized. In some countries, 60% of children in institutions have a disability (UNICEF, 2014).
A 2014 report from Human Rights Watch states that in Russia there are "estimates that approximately 45 percent of children living in state institutions have some form of disability", and "approximately 30 percent of all Russian children with disabilities live in state institutions, despite the fact that children with disabilities account for approximately 2 to 5 percent of Russia's total child population." (Human Rights Watch, "Abandoned by the State: Violence, Neglect, and Isolation for Children with Disabilities in Russian Orphanages," 2014.
Changing the Way We Care is fundamentally about supporting groups of young people who have been marginalized.  The project design team deliberately chose demonstration countries with a range of religious and ethnic backgrounds and communities, such as children with disabilities, who have been marginalized by being placed in an orphanage.
The list cited in the questions highlighted the importance of inclusion of people with disabilities and disabled persons organizations (DPOs). People with disabilities were active participants in developing the Changing the Way We Care proposal, and will play key roles in the development, monitoring and evaluation of the programme. Changing the Way We Care engaged a number of DPOs throughout programme formation phase and had disability rights experts on the programme Advisory Board, including Handicap International, Special Olympics and Alia Zureikat, a disability rights activist from Jordan. In addition, a workshop was held with young people who grew up in institutions who are part of Lumos' youth participation groups – many of whom are children with disabilities, in order to inform the development of the Changing the Way We Care proposal. At the end of the workshop, a 'contract' was created between all participants highlighting the "promises" of children to adults and of adults to children (see the attached image). This contract outlines the commitments of all participants, and provides an important element of the programme's monitoring, evaluation and reporting plans.
As part of the on-going inclusion of young people, including those with disabilities, in the work of Lumos, Youth Advisory Boards have been set up in Bulgaria, Czech Republic and Moldova. These include young people with disabilities. They meet monthly to play an active role in Lumos' strategic decisions and internal governance. In addition, Lumos employs a member of staff with an intellectual disability who is passionate about advocating for job opportunities for youth with intellectual disabilities and ensuring that children with disabilities are able to make decisions about their own lives. Where appropriate, young people who have real-life experience of the harm of institutions – many with disabilities – will be involved in Changing the Way We Care's national and international advocacy campaigns, communications and research programme.
Tackling stigma and commonly held beliefs by professionals about disability is a cornerstone of Changing the Way We Care. For example, training on the social model of disability is provided to practitioners, and is also part of the induction process for staff at Lumos – this helps to ensure that programmes are built around this principle – programmatically and also from the perspective of the language around disability that is used internally and externally. At a programmatic level, in addition to the on-going monitoring through initiatives such as youth participation groups, a range of trainings, tools and technical support around working with children with disabilities are provided. For example, producing communication passports for children and training staff how to use them.
Question – RespectAbility: What were some of the things that you added or changed to address the issues on the list?
Answer – Catholic Relief Services: The 'demonstration' element of Changing the Way We Care involves demonstrating how to transform systems of care and protection for vulnerable children in different countries and contexts.  The countries are geographically and culturally diverse and represent different income levels.  Each of the countries will also have specific demonstrations of how to ensure family care for children in particularly complex situations.  These include family-based approaches for children and adults with disabilities as in many countries, disability of a parent or child is a primary reason why children enter orphanages. Support services are often not available, nor are schools equipped to support children with special needs. Sadly, also, children with disabilities in institutions are at higher risk for violence. Therefore, Changing the Way We Care will refer families/children with disabilities to support services and, where service gaps exist, advocate for and support development of services such as inclusive education.
The 100&Change process, and its focus on disability, sent a strong message both to service deliverers and to the philanthropy sector: disability inclusion must be a common thread across the whole approach – not an afterthought, box-ticking exercise, or limited to a question on a proposal form.
The 100&Change process helped form the Changing the Way We Care consortium and provided momentum to the group of partners to learn from each other's practice to fully include groups of children who have been marginalized.
Question – RespectAbility – What advice would you give to other leaders and groups who also want to be mindful of including people with disabilities equally in their teams, work and impact?
Answer – Catholic Relief Services: Changing the Way We Care's advice to other leaders is the importance of creating opportunities for young people with disabilities to represent themselves throughout all stages of the process, be meaningfully involved, and to have the ability to hold those delivering programmes to account for the commitments they have made.
RespectAbility is available as a free resource for any grant-maker or nonprofit looking to ensure their inclusion efforts include people with disabilities.