Washington, July 20 – As Hollywood executives are looking for the next big ideas for film and television, they are learning that disability is a winning theme.
Many people are writing about the fact that disability often is absent from mainstream film and television – both the depiction of and, even when a character has a disability, the actor often does not – as detailed in the recently released Ruderman White Paper on Disability in Television.
However, the box office success of Finding Dory and new TV shows such as Speechless are showing that audiences want to see strong, capable role models with disabilities.
Finding Dory, Pixar's most recent box office success, stars many characters with disabilities.
Dory, the titular character, has short-term memory loss. Nemo has physical disabilities with his little fin, and Hank is an octopus that is missing a tentacle. Destiny is visually impaired by her myopia, and Bailey has difficulty with echolocation.
What's more significant is how the film portrays disability. In Finding Dory, disability is not something Dory needs to overcome, but something she needs to learn to live with, accept and work with to accomplish things "in her own Dory way."
At the beginning of the film, Dory often apologizes for her short-term memory loss. In the end, she recognizes it as something that makes her unique and informs her approach to the world.
"I never think of it as a disability, even though that's the perfect word for it," director Andrew Stanton stated in an interview with Slash Film. "I just saw it as… it's just her uniqueness, right? And she sees it as a flaw, a something she has to compensate for. It's something that she doesn't trust, that she thinks is gonna cause problems for herself. … And I didn't want her to feel like that on the inside. I wanted her to, like, recognize and love what everybody else loves about her."
As Angus MacLane, the film's co-director said, "It might take her a little longer, but the way she gets there is no less valuable than how anyone else gets there."
In direct contrast to the positive portrayals in Finding Dory, the recent film Me Before You has received significant backlash from the disability community for its portrayal of a man who becomes quadriplegic and chooses to commit suicide rather than, as the film's hashtag states, #LiveBoldly. The protests against the film were bigger than anyone expected and were a result of one of the largest, most coordinated efforts in the disability community in response to a film.
In addition to putting a positive spin on Dory's journey, Finding Dory highlights the importance of community for people with disabilities. Throughout the film, Dory is helped by Hank, Destiny, Bailey and, of course, Nemo and his father Marlin, many who have disabilities themselves.
"She can't do it alone, which is another of the film's big takeaways," writes Stacia L. Brown for the Washington Post. "A supportive community is essential to the happiness and health of every member."
Finding Dory also presents a realistic portrayal of what it's like to parent a child with disabilities. The first scene of the film shows Dory's parents teaching her how to play with the other children in the aquarium through role-play. Throughout the film, the scaffolding that they built for Dory as a child pays off, leading to her finding them again.
"They had every confidence that Dory would find them – they did their best at preparing Dory for the outside world and believed in her abilities," write Alice Wong of the Disability Visibility Project. "I teared up thinking about my parents and the sacrifices they made for me, such as purchasing a van with a lift (no small feat for a middle class family) and various modifications to our home when I started using an electric wheelchair."
Jennifer Laszlo Mizrahi, president of RespectAbility, agrees. "You see the parent who's really trying to do the scaffolding, the teaching of the skills, so that people can, well, in this case, fish can be successful. The truth is that needs to happen for children also. They need to have those accommodations so they can build upon those skills and scaffolding so they'll become independent and successful."
Examples also abound on mainstream TV.
Speechless, an upcoming sitcom produced by ABC, spotlights disability. It stars Minnie Driver (Good Will Hunting) and John Ross Bowie (The Big Bang Theory) as parents to Micah Fowler (Labor Day), who plays J.J., a boy with cerebral palsy.
"The show is about people and groups outside the family condescending to J.J., but the show doesn't condescend at all and already Speechless seems able to treat the unique piece of its subject matter in a way that's irreverent but respectful and that really does change all of the core family interplay in interesting way," Daniel Fienberg says of the pilot.
Writer Scott Silveri, whose brother has cerebral palsy, inspired the show.
"[Silveri] wanted to show the humor in all the relatable situations his family faced," Fowler, who himself has cerebral palsy, said. "I live this every day, so if something doesn't feel genuine or real, then I feel comfortable speaking up. I am so grateful that our creative team is so responsive to input the cast has."
The fact that the character with cerebral palsy is played by an actor with cerebral palsy is important to celebrate. As the Ruderman White Paper on Disability in Television reveals, more than 95 percent of characters with disabilities are played by able-bodied actors on television.
Speechless will premiere September 21, 2016.
In another new show that premiered this past year, Superstore, a workplace ensemble comedy that highlights an extremely diverse cast, an African American man using a wheelchair is portrayed as just another member of the team. Garrett's disability does not define him, which "adds something both new to and largely missing from the current dialogue about representation on TV: class."
Award-winning Games of Thrones has been portraying characters with disabilities in the same manner as characters without disabilities for years. In 2013, the series was awarded a Media Access Award in recognition of its efforts in "promoting awareness of the disability experience, accessibility for people with disabilities and the accurate depiction of characters with disabilities." George R.R. Martin's cast is "filled with what Tyrion Lannister, a main character who is a dwarf, affectionately terms 'cripples, bastards, and broken things' who manage to wield power while facing stigma and physical challenges."
Born This Way
This new environment bodes well for the second season of Born This Way, set to air this summer following three Emmy nominations.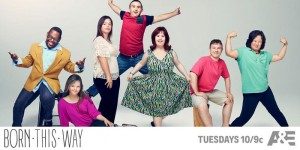 Born this Way on A&E follows the lives of seven young adults with Down syndrome who are living in Los Angeles. Because its focus is on showing their everyday lives, Born this Way breaks down stigmas surrounding disability.
Its first season grew in popularity with a 67 percent growth in total viewership, achieving more than a million viewers per episode. The show was chosen as one of the six recipients of the 2015 Television Academy Honors, which recognizes "television programming that inspires, informs, and motivates."
"By honoring and embracing diversity on television," Elaine Fontain Bryant, EVP and Head of Programming for A&E stated, "Born his Way is uniquely redefining the art of honest storytelling and altering the way society views individuals with differences."
According to the U.S. Census, one-in-five Americans have a disability. Currently 70 percent of working-age people with disabilities are not working – even though most of them want jobs and independence. The numbers are even worse for people with Down syndrome. Many studies show that people with disabilities, including those with Down syndrome, can work successfully and live relatively independently. The individuals on Born this Way prove that as several are productive employees and one starts her own company.
Finding Dory, Speechless and Born This Way have relatable themes to people both with and without disabilities. None of us, regardless of ability, excel at everything. So we all can relate to the story lines of these shows and films.
About RespectAbility
RespectAbility, a nonprofit organization working to empower people with disabilities to achieve the American dream, is on the front lines in the battle to reduce stigmas, failed government policies and other obstacles that deny people with disabilities the opportunity to achieve the American Dream.
One area of concern is entertainment; films and television can and must do much more to reshape attitudes so that people with disabilities can more fully participate in and contribute to society. We know that by putting people with disabilities on TV – in scripted television, reality TV, the news and in jobs behind scenes — it can help empower people with disabilities to achieve as much of the American Dream as their abilities and efforts permit.
Entertainment contributes to the values and ideals that define us; and what we desire to share with our children. What we see, we feel. And what we feel impacts how we act.
RespectAbility encourages arts and entertainment leaders – just as we encourage businesses in every sector – to recognize the disability but respect the ability. We ask them to focus on what people with disabilities can do, rather than on what they cannot. We want the power of arts and entertainment to help move the needle of perception regarding people with disabilities so that people of ALL abilities can achieve the American Dream.
Born This Way will be returning for its second season on July 26, 2016. Don't forget to watch live and tweet using #BornThisWay!
Want to catch up on season one? You have two opportunities to watch a full-season marathon on A&E:
Saturday, July 23: 11:00 a.m. – 5:00 p.m. ET
Tuesday, July 26: 9:00 a.m. – 3:00 p.m. ET
Or catch up online!
For More Information:
Contact Lauren Appelbaum: 202-591-0703, [email protected]