#RespectTheAbility Campaign: Spotlight on AT&T
Every Voice Matters: Fortune 50 Global Company is a Top Employer of People with Disabilities
Washington, Oct. 21 – "Every voice matters."
That's the message Cynthia Marshall, AT&T's Senior Vice President of Human Resources and Chief Diversity Officer, has for its employees.
"At AT&T, diversity and inclusion are woven into all our business strategies and are key in achieving our business goals."
Betsy Dixon, lead consultant for diversity at AT&T who has a significant vision impairment, benefited from her company's dedication to inclusiveness firsthand. She started with AT&T 37 years ago as a stock and bond correspondent and has worked her way up.
"When I started work for AT&T, things were very good for a while," Dixon said. "And then they decided they were going to change technology, and I was like, 'Oh boy, I can't use this new computer system they're going to put on everybody's desk. There's no way I can see this, so I'm going to lose my job'; that was literally what I thought."
But from the beginning, AT&T worked with Dixon to ensure that she had additional technology to allow her to work. AT&T provides Dixon with computer enlarging software, a closed circuit magnifier for hard copy materials and certain concessions when she travels.
"It was something they did for an employee who was contributing to the organization," Dixon said. "I'm treated like every other employee, expected to go above and beyond as every other manager is."
AT&T's sustainability pledge to its employees made it possible.
"Sustainability is more than just an environmental principle," said Roman Smith, AT&T's director of public affairs, corporate citizenship & sustainability. "Our commitment to our employees and to our communities is to understand the different needs of our customers and deliver products and services that enable them to do more."
Dixon was called in for a meeting to discuss how to make reasonable accommodations for her with the new technology.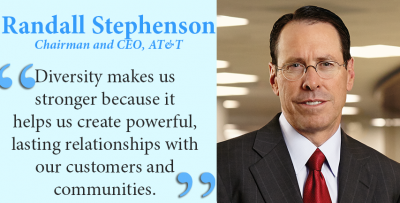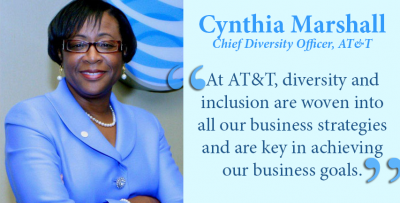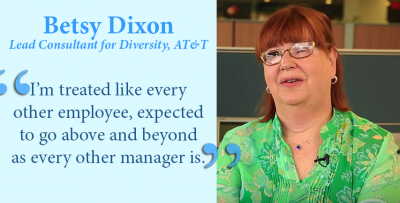 "So, it was ingrained in AT&T technology from the beginning," Dixon said. "I learned a lot in this first meeting. And at one point, I became a job accommodations specialist for AT&T."
That same technology also benefits AT&T's customers, and it's a core component of AT&T's vision. The company designs and creates processes and service platforms that maximize automation and reallocates human resources to more complex and productive work.
AT&T's consumer products include accessible applications for people who are blind, and Bluetooth amplifiers, hearing-aid-compatible phones and digital hearing aids for users who are deaf and hard of hearing.
The products exemplify why AT&T is among the top 19 businesses to receive a perfect 100 score on the U.S. Business Leadership Network's Disability Equality Index (DEI). The DEI is a national, transparent benchmarking tool that enables businesses to receive an objective score, on a scale of zero to 100, on their disability inclusion policies and practices.
AT&T's leadership repeatedly shows its commitment to inclusiveness and believes that it is the foundation of a successful business. It's the kind of company that RespectAbility's campaign #RespectTheAbility seeks to highlight. These leaders understand the value of inclusiveness and teach all managers a simple philosophy: "We serve our customers better when we build diversity into all we do … and that positively impacts our customers and shareowners."
AT&T created its current diversity and inclusion infrastructure in 2008. This framework includes Marshall, who is tasked with overseeing the company's diversity initiatives.
At that same time, Chairman and CEO Randall Stephenson also established the Chairman's Diversity Council, which he leads, and is composed of his direct report team. The council meets quarterly to discuss diversity and inclusion practices and the company's progress against key metrics.
In addition, each direct report officer has a diversity and inclusion council within his or her business unit.
But AT&T's business model of inclusion begins well before a person is hired. The company actively recruits college graduates with disabilities, and its website's "career home page" offers a welcome link "to request an application accommodation."
Because of its efforts to employ people with disabilities, CAREERS & the disABLED magazine ranked AT&T as the No. 3 Reader's Choice employer for professionals with disabilities in 2015.
An accessible workplace strengthens human connections for all AT&T employees. In turn, the company benefits from a higher retention level and fewer absences.
And more than half of all accommodations cost nothing, according to the company.
Dixon adds one more positive benefit to hiring people with disabilities. "Having people with disabilities or people of any particular protected class as part of your company reflects your customer base," Dixon added, "which helps build customer loyalty. We need to serve all customers – that includes people with disabilities, so we need their perspective in the workplace."
#

RespectTheAbility

 Success Stories
Download our free toolkit, "Disability Employment First Planning Tool," for more information.