Read The RespectAbility Report!
Clicking on the link will open a new tab with the report.
The RespectAbility Report is a nonpartisan political commentary on the 2016 U.S. elections with a focus on disability issues. Launched in June 2015, The RespectAbility Report is nonpartisan and neither rates nor endorses candidates.
Chief political writers for The RespectAbility Report include Jennifer Laszlo Mizrahi, former political and training director for Campaigns & Elections magazine and regular columnist for The Daily Record, and Lauren Appelbaum, former political researcher for NBC News.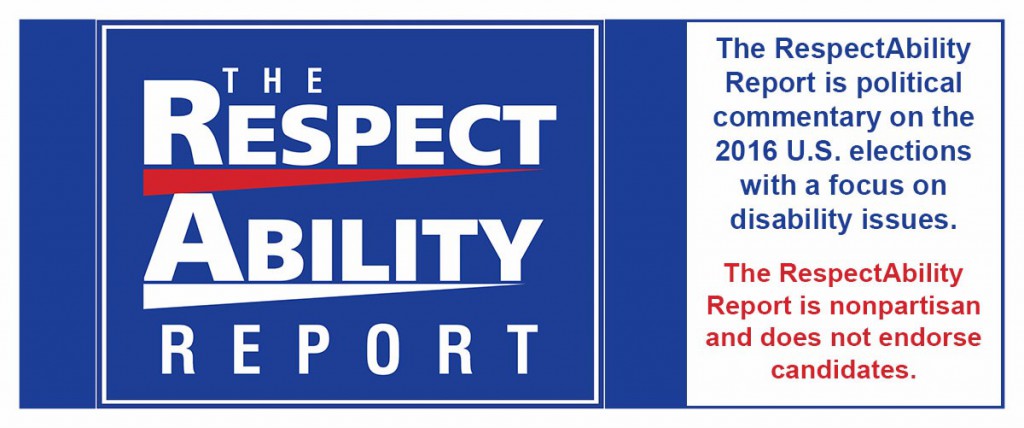 "Issues of employment among people with disabilities can affect outcomes in competitive races," Democratic pollster Stan Greenberg, PhD, said in a statement following a bipartisan poll of 2014 voters. "This community is far bigger than many people realize, including people in my profession."
America has 56 million people with disabilities, more than 20 million of whom are working age. Fifty-two percent of Democrats report that they or a loved one have a disability, and for Republicans, a smaller number of 44 percent report they have a disability. Surprisingly, Independents have the largest number of voters who say they have a disability, with 58 percent saying yes. This shows that swing voters with disabilities and their families are up for grabs.
Fully one-in-five Americans have a disability themselves and studies show that most of them want to work. Yet 70 percent of working-age Americans with disabilities are outside of the workforce. This leads to poverty and costs taxpayers billions of dollars in disability benefits.
Introducing policies that create opportunities for employing people with disabilities is not a conservative issue or liberal issue; it is a human issue, and it affects a large portion of the electorate in the United States. The top issue in the disability community is jobs. Government policies that help people with disabilities get and keep jobs are a win-win because they allow people with disabilities the dignity and financial benefits of work and also grow our economy and save taxpayer money.
If nothing else, the bipartisan poll "shows that Americans with disabilities – and those who care deeply about them – are a demographic we need to pay attention to in the future," Republican pollster Whit Ayres said in a statement.
RespectAbility, a nonprofit organization working to empower people with disabilities to achieve the American Dream by entering the workforce, is nonpartisan and neither rates nor endorses candidates.