Washington, D.C. – RespectAbilityUSA, a non-profit organization working to empower people with disabilities to achieve the American dream, is proud to release a toolkit for policy leaders on employment for people with disabilities. The toolkit is important because:
More than 9 million working age Americans with disabilities survive on benefits, which costs taxpayers billions.
The employment gap between people with and without disabilities continues to expand, causing people with disabilities to live in poverty and isolation.
The Social Security Disability Trust Fund will exhaust its funds in 2016[1].
Most young Americans with disabilities can and want to work and deserve the opportunity to achieve the American dream.
There are promising practices that can help on all these fronts plus enable employers to access to the real talents of these Americans since people with disabilities also have abilities that can make our nation stronger.
Unlike employment outcomes for women, African Americans and Hispanics, which have been improving over time, the gap between employment rates of those with and without disabilities has expanded significantly since 1981. Likewise, poverty, isolation and other challenges are rampant amongst America's 56 million citizens with disabilities.
Employment Gap Between Civilians Ages 18-64 With and Without Disabilities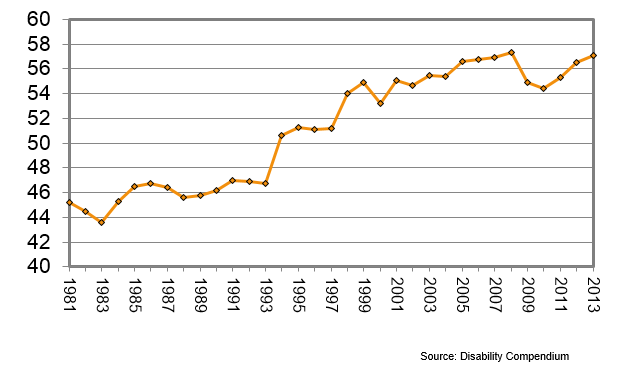 Today 70% of working age Americans (ages 18-64) with disabilities is out of the workforce (compared to 28% of Americans without disabilities). While the Americans with Disabilities Act (ADA) has done many outstanding things to expand access for people with disabilities, the percentage of people with disabilities who are in jobs has not improved at all since the passage of the ADA in 1990. One of the top supporters of the ADA, Sen. Tom Harkin, has done a report on the lack of progress in job outcomes: Research conducted by the Disability Compendium shows a stark contrast between the percentage of people with disabilities who are unemployed and the population without disabilities.
Contrast on Employment Between People with and Without Disabilities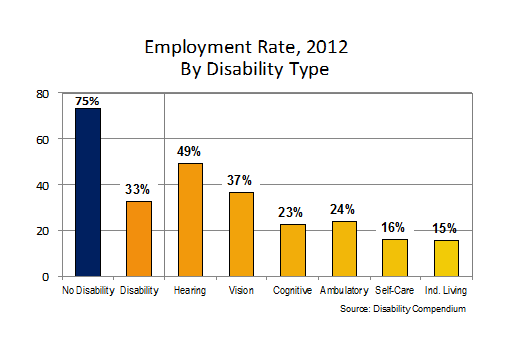 A safety net is still needed for many, especially those in extreme health crisis. However, as a nation we cannot afford to exclude people with disabilities, especially young people with disabilities, from the competitive workforce – at fair competitive wages. Every American who can work should be encouraged to do so. But how can we do it best and what do Americans with disabilities want?
The government accounting office (GOA) sighted a problem with lack of coordination and performance metrics in programs to expand employment to people with disabilities. There are many ideas on what can work. One of the great ones is to understand the potential benefits of Project Search and other school to work transition programs, but there are many others as well. To get specific information on how many people in your area are working age and live with disabilities and on benefits, as well as ideas on how to enable them to get jobs and become independent, go to the resources for policy makers section of our website.
Contact: Jennifer Laszlo Mizrahi @ 202 365 0787 or JenniferM@RespectAbilityUSA.org
---
[1] http://money.cnn.com/2013/05/30/news/economy/disability-trust-fund/