Washington, D.C. – RespectAbilityUSA, a non-profit organization working to empower people with disabilities to achieve the American dream, is proud to release a toolkit for job seekers with disabilities.
Unlike employment outcomes for women, African Americans and Hispanics, which have been improving over time, the gap between employment rates of those with and without disabilities has expanded significantly.
Today 70% of working age Americans (ages 18-64) with disabilities is out of the workforce (compared to 28% of Americans without disabilities). While the Americans with Disabilities Act (ADA) has done many outstanding things to expand access for people with disabilities, the percentage of people with disabilities who are in jobs has not improved at all since the passage of the ADA in 1990. One of the top supporters of the ADA, Sen. Tom Harkin, has done a report on the lack of progress in job outcomes:
The government accounting office (GOA) sighted a problem with lack of coordination and performance metrics in programs to expand employment to people with disabilities  Thus, RespectAbility is proud to offer links to places that can enable people with disabilities to get jobs and have a better future.
According to RespectAbilityUSA's President, Jennifer Laszlo Mizrahi, "People with disabilities bring unique characteristics and talents to workplaces that benefit employers and staff. Stephen Hawking is a genius who happens to use a wheelchair. Derrick Coleman happens to be deaf but is also a Super Bowl winning NFL player. The Wall Street Journal and The New York Times have reported on the "Autism Advantage" in many high tech employees. People with disabilities (PwDs) can bag groceries, tend our parks and schools, and be super talents in developing computer software. Today the majority of working age people with disabilities want to work and they deserve the opportunity to achieve the American dream."
Poll of People with Disabilities Shows Majority Want to Work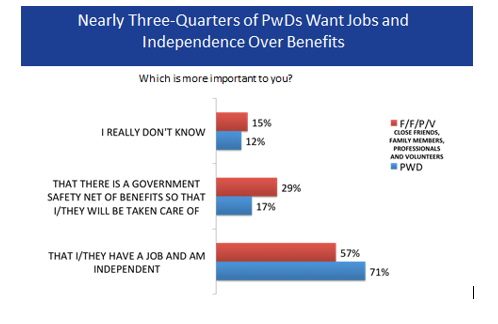 Said Mizrahi, "Companies like Walgreens, Ernst & Young, AMC and others have shown that hiring people with disabilities can help make them more successful companies. Now is the time for people with disabilities to get into the workforce."