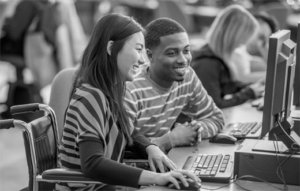 Are you a student with disabilities studying in Long Beach? Do you attend Long Beach City College? Are you studying at or planning to attend CSU Long Beach? Are you getting ready to finish high school and transition into the workforce? Have you had challenges finding a path to success in school or at work? Do you want to give back to your community this summer? Do you want to tell your personal story?
If so, then there is an exciting opportunity to share your personal experiences and help others living in Long Beach!
A new collaborative, community initiative is looking for individuals to do one-on-one interviews about their experiences and their aspirations. This project will involve one-on-one confidential interviews (in both English and Spanish) and will take only 20 minutes of your time. Your personal story has power and this is an exciting opportunity to help others in your community!
To learn more about our project and how your contributions will help people in your community, visit our project webpage here: http://respectability.dreamhosters.com/model-practice/
To sign up for an interview, please RSVP here: http://doodle.com/poll/6dm9fqe7amt77uzx
For more information about the project please contact Philip Pauli at [email protected]  or 240-483-4134.
Each participant who completes an interview with this project will receive a $25 Amazon Gift Card to compensate them for their time and interest!
LEARN MORE